Christmas is a special time for couples to share in the joy of the season and show their love for one another. If you're looking for meaningful messages to write in your boyfriend's Christmas card, here are some ideas that will help you find the perfect words to express how much he means to you. From romantic cards to funny cards, these messages will make sure your partner knows how much you care. Let's jump right in!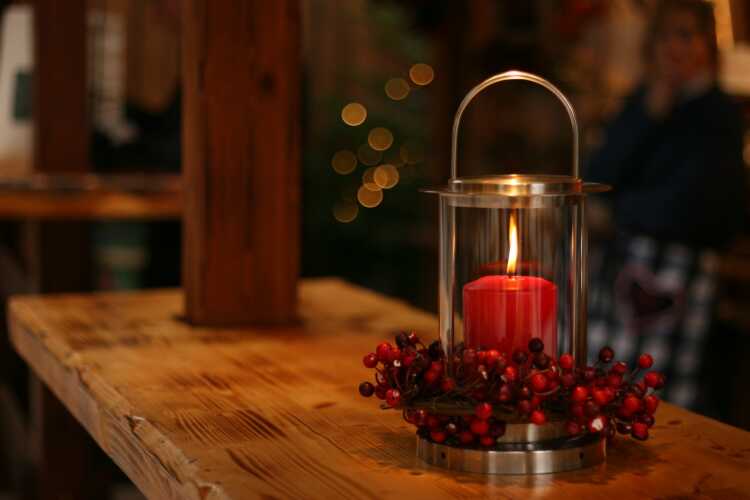 I want to make this Christmas special, but I can't do it without you. Let's set aside some time just for us and watch the snow fall, as we drink hot cocoa by the fire and kiss under the mistletoe. Merry Christmas, honey.
***
It's not just another Christmas now that you are in my life. It's a magical time of year that I get to spend with you, holding your hand and gazing into your eyes.
***
Christmas is the best time of year, so make it all the sweeter by coming home to your handsome boyfriend this Christmas. You're my holiday crush and that makes you even more darling. Merry Christmas, my love.
***
It's wonderful to have you around in this cold and wintry season. I can't wait to spend our holiday days with you and all our loved ones, from the happiest baby to grandpa . . . I want everyone to know how amazing you are. Merry Christmas, dear boyfriend.
***
I used to think that real love was something that only happened in fairy tales and romance novels. It turns out there's more than one kind of love. The kind of love that you and I share is special, real and true, too. Merry Christmas to the man who makes my heart sing.
***
I can't wait to tell everyone that you are mine. They say love is blind, but with us, I see so clearly how lucky I am to be with a man who makes me feel like the most wonderful woman in the world. Merry Christmas!
***
While this season is often called "the most wonderful time of the year" it doesn't have to be about all things commercial and so materialistic.
***
You are too much. You're my kind of crazy. I love that you're just a little bit off-beat, and when I'm with you, everything seems to find harmony. Merry Christmas, and all the best for the new year.
***
It's funny how one little word can make so much difference in someone else's life. The truth is that "I love you" makes all the difference in mine because it has changed me for the better. Merry Christmas.
***
Every day you spend with me, we make this Christmas season. And the more time we spend together, the more love I have for you and the deeper our love grows. And that makes this wonderful Christmas all the more special to me! Merry Christmas, dear.
***
All of my Christmases are coming with you by my side as a bundle of joy and delight, and now I'm filled with all that's best in life. You are so dear to me and there is no other person like you. Merry Christmas, handsome.
***
This year is going to be filled with magic as long as I get to be with you on this special day.
***
I am in total awe of you. Your kindness and your sweetness are the things I'll never get tired of. Let's celebrate Christmas together; it will always be my most favorite day. Merry Christmas, gorgeous boyfriend.
***
Santa brought me the gift to end all gifts because he knew how much I wanted you. On Christmas day, there's only one thing left for me to do, and that's to devote my heart and soul to you on this special day. Merry Christmas, from someone who loves you madly!
***
The snow is falling outside the window, but for us, only warmth will do. I want to be wrapped up in your arms for the rest of the day, and I want our love to warm every single thought of you. Happy Christmas, cute boyfriend, may our love last forever.
***
I am filled with Christmas cheer all day long because I know what's going on today that makes me so glad. I'm thrilled to have you by my side, and nothing will ever make me happier than having you there forever. Merry Christmas, dear boy!
***
You are such a good friend to everyone who knows you. Your generosity is what makes this Christmas day special; it's an honor to celebrate with you this most charming time of the year.
***
I love the way you're smiling, it gives me chills. You are handsome and so warm, I feel all cozy inside when you are with me. That's how Christmas should be as we count down the hours until our special date. Merry Christmas to my handsome boyfriend.
***
Just when things were getting bleak around here, there you came. Now everything is beautiful and wonderful. I'm feeling so much better than before because of you during the holidays, and with the greatest of ease, I'll be able to let go this year without a shred of doubt in my heart or in my mind that I can survive without you by my side through Christmas.
***
Christmas is the perfect time to tell you that I adore you and treasure you, more than words can say. You are the gift that keeps on giving my heart and soul, through all of life's changes, there's one thing that will always stay true…I love you. Merry Christmas, my boyfriend.
***
May your holidays be bright with love and laughter. May your days be merry and bright! May all your Christmases be white! Happy holidays with lots of love, from one special guy to another…you know who you are:) Merry Christmas.
***
I've been watching all of the Christmas movies, and I've come to know how wonderful Christmas is, with my handsome boyfriend. Every Christmas starts a new with you in my arms.
***
The presents, the food, and the decorations all add up to a wonderful Christmas day, but it means nothing compared to what you mean to me. You make every day a joyous one for me and I hope that this Christmas will be filled with love and happiness for both of us. Merry Christmas!
***
I missed you so much yesterday because it was not really a "Christmas day" without you by my side. I hope that you always remember how much I love and appreciate you. You bring a special light and joy to my life that cannot possibly be described in words. Merry Christmas, sweetie!
***
I am so happy to announce that it's our first Christmas together! Although it's been a long time, but the moment we become each other's boyfriend is still unforgettable. I wish we have many more Christmases together and spend them all in each other's arms. Merry Christmas, honey!
***
It's snowing outside and everything feels so cozy inside my house because I am with you.
***
Every day is a gift, but Christmas is our day to share all the love we have for each other. Since it's the holiday season, let's just celebrate with a bang. Merry Christmas, handsome.
***
I know I should be doing my Christmas shopping, but first I want to ask you to give me a big kiss for good luck in my purchase.
***
Christmas is the time of year to make memories and watch them shine. But it's also the time for our love to grow, so that in the years to come I will remember this Christmas Day with you. Merry Christmas, honey.
***
You have given me the best gift there is. The gift of love, which gives my heart a reason why it beats, and makes everyday one I cherish and adore. Merry Christmas my darling boyfriend!
***
It's so easy to have a great life, when you're living it with me. There's something magical and special between us that makes the whole world bright. I just love getting presents from you and on Christmas day, will get lots of them. Merry Christmas to my boyfriend.
***
I love getting you all the gifts you want and need because it's fun for me to spoil you this way. I can't wait till we open up all the presents together, today. Merry Christmas to my handsome boyfriend who treats me like a Queen.
***
I'm giving the best gift of all when I give you my heart, and you will always be its most precious recipient. It won't be Christmas without you, so on this special day, let's wish each other a Merry Christmas.
***
On this Christmas eve, I know that he is eagerly waiting for me to come home. He is so very happy in his little room and he has been waiting for me to hold him tightly because it's Christmas! So merry Christmas to my boyfriend who waits patiently for me to return.
***
The littlest things are special when you're in love. I'm recognizing what makes Christmas the most wonderful time of year with you in my heart. Merry Christmas to the man who makes my life complete, with love on Christmas day.
***
If it were possible, I'd capture every moment of our life together and store it all in a bottle so that I could remember how happy I am right now. Merry Christmas to the man who complements me perfectly.
***
There is nothing that compares to finding a real friend, especially around the holidays or any other time of year for that matter.
***
Merry Christmas, baby, and I love you. You're my dream come true, my Christmas Prince. I want to be with you at Christmas, because it's the best day of the year.
***
What beautiful thoughts are running through your head, sweetie. I can't wait to hear them for myself, as I invite you over for the holiday holiday season. May our special day be filled with love and radiant joys for the world to see.
***
I think Santa should have made me you for Christmas, because my Christmas wishes would all come true. I've been good this year, and so has Santa, because he made you mine. Yay! Merry Christmas to my sweet boyfriend.
***
It may be cold outside, but it's sure as heck warm inside when we're snuggling up close. To have you in my arms at this time of the season is such a wondrous thing that I just can't get over it. You give me so much pleasure that I find myself wondering if it's too much.
***
Waking up this morning, I couldn't wait to see what Christmas night would bring. It was the most wonderful day ever filled with the promise of love. Merry Christmas, my handsome boyfriend.
***
The best gift I could give you is being by your side and giving you a promise that every day will be our Christmas to remember. Merry Christmas and have a wonderful week.
***
For all the days we've been together and the nights we shared, each of them made me fall more and more in love with you. On this perfect Christmas, I want to say thank you for making my life so happy.
***
You are the greatest gift I've ever had, and on Christmas day, you're all I want to see. You complete me as a person and you give my life meaning. Happy Christmas to my handsome boyfriend!
***
My heart is so full right now with you in it. All this time we've been together made me realize how much I love you. Thanks for never saying goodbye and always coming back to me – I only hope that this Christmas will be even more special than the last one was.
***
At Christmas time, I think of the time I've spent with you this last year. So much fun and adventure, it's been a wonderful year. Your love has made my Christmas merry and bright, as I look forward to another great Christmas next year.
***
The snow is falling, softly covering our home in a blanket of white. The warmth of your love is all that I need to keep me happy this Christmas Eve and beyond. Merry Christmas to the man who's stolen my heart and become the best gift I could ever wish for.
***
I want you to know how much I love you this Christmas, which is why the entire day is ours to spend. I want us to have the perfect time. Let's go out in Santa suits and go caroling in the snow. It will be fun, and it will be romantic. Merry Christmas!
***
The Christmas tree sparkles with lots of lights, making me feel like things are as bright as they could possibly ever be when it comes to my feelings toward you. You have given me a dazzling array of presents this year, all wrapped up inside your heart.
***
This Christmas is space a little different than the last one. You see, this time I have you in my heart and you are part and parcel of all my family's celebrations. I love you, baby. Merry Christmas to you, my love.
***
I never thought that I would be able to experience love like this, but look at me now… I am surrounded by the best of everything in life. You are a great boyfriend who always makes sure that his girlfriend is more than happy with the results.
***