Want to thank someone for their hospitality? Looking for thank you for accommodating messages to show your gratitude towards someone who went out of the way to accommodate you?
Here is a list of sample thank you for accommodating messages that can be used when you need to express your heartfelt thanks towards someone who has done something valuable for you on account of their generosity and love. Read more!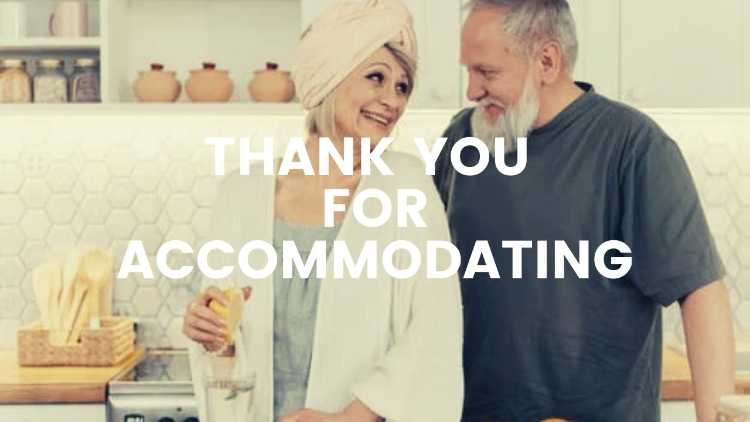 List
#1 I know that you had a lot going on in your life, but thank you for making time to accommodate my needs during this rough period. It was really sweet of you!
#2 It means so much knowing how accepting you are of who I am as a person—even when that's difficult to do! Thank you for being so accommodating.
#3 I know how much it means to me, and I thank you for still doing it even though it must be an inconvenience at times. You are the most considerate partner in the world!
#4 It is really great of you to help out with everything while I am away on my business trip. This shows me how much you care about us as a couple. Thank you very much!
#5 Thank you for all your hard work over the past few weeks. Not only have I received compliments from the office staff, but I am grateful that they don't have any complaints either. It has been a tough few weeks, but instead of letting them fall apart, you have kept them together. I truly appreciate your efforts!
#6 Thank you for letting me be a part of your family. I hope that I can make myself useful and help out with anything that needs to be done. Now, whether it's cooking dinner or helping around the house, I feel like I finally have my purpose here.
#7 I know this was all very fast for us, but thank you so much for making me feel loved and welcome in your life. You are such an amazing person to love unconditionally!
#8 Thank you for always being there for me even when I'm having one of those days where everything seems terrible. Your support has really made all the difference in my life!
#9 I'm grateful every single day for the things you do for me. It's not always easy to step up and take care of other people, but you do so selflessly and without hesitation. I hope you know how much that means to me! Thank you!
#10 You're such a kind soul, and I'm really thankful that we met because it allowed us to spend some quality time together. You went out of your way to get everything just right, and it meant a lot to me! I feel blessed that you're in my life.
#11 Thank you again for opening your home to me while I was going through difficulties in my life. You treated me like family, and it made all the difference in the world when things were looking their darkest.
#12 I know that you had a lot going on during this week, but thank you for making time to accommodate my needs. It really meant a lot to me!
#13 Thank you so much for accommodating me during this rough patch in my life. You have no idea how much it means to me that you, of all people, took the time out of your day to help me. I can't ever repay what I owe to you.
#14 It's been a long, stressful day and all I could think about coming home was collapsing into bed. Thank you for waiting up for me and having dinner ready. Nothing makes a bad day better than spending some time with someone who cares about them as much as you do.
#15 Your efforts in helping us get set up while being stuck at the airport going through customs was just amazing. We really appreciate all of your hard work.
#16 You absolutely didn't have to do this, but thank you for getting up so early to make us breakfast before we left. It was very thoughtful and kind of you!
#17 I know it wasn't easy having me invade your personal space like that, but thank you for letting me stay with you at the resort even though I booked too late. I had a wonderful time!
#18 Your willingness to sacrifice your own well-being in order to help out old friends is what impresses me about you most. Thank you for being such an incredible person!
#19 I know that you were really busy and had a lot to do, but thank you for giving me your undivided attention. I know it meant a lot to me and I will never forget the gesture.
#20 You didn't have to stop what you were doing in order to accommodate my request (event, change), but I am really grateful that you did. It made things much easier on me, and I appreciate all of your help!
#21 Thank you so much for accommodating my last-minute request for information/logistics. You went above and beyond the call of duty, which helped our team out a lot! Thank you again!
#22 I know that you have a busy life and it might be frustrating to constantly accommodate me. Thank you for your patience during this time, as I am trying my best to make things work.
#23 Your accommodations made what would have been a difficult transition much easier on us all. We can never thank you enough!
#24 Thank you for having the heart of gold! Your accommodating nature allowed us some peace and quiet during our first week here in town and we cannot thank you enough for that.
#25 We really appreciate your flexibility throughout this first month at our new location, especially with all of the moving parts we had going on around us. Without your company's great accommodations we wouldn't have been able to get through everything so smoothly.
#26 Dear Neighbor, thank you for taking the time out of your day to come by and check on me while I was sick. I know that it's not your job to take care of me like this, but I really appreciated you doing so.
#27 I can't thank you enough for opening up your home to me while my house is under construction! It means the world to me that you would go out of your way like this, and it's nice having someone else here with me.
#28 Thank you for welcoming us into your home while we're in town for my sister's wedding! This place is much nicer than any hotel I've ever stayed at, and it's great knowing I don't have to commute back and forth between here and the venue every day.
#29 Dear Friend, thank you so much for taking the time out of your day just to sit and chat with me. Your company means the world to me and I cannot tell you how much it means to me that you were willing to put your plans aside just so we could chat.
#30 Thank you for coming! I hope that my place was clean and tidy enough for you – if not, please let me know what I can do better next time! Thank you again so much for staying over, I appreciate it so much!
#31 Your visit this weekend made my week complete. You've been such a blessing lately and I cannot express how truly thankful I am that we are friends. Thank you for always accommodating my needs and going out of your way to make sure I am happy and taken care of.
#32 Thank you so much for being there for me, I'm sorry to be such an emotional mess. You are more than welcome to stay with me as long as it takes me to get settled again.
#33 I apologize for any inconvenience, thank you so much for allowing me to take up space in your schedule every week. I hope we can keep doing this forever!
Warp Up
In conclusion, when thanking the person for accommodating you, be personal and refer to specific events you discussed. If you want to extend your gratitude, consider sending a thank-you card or note.
Saying "thank you" is simple and anyone can do it. The next time someone accommodates you, take the opportunity by saying "thank you" when they're done. As simple as it may seem, many people do not say "thank you" after being accommodated by another person.