Everyone has their own beliefs, no matter how wrong or right they are! However, every single person also needs to believe in something. If you find someone with similar tastes as yours regarding certain matters of faith and religion, then it is best to let them know that you appreciate the time spent worshipping together.
Here is a list of sample thank you for worshipping with us messages that are perfect for the situation. Be sure to read on to find even more!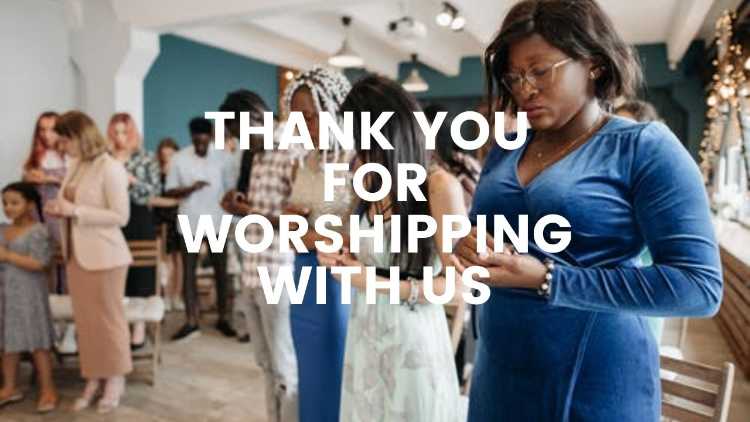 List
#1 I'm always thrilled when you choose to worship at my church–it means so much because your faith is truly an inspiration. The sermon tonight was a great reminder of how much we need each other and the things that God has done for us.
#2 Thank you for choosing to worship with us today! Your faith is an inspiration to me, and I hope that tonight's sermon was encouraging. You inspire me greatly by your presence here.
#3 I love it when our paths cross so we can worship together! I know not everyone is able to make it, but every time I see you here, my faith is strengthened tenfold. Thank you so much for joining me today.
#4 Your faith means more than words could ever say–thank you for being here this morning! I hope this service reminded you of who God is and what He has blessed us.
#5 I can't tell you how happy I was when I saw that it was your car in the parking lot this morning! I'm so glad you decided to come worship with us today. I hope that it was a beautiful experience for you.
#6 It is so good to see you here worshipping with us again. Your presence makes our services even more special, and I loved having the chance to talk about God during the sermon today.
#7 Thanks for coming back to church this week! Thanks for helping me see how much I miss worshipping with everyone else in our community when I don't attend on Sundays. You really inspired me to go next week too!
#8 It was an absolute pleasure having you at service this morning! The music never sounded so good nor did the message ever seem so warm and inviting! You are welcome back any time our doors are open to you.
#9 Thank you for attending service this morning! It brings us all so much joy to see new faces worshipping with us every week, and I hope that we will be seeing you back soon!
#10 I know that you were nervous about coming to our group for the first time, but, believe me when I say no one here gives it a second thought. You are more than welcome to join us again any time!
#11 We are so grateful to have seen your lovely face in service today. It is always encouraging to our hearts when people choose to worship God by participating in one of our small gatherings. Thank you for joining us today!
#12 Our doors are always open anyone to in need or looking for guidance in their faith. We thank you for your visit, and we pray that the words shared here today go with you well.
#13 Our church is a wonderful place to worship God, but it's even better when people join us! Thank you for worshipping with us today. We are truly blessed to have each of our congregants.
#14 We are so grateful for your presence this morning, friend! Thank you for coming to praise the Lord with us today. We hope that your time here has given you encouragement in your walk with Christ.
#15 We are honored to have you join us every Sunday morning! As the pastor of this church, I promise to do my best every week of service. Thank you for coming and sharing your time with us.
#16 Thank you for being part of this wonderful church community. We are so glad to have you with us every Sunday, and we are honored that you have chosen to worship here.
#17 I know how difficult it can be finding a place to go every week where the entire family is welcome. I promise that this is a place where your family will feel at home, no matter who comes along! Thank you for joining us today.
#18 We're happy that there is another set of eyes on our staff, because they work very hard for this church! Thank you for coming and sharing your insights with me. It has given me all kinds of ideas moving forward in the future.
#19 I hope that your Sunday morning was a very special one, filled with joy and new memories! Thank you for worshipping with us this morning. Know that I am always available if you have any questions about the church or would like to get more involved in the church family community.
#20 I'm so happy that you chose to worship with our church today! We are truly blessed by your presence here, thank you so much for joining us! If there is anything we can ever do for you, please let me know.
#21 Thank you for taking time out of your day to come and join our fellowship on Sundays! Your presence here is a blessing to us all, and I hope you feel at home with us. Thank you for being part of our church family!
#22 We truly appreciate your presence here today! Your friendship and continuing support means so much to us, and we love seeing familiar faces each Sunday We hope to see you again soon.
#23 It can never be said enough how much it means to us that you take the time out of your week to come and worship with us. We hope you know how much we value your presence here, and it is a pleasure seeing you each week!
#24 Thank you for coming today. This service would not have been possible without all the wonderful people who made this day special, and that includes you! Thank you for being here today to rejoice in our Lord's blessings.
#25 Thankful doesn't even begin to cover how grateful we are to have you as a part of our worshipping community. You bring so much joy, laughter, love, friendship – everything good – into our lives every Sunday morning, and we're so happy you are here.
#26 Thank you for worshipping with us today. Our congregation is a wonderful group of people and it's great to see everyone face-to-face during the week.
#27 I hope that you enjoyed our service as much as we did! Thank you so much for joining us for this special day, and we hope that you will be able to join us again in the future!
#28 Thank you very much for attending our services today. You are always welcome here, and we couldn't ask for a better way to start out our week than with friends like you.
#29 I appreciate that you take the time to come and worship with us on Sundays. I know it's a busy day for everyone, but thank you again for your effort.
#30 It was great having you join us today, and I hope it won't be so long before you come again. Come back soon!
#31 Thank you for taking the time to worship with us this Sunday. It really means a lot that you would take out some of your precious time to do God's work, and I appreciate it greatly.
#32 It was wonderful having you worship with us today, although I wish that you could have been here from the very beginning instead of just arriving at the tail end. Please try to join us next week—we always start on time!
#33 You are always welcome in our church or any place where we worship. Thank you for joining us every week; your presence is just another reason why God will smile upon us all.
#34 Thank you for allowing us into your life during our services. It's always nice to see familiar faces in the congregation, and it makes me happy knowing that we can provide a service that is important to you. Thank you!
#35 Your support means a lot to all of us here at church. We hope that we can continue providing a service that is meaningful to people like yourself with the help of your support & attendance at our services. Thank you again!
Warp Up
When someone joins you after attending a worship service with you as the speaker, remember to thank them as well. You can say your thanks within a few minutes or days of that person coming over. Before you do that, ensure that the atmosphere is right and it's not too awkward.
Thanking someone for worshipping is a great gesture one can do to show their gratitude for the worshipper's presence. If you are struggling with what to say, hope the ideas and examples from this article have been helpful.