Anniversaries are special occasions for couples to celebrate the love and commitment that binds them together. Whether you're celebrating your own anniversary or sending a card to congratulate someone else, it's important to show your appreciation with meaningful words. Here are 150 happy anniversary messages that will help inspire you when crafting the perfect message for the special couple in your life.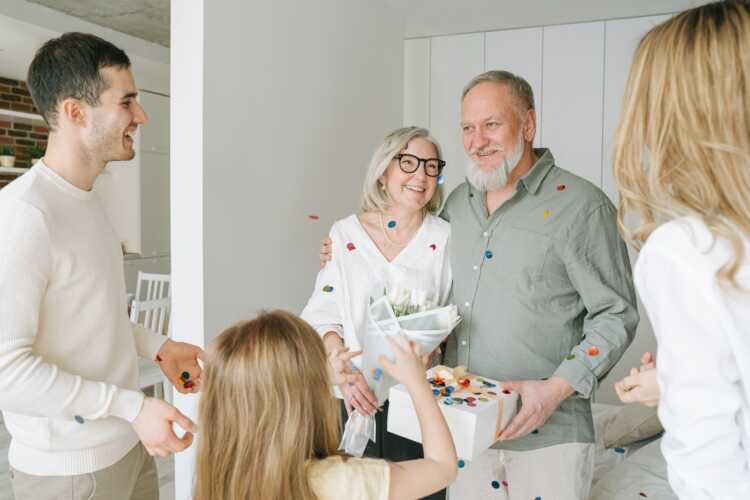 May your anniversary celebration be as beautiful, fun, and romantic as you two are. Wishing you both a day of joy as you continue your love affair all the way to your golden years. Happy Anniversary!
***
I wish that I could send a glittering piece of jewelry to symbolize the sparkle in your marriage. Instead, I'll just tell you how very happy I am that the two of you were smart enough to take the plunge and tie the knot! Happy Anniversary!
***
May all your coming years be filled with more happiness than you can hold in one heart.
***
[40th Anniversary] is a milestone worth celebrating. The [two of you] have earned the time to relish each day and cherish the memories from the years. Congratulations on your anniversary and cheers to many more!
***
Looking forward to celebrating with you today are all our family and friends who know how much we admire you for choosing each other for life. We wish you a happy wedding anniversary, dear [couple]. It's been a wonderful year, and we hope that happiness fills your days for many more years to come.
***
The best thing about being friends with you two is watching how much fun you have together. You are an inspiration to all couples. Thank you both for the joy you bring to our lives. Happy Anniversary!
***
Some people use their wedding anniversary as an opportunity to complain about the length of time they've been married, but not you two. Despite your nearly [50] years together, there is still so much love in your eyes and happiness on your faces that it seems as if you were recently married.
***
Every time you look at your spouse, you see the best version of yourself. We hope to still see you when it's your wedding anniversary. Happy anniversary, sweetheart!
***
We are so thankful that this gorgeous couple has walked the path of love together for so many years. You bring us such joy and inspiration each day. Happy anniversary, champion!
***
Thank you for being our best friends and our dearest family members on this wonderful day. Our wish is that your love will grow stronger and stronger each year until the day we live to see our 100th wedding anniversary together.
***
You are glorious. You are a caring and compassionate soul who has been kind to so many people in your life. Your wife has given you strength and love. I wish you many more anniversaries together.
***
Our lives would not be complete without you in them. We are so happy that we found each other on this journey and we look forward to celebrating our life together for many years to come. Happy Anniversary!
***
No matter how hard times get, the beauty of being married to someone as wonderful as you is nothing short of astonishing. Thank you for your endless support, all of your wonderful advice, and for loving each other every day for the rest of our lives.
***
You two are a joy to watch. Even after [25] years of marriage, you are still so in love with each other that it makes you seem years younger than you actually are. I hope you enjoy your anniversary celebration. Happy anniversary!
***
You two have been a constant source of inspiration for me, and your annual reason-to-party is no exception. I hope your anniversary celebration brings the same sense of excitement that your wedding day did many years ago.
***
These years have been incredible. We've spent more time with you than we could ever have dreamed of. Thank you for being the best friends and loving parents that you have always been, and for welcoming us as future family members into your lives. Thank you for being our biggest fans, too! Happy Anniversary!
***
You make each other better people, and it's no surprise that your love has lasted all these years. We look forward to many more happy anniversaries together.
***
Every day that you and your wife have been together having brought us happiness. You are a truly wonderful couple, and we look forward to sharing many more happy years with you.
***
Nothing makes me happier than seeing the joy on your faces every day. Your marriage is a great inspiration, and I wish you a very happy anniversary.
***
This is the most wonderful thing known to humankind—the love between two people who are meant to be together until death do them part. Even though my wife is long gone, I am honored that you were her soul mate throughout eternity.
***
You are the best of friends and your marriage has lasted [50] years as a testament to your happiness. We hope that you have many more years full of love, laughter, and happy memories together. Happy Anniversary!
***
Through the years, you have been a great example of how a strong relationship can weather the storms and keep loving each other. I wish you another 50 years riding each other's waves. Happy Anniversary!
***
You are one of those people who has made life better for everyone around you. Your pioneer spirit is an inspiration to us all who look up to you as role models. We wish you another 50 years filled with happiness.
***
You are both lucky, because you can't imagine spending any time apart. I hope that you will have many, many more anniversaries like today's in the future. I wish you both a fantastic day!
***
Your love is so enduring, it seems to last forever. You are both such stellar role models for other couples looking for tips to make their marriage last a lifetime.
***
I am thrilled for you two lovebirds, for you have created a magical life together. It is a blessing to have friends like you around, and we hope your anniversary brings you closer together.
***
You both make each other so happy. As long as you two spend much time snuggling up under the covers, we're happy too. Happy Anniversary and many more to come!
***
We are thinking of you both on your wedding anniversary celebration day and hope that it is filled with all of your favorite things.
***
Time and love have passed so quickly—it's amazing how you were two people next to each other for a couple of hours yesterday, and then at the end of the day, you were two people who loved each other with your whole being. We are very lucky to be your family.
***
Our happiness for your anniversary will always be that much sweeter because we know you are destined to spend the rest of your lives together. Please know that you fill us with joy every single day!
***
Our congratulations to you both on your big day. May you continue to share all of your joys, triumphs and celebrations with each other. Thanks for sharing practical tips on how we can better care for our old-age. We wish you many, many more years of love and laughter together as husband and wife.
***
Congratulations! You have been married longer than I've been alive, but your love for each other is as fresh, exciting and vibrant as the day you said "I do." I hope that you enjoy this special anniversary with the same amount of excitement that you did when you got married.
***
I hope that you had a wonderful time last year, and that this year is even better. Your love brings joy to anyone who knows you both, and we hope that your anniversary is filled with all of the happiness you have so joyously shared with the rest of us.
***
We wish you nothing but the best on your anniversary. You have been an inspiration to everyone who has been blessed to meet you both since your wedding day. May your love continue to grow and support each other throughout life's uncertain journeys.
***
Thank you for the happy years of shared laughter and the epic belly-laughs. Thank you for being together through thick and thin, thin and thin. Let's celebrate your love for sharing good times and bad times, – now [50] more [years]!
***
Many thanks, darling! You have been such a wonderful companion to us both through all the changes of life. We hope you will be as beautiful as you are, [60] years from now. Happy anniversary
***
I can't believe you two have been together for [40] years. When I think of my own wedding day, your anniversary reminds me that love is stronger than any force in the universe. Keep going strong. We adore you both!
***
Congratulations on your [40th] anniversary! The love that unites the two of you is as bright as the smile on your face when you greet each other every day. You two are a shining example to us all.
***
What an impressive record that you two have created. You are the couple who has given us all hope, and we hope to see you celebrating many more anniversaries. We wish both of you the happiest of birthdays.
***
If a single day with either of you doesn't bring me a smile on my face, then I don't know what will. I can't believe it has been [30] years since you two were married, but I am glad that your love has just grown stronger over time.
***
We are so lucky to have you two in our lives. The best thing we can do on your wedding anniversary is to be exactly who you want us to be. We are so excited to celebrate another [10] years of happiness with you both. Happy anniversary!
***
In the time we know you both, [we] have witnessed firsthand how your love for each other has grown stronger with every passing year. It is a joy and a blessing to watch your relationship blossom and grow. Happy Anniversary!
***
Some couples find a way to stay connected with each other for years. You two have not only stayed connected for years, but you have grown closer over the course of your marriage. Congratulations on your anniversary, dear friends. We hope you enjoy your special day and many more to come.
***
It isn't often that we get to see such a beautiful and long-lasting relationship in front of our eyes. We want to congratulate you on your anniversary and wish you many more happy years together as husband and wife.
***
The way you two look at each other makes it clear how strong your love is. I hope the two of you always have this joy and continue to be the perfect couple that you are today. Happy Anniversary!
***
Your anniversary is a reminder that love is something that can and should happen forever. You have shown us all what true love means, and we are thankful to have seen it up close.
***
You make a stunning couple, inside and out. And we know by the way you treat each other that your love is one of a kind.
***
You two are the perfect combination of sweet and easy-going. When we see you two together, we know that the world is a better place. We wish you all the best in your life together and hope that you stay forever young!
***
You two are surely the most adorable couple we've ever met. We hope you have a very happy anniversary, because you certainly deserve to be so, and because the world needs to hear it.
***
You two are the very best, and you have been so good to each other for [so long]. We hope that next year brings you, even more, romance and sweet memories. Happy Anniversary!
***
The reason we get up in the morning is that a part of us hopes that this day will bring us even more happiness than yesterday. And in your case, it has! Your marriage is truly an inspiration to us all.