No one knows how to make us feel as special as our spouse. Sometimes, the best way to show them how much we appreciate them is with a handwritten note or heartfelt quote. If you're looking for some inspiration, here are some samples of thank you notes and quotes for your wife. A little token of appreciation can go a long way in strengthening your relationship!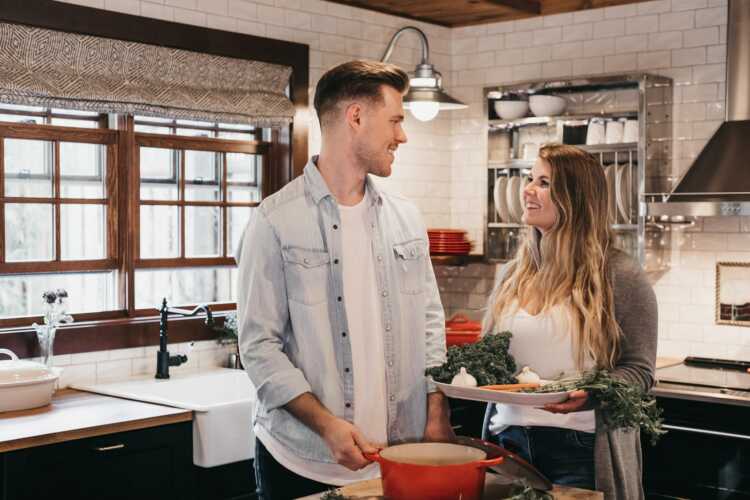 List
#1 You are my beautiful wife, the person with whom I want to share life's ups and downs. You are an amazing woman who is not only my lover but also my best friend, my trusted confidante and the most important person in the universe to me. I love you sweetheart!
#2 I am yours forever; you are mine now and always. You have helped me become a better man each day of our married life together. It was not easy for us at times, but we stuck it out together all this while. Thank you for being so understanding, patient and kind towards me even when things were tough between us. I love you!
#3 I love you and I always will—you are the only woman for me now and forever. You make all my dreams come true; you make all my bad days seem brighter; you make everything in life perfect. Thank you for being the best wife ever!
#4 Whether it is your sparkling eyes or your thoughtful nature that first caught my attention on our wedding day, I have loved you ever since. You are the most amazing woman that I have ever met in my life and nothing will change that fact. Thank you for being by my side through thick and thin.
#5 If I could go back in time one year, to our wedding day when we said "I do", I would say "Yes" all over again without any hesitation. You are everything to me-my sweetheart, my soulmate, my wife and the love of my life. Thank you for always being there for me!
#6 For your birthday today, let me remind you how much happiness you bring into our lives each day with your infectious smile, your enthusiastic attitude and your eternal optimism about life itself. I am truly blessed to have you in my life.
#7 Love is a miracle, love is beautiful and love makes everything worthwhile! I feel so lucky being married to the most amazing woman who has made every single day of our marriage special. Thank you for making me happier than I could ever imagine. You are simply the best!
#8 You are all that I have always wanted in a wife-loving, caring, generous and selfless. When things get tough between us, I forget it all because I know that our bond is strong enough. Thank you for staying with me during difficult times when others abandoned me. You are an angel on earth sent to make me happy!
#9 You and I share a deep and meaningful bond. We do not need words to express our love for one another. Actions speak louder than words, and your actions tell me you love me dearly. Thank you for being so loving, my dear wife.
#10 When life was full of struggle, you stayed by my side like the sunshine after the rain, bringing happiness into my life with your carefree spirit. You are truly blessed in more ways than one! There is no way to adequately thank you for all that you have done for me over the years of our marriage—and there is nothing more that I will ever ask of you because I know how much it means to me, knowing that we are together forevermore.
#11 I want to find a way to show you how much your love means to me. I want to find a language that will tell you of my undying devotion for you. Will you please let me know if there is such a language, because it does not exist in our world as far as I can see?
#12 You give me fresh beginnings whenever the day, or life itself, becomes dark and dreary. In your arms, all burdens are lifted and all troubles cease – at least temporarily – and we can quietly enjoy each other's company. You make everything alright—even when it seems like only darkness surrounds us…my dawn has come with you.
#13 Thank you for being patient and loving enough to deal with my mood swings; thank you for not giving up on me despite the fact that I was having a bad day or making unexpected demands on you—you are an angel. You are my better half, and I never want to be without you.
#14 You have given me hope for a bright future even when it seemed dark all around us. Thank you for being brave enough to move forward with our lives together, even though there were forces working against us. You are my hero every day of the week!
#15 Other women may come into my life, but they will never take your place in my heart because I love you so much—and they can see that by my actions. You mean everything to me! To think about how blessed I am every time we embrace overwhelms me with joy. Thank you for making my life complete and fulfilling.
#16 You make me proud to be your husband; you make me feel like the luckiest guy on this planet whenever I tell anyone about you or show pictures of our family to others! I always want to glow with pride when I speak of you, because you are so special…and unique. You are one-of-a-kind in every way—the kind of woman who makes a man wish he could have ten wives just like her!
#17 Thank you for being willing to accept my flaws as well as areas that need work because it gives me comfort knowing that no matter what happens, we can work through it together. You inspire me to be the best man possible—and I love that about you. You are a lovely, special woman and I am blessed to be your husband.
#18 Thank you for being willing to confront difficult issues in our relationship head on rather than sweep them under the rug hoping they will go away. Thank you for not walking out on me even when I was at my worst—you have given me hope of a brighter future. Now that we have finally gotten it right as man and wife, let's never go down the wrong path again!
#19 You complete me more than anyone else ever has…or ever could, because no one loves me as deeply as you do…no one knows every nook and cranny of my soul like you do…and no one can love me better or longer than you can. You mean the world to me, and I will love you until my dying breath!
#20 Your wisdom, poise and class make me feel like I could conquer the world. Your generous spirit makes me look forward to every day with you. Thank you for making my life so fulfilling.
#21 I want to love you more than anyone else can or will. I want to be everything that makes you happy because your happiness is the only thing that matters to me in this world. Everything I do, either at home or away from home, is done with a prayer of thanksgiving for your love and support throughout our years together. Thank you for being my wife!
#22 You are my best friend, lover, companion and partner in crime… And even though we share different opinions about almost everything, both of us always agree on one point: how much we love each other! I could not imagine life without you. You are my dream come true. Thank you for making me feel like the king of the world every day!
#23 I found peace, happiness and home in your eyes all those years ago… And now that we are married, every moment spent with you fills my veins with sunshine. Your loving touch melts away any troubles or fears that try to creep into my heart. Thank you for showing me what true love is all about, sweetheart.
#24 When I first saw you, my heart skipped a beat but when I met your beautiful soul it repeated endlessly so full of joy. Loving you has been the only constant source of happiness through good times and bad for over half our lives. Thank you for sharing your heart with me.
#25 When I gaze into your eyes, my soul is transported to heaven. You always believed in me when nobody else did and encouraged me to pursue the impossible. I love you more than words can say, my beloved wife! Your belief in me makes this life complete.
#26 When you look at me with those plush lips, I become a lost man who does not know where he is or what he wants anymore… All that matters is that I want to stay with you forever and keep your happiness as my priority throughout our lives together. Thank you for being mine all these years, sweetheart!
#27 I feel like the luckiest person alive because of you, my precious wife! You are beautiful beyond belief both inside and out. Your love has made me a better person and your support has made my dreams come true. I cannot imagine my life without you, sweetheart. You are my dream come true!
#28 It is difficult to describe in words how much I love you… But this is how I feel about you: when we kiss, I go weak in the knees; when we hug, all hurts disappear; when we make love, time stops; and when we part for even a few minutes, the world seems dull and lifeless. Thank you for always brightening my day by holding my hand everywhere we go!
#29 My love for you knows no boundaries because every moment with you feels like heaven on Earth. Although our journey through life is fraught with obstacles, my love for you will never diminish. I am so grateful for your endless support and understanding throughout all the years we have been together. Thank you for being such an amazing wife!
#30 When we first met, I did not know if we would last… But now that we are married, I cannot imagine spending a single day without you in my arms and in my heart. You make me feel like the luckiest man alive every day and I hope there is still many more wonderful days ahead of us!
#31 I can think of no happier place than to wake up next to you every morning; to come home everyday knowing that there is this safe harbour waiting for me; and to go to sleep at night with this feeling of contentment that you are my wife. I thank God for my luck everyday in having you by my side!
#32 Every day with you is a new experience in love, care and understanding… And your support means everything to me. Your strength gives me the impetus to believe in myself again when nobody else does. You make me feel like this life is worth living because at the end of it, I will be united with my precious lovely wife forever!
#33 I knew from the moment we first met that there was something truly special about you. There was just something in your eyes—so beautiful, so kind and so lovely. Now I see your heart and soul and realize that I was right—there really is something about you. You are one-in-a million.
#34 The warmth of your smile, the glow of your face, the care in your eyes – just being near you lifts me from my feet to a place where I can only feel joy. And when we kiss… oh God!! It has been a long wait but it's well worth it all to have what we have now—the perfect love always shining through! Thank you for being who you are – my sweetheart wife.
#35 You are my angel. You have brought life and joy to my world. I feel blessed when I hear your voice telling me that you love me, when we dance in the rain or hold each other by a warm fire on a cold day. Thank you for being the best thing that has ever happened to me.
#36 I am so in love with you, sweetheart! Your beauty steals my breath away every time I look at your face. Your wit, wisdom and grace delight me far more than any treasure this world offers us. My heart skips a beat whenever we kiss—and quivers when we make love. And it is all because of your beautiful spirit dwelling in our loving home.
#37 Thank you for showing up for me through the thick and the thin. Thank you for being my strong and loving wife in times of hardships and struggles. You are so much more than I deserve, but I am so grateful you chose me to be your husband!
#38 I will love you even when we grow old, gray haired and wrinkled with liver spots on our hands—and even if our memory fades. Being married to you is a great honor that I will cherish until my last breath. Thank you for making every day special.
#39 Thanks for being there by my side, always ready to lend an ear or offer some encouragement when it's needed most. Thanks for brightening up each waking moment of my life with your beautiful presence, kind heart and generous spirit. And thank you for being my wife.
#40 Thank you for being by my side through thick and thin, good times and bad. Thank you for holding our family together when things fell apart. You are the best thing that ever happened to me, and I will always love you more than words can describe.
#41 You are an inspiration in so many ways—as a wonderful mother of our children, as a dedicated employee of your company, as a true friend who helps others without expecting anything in return. And most importantly, you are the loving wife who has changed my life for the better every day since we got married. Thanks for choosing me!
#42 I found peace at last when I met you and fell into your arms. Since then, it's all been a beautiful dream: growing old together, sharing our joys and sorrows, and watching our children grow up. I thank God for giving me such a wonderful wife as you!
#43 What can I say? You are my sweetheart and I love you more than words can ever say. Your smiles take my breath away like nothing else. Your kisses make me weak in the knees like no other girl's ever did. Thank you for being the best thing that has happened to me in life.
#44 I love your spirit…and your body…and your mind…and every part of you! We have made it this far because we belong together like two halves of one soul that complete each other perfectly . You are the most generous and loving wife any man could ever hope to have. I adore you!
#45 You are the love of my life, and it makes me so happy that you chose me as your husband. Thank you for showing up every day with so much passion and dedication—for cooking amazing meals, doing dishes after dinner, taking care of our children when they were sick or just needed some mommy time…and for giving me so many unforgettable nights of pure bliss in our own cozy bed.
#46 I am so blessed to be your husband. You are all I need to make my world go round. Thank you for being an amazingly supportive wife through thick and thin; thank you for having my back when times got hard; thank you for making each day extra special by loving me unconditionally; thank you for making all my dreams come true.
#47 I couldn't wish for anything more in life than to be married to the most amazing woman (and person) to walk this earth. I love you beyond words! You are truly an incredible wife and friend, an inspiration to many people in your circle, and one of the greatest blessings in my life!
#48 Thank you for always being there when I need someone to talk to. Thank you for supporting all my (sometimes crazy) ideas and plans—no matter how big or small they might be. Thank you for believing in me when others didn't. And mostly, thank you for being such a loving wife…and best friend…and amazing mommy to our children. I love you!
#49 Thank you for your tender heart, your loving words, your caring ways and your special kisses that set my soul on fire. You are an amazing mommy who loves each one of our children in a unique way—and who makes sure they know how much they're loved every single day. And when it comes to being my wife, you are the perfect fit…the only girl I ever want by my side.
#50 You are simply one-of-a-kind! You have given me so many wonderful memories since we got married: traveling together, hiking up mountains, playing games with the kids in the yard…and most importantly, sharing our love for God and His Son Jesus Christ. I am so grateful to call you my wife and the girl of my dreams. It's been a wonderful journey so far, and I can't wait to see what lies ahead…
#51 Every day I wake up with one thought: how lucky am I that such an amazing person is my wife? God brought us together for a reason—and it was clearly not because you needed someone to take care of you. No, from the very beginning, you have been an angel who was sent from heaven as a gift to make all of our lives better. You are an irreplaceable treasure!