Many of us have a difficult time when a loved one passes away and the need to send a message in remembrance. These messages can be heartfelt and significant in their own way, but many have trouble picking the right words. Here is a list of sample Happy Birthday in Heaven Dad messages to help you out.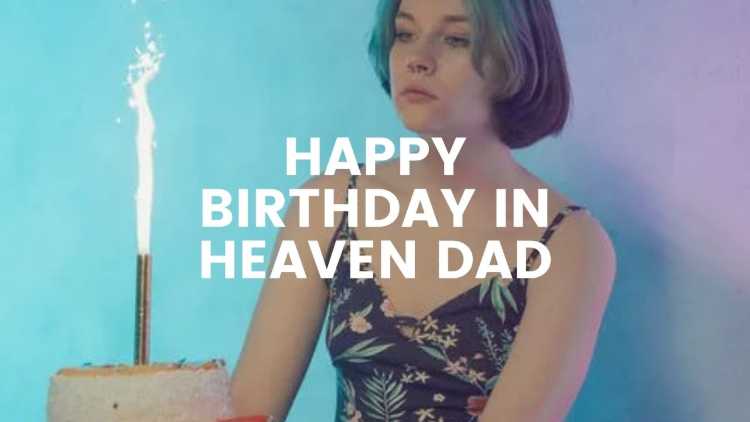 List
#1 Happy birthday in heaven, Dad. You are still here even though you're not with me physically. Your love has never diminished and your strength is still with me every day. When I feel alone, your wisdom reminds me to stay strong through the hard times. On this day, when you would have been celebrating another year of living, I would like to tell you happy birthday, and let you know how much I love you.
#2 Happy birthday to my amazing father who is celebrating life in heaven today. You were the best dad a child could ask for – loving, devoted, and kind. Though we are apart now, your lessons live on every day, and I celebrate your life with you, too.
#3 Happy birthday in heaven, Dad! I'll love you for always, no matter how much time passes. You are my hero and my constant source of inspiration. My life is better because you were here. I will celebrate your life every day until we are together again.
#4 Happy birthday in heaven to the greatest father ever! There are not enough words to describe what an amazing person you were and still are, though I know you may be getting tired of hearing it from us. But we'll never tire of telling you how much we love and miss you and wish that we could see your smiling face again. We hope our lives reflect all the things that made yours so wonderful. No one can ever take your place in our hearts.
#5 Happy birthday in heaven to the man who always amazed me with how much he loved us all! You will always be my idol and role model, no matter how many years have passed since you were taken from this world too soon. I know you must be so proud of what we've accomplished in this time without you, but missing you never goes away. Please give us a sign from where you are today so that we can rejoice in knowing even when we cannot see or hear you, you are still with us every day and watching over us like I know you did back on earth while here with us.
#6 Dad, happy birthday! There is nothing about our lives now that you aren't still a part of. I know you are watching us wherever we go and whatever we do, happy that your children have turned into the adults you always wanted them to be. You were our rock when times got tough, and now that you are gone, all of us feel so lost without your steady hand. We hope you are doing okay where ever it is that your soul resides.
#7 To my dad who has found peace in heaven! There may not be any more birthdays or Father's Days for you on earth but today I am sending up wishes for peace over your life as well as love! We are doing fine without you Dad but it isn't easy especially with everyone missing you so much! Sometimes it is hard to think of getting up and going on with my day without you here to smile at me, but somehow I know that you would want me to still live my life even with out you in it. I love and miss you dad!
#8 It has been a long time since you have been gone from this earth, yet I cannot stop thinking about you. As I look back on your life with me, I am filled with pride and joy as I remember all that we shared together. Although it's not possible to be with you now physically, know that my love for you is eternal and will never fade. Happy birthday in heaven, Dad.
#9 Happy birthday in heaven! You are greatly missed by everyone who loved you here on earth! Life has changed dramatically without your presence, but I am afloat because of the support and love of those around me. Know that even though our lives may change through the years, my heart continues to beat just as strong for you!
#10 Dad, I lost you more than a decade ago. It still amazes me how quickly time passes by, and you are even further from my reach now. But know that on your birthday, as well as every day of the year, I am thinking about you and missing you so much! Happy birthday in heaven to the greatest father on earth!
#11 When we first realized it was going to be difficult to have a relationship with you, we were heartbroken beyond words. However, through your experiences on this earth, I realize how amazing it is that God didn't want us to miss out on those valuable moments with someone as great as you. Even though life without you is difficult, we will celebrate you and keep your memories alive. Happy birthday in heaven to the best father anyone could ask for!
#12 Dear Dad, I miss you so much. The pain of losing you has not diminished with time, but instead continues to grow stronger as I realize how much I miss sharing my days with you. It's still hard for me to believe that there was a time when we were all together, yet now it's only a memory that fades each day. Know that even if we try our hardest, we cannot forget you – and we won't ever stop loving you. Happy birthday!
#13 Happy birthday in heaven, Daddy. You are my everything, and you will forever be my hero. I'm so grateful for all the special moments we had together, but even more thankful for all of your love and guidance that is with me every day.
#14 Someday we will be together again, but until then, I send you my love and hope that your birthday is full of joy. Know that every time I celebrate a birthday and Christmas and other holidays and events, I'm celebrating them with you. The memories we made while we were here on Earth are the greatest gifts you could have left me with. Thank you for giving so much to me, even when it broke your heart to do so.
#15 When I was young, you taught me how to live life through strength and courage. Even though it hurts me to know that we will no longer get to share moments like Father's Day or our birthdays together anymore, I know that one day we will be together again. Please watch over me and protect me always, as I will you. Happy birthday!
#16 You were a man who knew what he wanted and went after it. I only wish you could have seen the things that God had planned for your life – all the happiness and joy you would have experienced throughout your years here on Earth. In my heart, that's how I choose to remember you – full of life and laughter that was contagious to those around you. Enjoy your birthday in heaven today…and always know I love you more than words can say.
#17 Not all men are deserving of the title "father". You, however, were worthy. I was blessed the day you were born and even more blessed when you wanted to take me as your own. I never had a chance to say thank you for all that you did, but if I could do it today, I would tell you how much joy and happiness you brought into my life. Thank you for being the best dad in heaven.
#18 Happy birthday in heaven to my wonderful father! Our lives are shaped by our experiences with those around us, and because of that, our lives will never be the same without your influence here on earth. I know that heaven is filled beauty and love beyond our comprehension, and I can't wait to share this experience with you again. Until then, I will do my best to honor your memory by continuing to live a life of love.
#19 To my father who is in heaven, thank you for everything you did for me as my dad on earth and now that you are in heaven. You were always there for me and supported me no matter what and that made me the man I am today. One day we will be together again and until then I know you are proud of me from up above – thank you dad – wishing you a very happy birthday – love son xxx
#20 My dad in heaven, your life here on earth was cut short, but I know it's because you are so much better off in heaven. You were always so loving and kind to me, and I will miss you every day until the day I see you again. Happy birthday in heaven Dad!
#21 Your spirit is still alive through your legacy of love that helped shape who I am today. We all send our best wishes for a beautiful happy birthday in heaven for the greatest father ever.
#22 Every time my heart aches with missing you, I roll over in bed and feel your empty spot next to me… And realize how blessed we both were… From moment forward, our memories are united. I love you, Daddy. You are the best gift life has ever given me… Thank you for all that you are to me.
#23 The greatest gift of life was knowing you, Dad! Your birthday is a time to celebrate your eternal life through God's blessings, and also the love we share in memories together. I wish I could give you another hug today. But at least I can send this message to let you know how much I love and miss you! Happy birthday in heaven!
#24 I still recall your smile and laughter, but especially your patience. Though you are no longer here to experience life with us, I keep that memory of you close in my heart. You will always be with me in spirit, and on this day, your birthday, I thank you for all the times we shared together.
#25 Happy birthday in heaven dad…remembering all the ways you showed me love when you were alive inspires me today to emulate your example. Thank you for leaving behind a wonderful gift for family and friends, and most importantly for helping make me who I am today.
#26 The happiness in our hearts is because of the presence in our lives. The warmth in our souls is because of the love in our hearts. The fullness in our lives is because of the joy in our souls. You were an integral part of all these, and today, I celebrate your life with a grateful heart. Happy birthday Dad.
#27 A lot has happened since you've been gone, but through it all, I know that heaven gained a new angel on that day. Though I am left here on earth without you by my side, your love for me endures more powerfully than ever before. Thank you for all the sacrifices you made so that I may have a better life than you had yourself. May this be the best birthday ever!
#28 Dad, I miss you. So much of my life is shaped by having you as my father. You are the reason that I have become who I am today. Happy birthday in heaven, Dad. You are greatly missed but dearly loved still.
#29 As your youngest son turns 16 today, remember that he carries all of your heart with him on his journey through life. He loves you so much and wishes he could celebrate this day with you again. Happy birthday in heaven to the greatest dad ever!
#30 No longer will I ever get to hug or kiss you goodbye on my way out the door or welcome you home after a long day at work.. but there is one thing I can do…and that is thank you. Thank you for being my father, my friend, and my mentor. I love you so much..even more today then yesterday! Enjoy your birthday dad in heaven!
#31 There are plenty of dads on this earth, but there was only one to me. Here's wishing him a happy birthday in heaven with all of my heart. Happy birthday Dad!
#32 I am blessed beyond measure because not everyone gets the chance to have the best father they could have ever had…and that person was you. I know without a doubt that it is strongly rooted in your faith and belief in God…that made our relationship so special. I will always treasure all the times we shared together; experiencing life together. You were the greatest dad anyone could ever ask for, and I am so grateful that God gave you to me to be my father.
#33 Having a wonderful man like you in my life has allowed me to experience love in ways I never thought possible. My best example of what a man should be, is you… thank you Dad…for being an amazing role model. Happy birthday in heaven!
#34 The day you went home to Jesus was the saddest day of my life.. not because I no longer have a father on earth, but it's because I no longer have a friend in Christ in heaven with me each day. Thank you dad for loving me unconditionally all these years, whether or not I deserved it; you were always there for me. Now that you are in heaven, your sword of protection is with me each day. Today is your birthday…I miss you more than ever..
#35 Thank you for the memories, the wisdom and knowledge that was instilled into my life. You have been a pillar of strength to all who know and love you today. Happy birthday dad!
#36 The greatest lesson you taught me was to honor God first, then work hard at whatever I choose to do – whether it's being a mother or a doctor or an entrepreneur – God will bless those who put Him first. That's why I know He has blessed me with so many wonderful things.. because I have always put Him first. I love you Dad, and miss you more than words can say.
#37 I still can't believe that you are in heaven. This world feels so different without your love and guidance here. When we were together, everything was fun and exciting; now, everything is just grey and colorless. Yet, every time I celebrate your birthday on earth or in heaven , I feel closer to you than ever before, and your presence becomes more real to me.
#38 Nothing could make me prouder than the fact that you were my father . It is with a full heart that today on your birthday, I honor you for all of the lessons and laughter we shared while you were here on earth. You remain one of my greatest teachers and dearest friends forever.
#39 Happy birthday in heaven, Dad. You were always there for me; ever present, guiding and loving. Though you are not here on earth with me anymore, you remain on my mind every day of the year, especially today. Your lessons live inside me like a second soul. I love you forever!
#40 Happy birthday to my dearest father who has transitioned into heaven . You will always be remembered as that one person who loved unconditionally without judgement or condition. Your life was filled with wisdom and your heart overflowed with generosity . I am so fortunate to have had someone so special in my life !
#41 To all those parents who have passed away , thank you for being the wonderful examples of what parenting should be about. You will never be forgotten .
#42 Happy birthday to the most amazing father in the world , who is now living in heaven with our Lord. There will never be another like you; your strength inspires me every day. It's hard to imagine life without you, but I know that one day I will see you again here on earth or up in heaven with God. Until then, enjoy your peaceful days and joyful nights, watching over us from above!
#43 When I feel discouraged , I look at old pictures of my childhood . This brings back many wonderful memories of all the times we played together as kids and older. Even though it has been years since you passed away, my love for you remains with me every day. I am so lucky to have had a father like you. Happy birthday, Dad!
#44 For every passing year , the pain of your loss diminishes just enough for me to feel all of the wonderful things you brought into my life. On this day especially, I remember how important it was for you that each one of us knew what our special abilities were and what we wanted to do with our lives .
#45 May your soul rest in peace now that you are reunited with God himself. You are an angel among angels now; congratulations on making it home . My wish for today is that you know how precious and special life is before leaving it behind forever. Although I cannot be with you on earth or heaven, I still live with joy in my heart knowing that there is life after death .
#46 Happy birthday, Dad. The greatest gift you gave me was to be comfortable with who I am . Your unconditional love helped me become the person I am today; it took us years to find each other again after you passed away, but now that we are reunited , our relationship has blossomed into something truly beautiful.
#47 On your birthday in heaven, I want to let you know how much you mean to me even though we are apart. Though time and distance separates us, your presence will always be with me. As you look down on this day today, know that I am thinking about our memories together, and missing everything that made you who you were. You will always live on in my heart.
#48 My life is forever changed because of the amazing man I got to call Dad for so many years. Your legacy lives on not only through myself but also through your children and their own offspring as well. You've left a huge mark on this world, one which cant ever be erased. I love you, and my thoughts are with you today on your birthday in heaven.
#49 Happy early birthday in heaven to the most amazing dad that anyone could ask for. You were always there for me when I needed it most; even though we are apart now, know that you will never be forgotten. Thank you, Dad, for all of the memories (and kids) that we made together before you went to heaven. I miss everything about you!
#50 To my angel in heaven who shines brightly up above, you taught me so much before passing away. Though it's hard to wish a happy birthday without seeing your face again, know that deep down inside, I am wishing this for you on your special day. You made an indelible mark on my heart and I will always cherish the memories we shared. Love you forever and ever! Happy birthday in heaven, Dad!
#51 Today is a day to celebrate your life in heaven with friends and family who have missed you so dearly since you were taken from us much too soon. Know that no one has been able to completely fill the void that you left behind when leaving this world, but know that many people miss you every single day. In this letter, I want to wish a very happy birthday in heaven because today is all about celebrating your heavenly life where nothing can hurt or harm you again! Love you bunches