Are you looking for get well soon messages for kids? Or maybe you want some get well soon messages for your child but just can't seem to find the right wording?
We got you. Kids fall sick quite often and it is the duty of an adult to make them feel better. Your best bet in such a situation is some encouraging words from your side that can uplift their spirits and let them know that they will be fine very soon.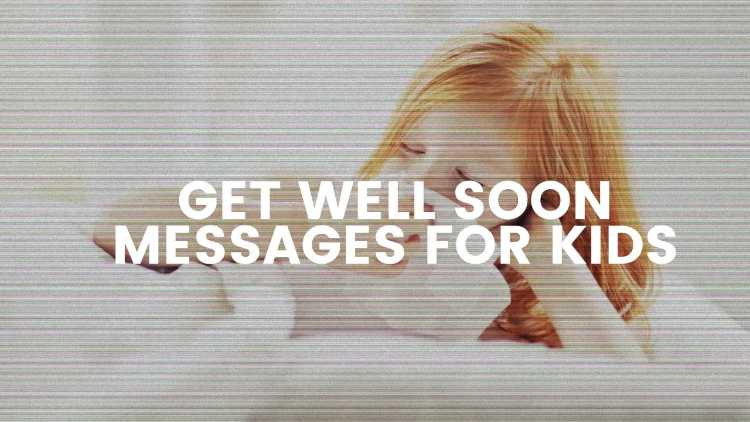 Here is a list of get-well-soon messages/quotes that can help lift spirits and show your love and concern.
#1 I hope you're doing okay today. I know you don't feel well and I wish you could get rid of it soon. But until then, just know that we love you so much and we hope to see you back in no time!
#2 I know that you're feeling under the weather, but I hope that when you get well again, we can go to the aquarium. We can see all sorts of amazing sea life and maybe even grab some lunch!
#3 Feeling sick is no fun! However, I think it's really brave of you to keep going through your day despite feeling unwell. Thanks for being so strong, buddy!
#4 I hope you feel better soon. When you do, we should totally go and play an epic game of tag or something. Even if you don't want to run around too much, we could just sit and watch a movie together instead.
#5 I know that you're not feeling well. I hope that your cold will leave as fast as it came, and we'll be able to see your beautiful smile again. Please take care and get well soon!
#6 Here's a great big hug and lots of kisses for you! Hopefully, this can make you feel better and we can finally hear those little feet running around the house again. Get well soon!
#7 We all hope that you are doing okay. You are so loved by so many people because you have done so much good in the world, even though you are still so young. Take care until I come to visit, okay?
#8 You might not want to go to school today because you don't feel very good, but just remember that there's always tomorrow for another chance at fun! I hope you're feeling better soon.
#9 It's so frustrating when we really want to do something and we can't. I'm sorry you can't play with your friends today because of your fever. I hope you feel better soon and we can play again soon!
#10 Remember that everybody gets sick sometimes and it's not your fault! You'll get to feeling better before you know it, and then we'll be able to go on that field trip together like we planned.
#11 Just remember that feeling sick doesn't last forever! Your sickness may have taken over your body right now but someday you will feel 100% again! Don't beat yourself up about staying home from school today – take care of yourself!
#12 Today is a special day. You are the most important person in the world to me, even if I don't get to see you today. My thoughts are with you on this day of rest, and I hope that you will be back at school very soon!
#13 It's okay that you're not feeling well today or that maybe your fever is high. It doesn't matter because I think that it's very brave for fighting off your fever and trying to go to school! You can always try again tomorrow if you want. Get better soon!
#14 I know you don't feel great today, just remember how much we love you and how special you are – especially when it comes down to having such strong courage during tough times. You can do it!
#15 You'll be fine, little man – stronger than ever once you finish your treatment. You've got this! I'm so proud of how brave you are being through all of this. You inspire me. Keep it up, guy!
#16 I know it must be tough to stay at home all day while everyone else your age is in class. Just remember that being brave will get you far in life. You are doing great today, little man. Get some rest soon.
#17 You're going to beat this thing with all of the cheering behind you. Keep getting better, and if there is ever anything I can do for you while you're fighting this then please let me know! Get well soon <3
#18 I hope you feel better soon. I know that staying home in bed might be boring, but it's important to take time off when you're sick so you can get well faster!
#19 If you want some company today while you're stuck in bed then just give me a call and I can come over and play anything on your video game console or watch whatever movie with you! Just try to get lots of rest so you can get back to feeling happy !
#20 I hope that you feel a lot better! I'll do anything that I can to help make you feel better, but until then I will tell you all about the fun things we did yesterday.
#21 So sorry to hear about your tummy ache! But don't worry – tomorrow is another day and even more opportunities for fun with family & friends! You are in my thoughts and prayers.
#22 You might not be feeling well today, but just remember that one day you're going to grow up and have a whole lot of responsibilities as an adult. Now here's hoping those responsibilities include staying home watching cartoons all day 🙂 We love you bunches & bunches.
#23 I'm sorry that you're not feeling your best. I hope you get to feeling better soon so we can go play!
#24 Pancakes sound like a great thing to help make you feel better! Pancakes makes everything better, right? Hope you feel better soon!!! 😀
#25 You are a champion! When you feel better, I hope that we can play together again.
#26 I wanted to come say hello and give you a hug. I hope that your day gets better!
#27 Sending all of the hugs in the world right now because it's important to stay healthy! Get well soon, okay?
#28 I hope that everything starts feeling better soon! I know it's yucky to be sick, but you'll feel a lot better soon and be ready for whatever activity you have planned next!
#29 You might not feel like going to school today because of your illness, but remember that there is always tomorrow for another chance at fun! I hope that the medication helps quickly, and that you start feeling better as soon as possible.
#30 Get well soon my dear child. It's hard when one feels under the weather, but trust me, as each day passes by things will get brighter and faster than you can imagine.
#31 I know that it must be very difficult not feel well when the weather is finally nice. I hope you start to feel better, though!
#32 I am sorry that you are sick and cannot play with me right now. But I hope you will be back to playing really soon!
#33 Mommy told me that you aren't feeling well. I hope you get all of your energy back very soon, so we can play again!
In conclusion, it is important to be supportive of your kids throughout their illnesses. Showing your children that they are not alone will increase the odds of them feeling better faster. Getting well messages for kids can be a great way of providing comfort and care, so find one that best fits your situation and have fun with it!