Birthdays are a time to remember the good old days and prepare for great things in the future. If you're attending a 30th birthday party, take the opportunity to say something that will be remembered fondly. Here are some ideas of what you might include in your card or message.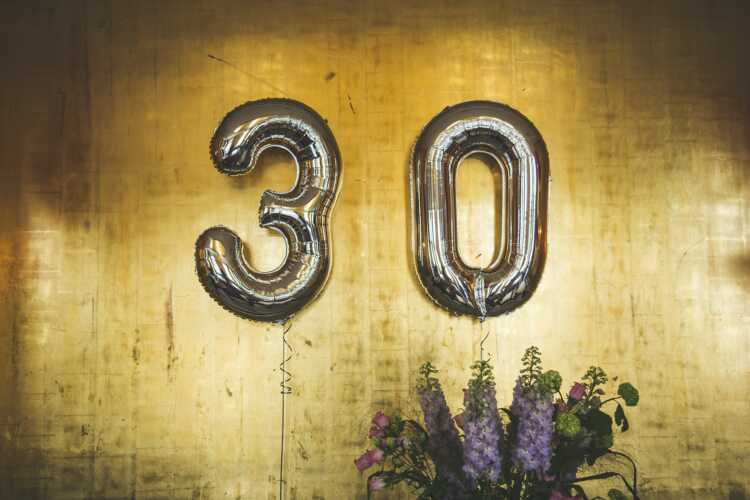 List
#1 Blow out your candles and wish 30 years of love, laughter, adventure and journeys. Happy birthday you wonderful soul!
#2 Celebrate the chance to cut the grass once a decade. Happy Birthday, you funky gardener! Wishing you more fun in your 30s so that you burn off some of that extra energy!
#3 It's your birthday! I hope it's a day of joy and laughter. And cake. Lots of cake. Happy Birthday.
#4 Happy 30th birthday! May you spend today and every day after making your life what you have always wanted it to be! Wishing you all the happiness in the world!
#5 Happy 30th birthday! May every year that follows be happier than the one before it, with love, joy, and peace. Here's to another amazing year. Wishing you all the best today and always!
#6 Happy 30th birthday to my favorite friend…who is getting more fabulous with age.
#7 With your 20s behind you, you have more choices and a fresher perspective for #choosinglife. A milestone birthday is an awesome gift from the universe. Happy Birthday!
#8 Congratulations on turning 30! You're one of the lucky ones who get to rock this decade and turn a page in life. Congrats on having so much to look forward to! Happy Birthday!
#9 This decade has been a blast so far, and I'm sure the next ten years will be even better. The number 30 may be your last before 40, but it is certainly not your last birthday. Happy birthday and enjoy it to the fullest!
#10 30 is going to be a great year for you and I have no reason to doubt that. You are my inspiration for having fun in life because of all the things you have done. Here's wishing you a fantastic year! Have a great one!
#11 You are celebrating another year on this earth, which is pretty amazing in itself. But what is even more amazing is that you are celebrating your 30th birthday! Happy birthday!
#12 The older you get, the faster time goes by, and before you know it, another year has passed. Today marks a new year for you. I hope your Birthday will be filled with fun and celebrations. Happy Birthday!
#13 I'm really glad to be a part of this wonderful day and I wish all the best for you on this special occasion of your 30th birthday. Have a great one! Wishing you loads of love & happiness always. Happy Birthday!!!
#14 You should be proud to have reached yet another milestone in life on your special day. happy 30th birthday!
#15 You have so much ahead of you in your 30s. This is just the beginning of what you're going to achieve in your life. And hopefully by now, all the good times are worth it! Happy birthday!
#16 There are a lot of great things that happen when you turn 30, like having more money than you already do, but only if you will spend it wisely! Have a nice birthday.
#17 Congrats on making it this far! Today is the beginning of another year filled with hope, dreams, laughter, adventure and most importantly love! Happy birthday my friend. May this next chapter be the best one yet.
#18 Celebrating 30?! Of course, I actually think you're in your early thirties. Why would I doubt you? It's the best age ever. Happy birthday!
#19 Congratulations on your birthday! You are more than a decade older than me. I know it doesn't seem like much, but you've grown up as quickly as a mushroom to my cow! Have an amazing day!
#20 My best friend, one of my favorite people in the entire world. Today is your 30th birthday and trust me when I say this- You're amazing.
#21 Deciding what to do with your 30s is the biggest question of all. I hope yours are filled with joy and adventure and you continue living life to the max. Wishing you a Happy 30th birthday!
#22 Happy 30th birthday! I can't believe it's been 30 years since you were born. You have so much ahead of you, but also so much behind. You're only getting older, but still I feel like we're only just becoming truly acquainted. Happy Birthday!
#23 You had all the fun and adventure of being in your 20s, but this decade is about being wiser, healthier, and having a little more money in your bank account. Wishing you many more decades of happiness!
#24 Happy Birthday! I hope the next ten years are filled with all those adventurous things you've always wanted to try. And if they don't work out, at least you have your trusty friends and family to support you!
#25 We're so excited to be celebrating another year of life with you! Happy birthday to my best friend who keeps me laughing every day.
#26 You've made it. 30 is like the second time around for you. You're never too old to learn new things and try again. I wish you a joyous birthday, filled with laughter, fun, and wonder!
#27 Thanks to your 20s, you may have lost a bit of faith in yourself. But here's to believing you can do anything and everything that comes your way! Happy Birthday!
#28 If there's one thing we all know about this decade, 25 is how long it takes for the world to catch up with us. It's the journey we take coming into our own as adults.
#29 Wishing you a beautiful 30th birthday. You are the person who can make anything HAPPEN! You are the one who can make this your most successful year yet. Have a tremendous time on your big day and beyond.
#30 Happy Birthday to my amazing friend – I've always admired your determination to learn more every year. Keep doing that!
#31 Happy Birthday, buddy! Hope you're having as much fun in life as you are having on your birthday.
#32 Happy Birthday! I hope this year has been full of adventure, fun, and the opportunity to make mistakes. You've been building a great foundation of wisdom and experience, so best of luck with all that lies ahead.
#33 Happy 30th! I like your 30s so far. You've lived among the streets and the trees, you know how to take care of yourself, and you have no excuse not to climb any mountain ever again.
#34 To you, my beautiful and freakishly intelligent friend. You're the best thing to happen to me and I will miss you so much. Happy birthday!
#35 Celebrating your 30th birthday is symbolic of all the wisdom that awaits you. The world has huge potential for all kinds of growth, and in spite of our mistakes and judgement, life carries on. Happy 30th Birthday!
#36 You are wise beyond your years. Life is highly unpredictable, but with your hard-earned knowledge, you can navigate it very well.
#37 If you're having a good day, I can't say I blame you. But if you're having a bad one, it might be because of me! And that makes me feel pretty bad. Happy 30th birthday!
#38 Celebrate every birthday your way – if you need to plan it out or call in the big guns for some extra pizzazz, that's how you do it. You'll always look fabulous to me on your big day and I wish nothing but joy and love for all the years to come.
#39 Happy birthday, my friend! You are special; this makes it all the more special that you belong to me. You and I have been friends ever since we met in college, so you know how special you are. Happy 30th!
#40 Congratulations on your 30th birthday! I'm glad that twenty years have gone by quickly and that this decade has produced so much more than any other. Have fun out there – I'll be waiting for your next post!
#41 Wishing my friend a happy birthday!!! I hope it will be the best one yet as you enter into your 30s.
#42 Thirty is an awesome age. You get to do so much and you still don't feel old! Wishing you all the best in your 30s today. Happy Birthday!
#43 We keep talking about turning 30, but I think it should be a time for celebration. Happy Birthday my friend! Wishing you the best in life as you venture into your 30s with your eyes wide open and toes tapping.
#44 It's been a year since our last reminder of how amazing you are lately. That's right, it's your birthday! So here's another one to celebrate all that is good in the world and wish great things for the next 31 years of your life…
#45 You've made it to your 30s, and you look great! I'm enjoying our conversations as you continue to surprise me, as always. Happy 30th birthday!
#46 Being in your 30s is great! I know you're all grown up and ready to face life with a sense of both confidence and wonderment. Wishing you the best on your birthday and every day!
#47 Congratulations on your 30th birthday! Part of being in your 30s is starting to feel like more than yesterday's news. I hope this decade becomes one that is filled with surprises and possibilites for yourself and others like us.
#48 Wishing you a very happy 30th birthday. It's a time of liberty, at the same time it requires much more maturity and wisdom. I hope that you find contentment with each passing year and live a full life filled with joy, adventure, and most importantly – happiness!
#49 You are strong, beautiful, and independent at 30 years old. You have your 20s to explore yet you've still got so much to discover. Happy Birthday!
#50 It's your 30th birthday today so I'm wishing you the very best! I know how exciting it is to turn thirty, but also how intimidating.