Pregnancy is an amazing time in a woman's life and there are so many things to celebrate! If you don't know what to say, here are some sample pregnancy congratulations messages to help get you started. From heartfelt messages to funny ones, there is sure to be one that fits your personality and relationship with the mom-to-be. Congratulate her on this new chapter in her life and wish her all the best for a healthy pregnancy and delivery.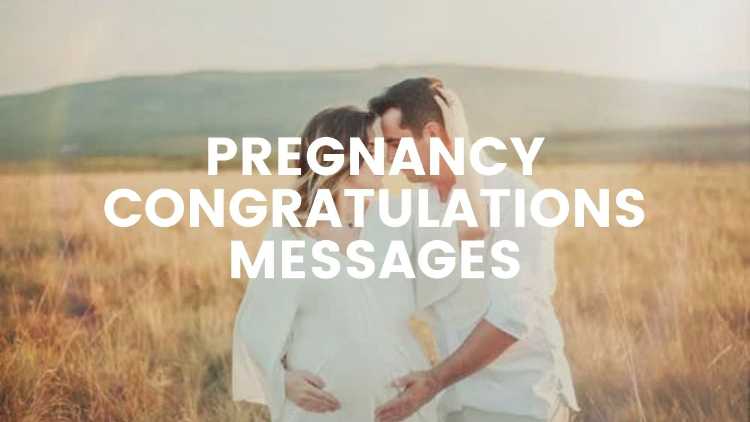 List
#1 Congratulations on your pregnancy. This is such a special time in your life and it is an honor to let you know I am happy for you and so excited to be a part of your experience. Enjoy these weeks and have fun imagining that little bundle of joy growing inside you!
#2 A woman's greatest power is her motherhood. I know it is also yours. Congratulations on this special and beautiful time in your life. May this baby bring you all the happiness and joy you deserve, and may you find the strength to be a wonderful mommy to this new baby of yours.
#3 It gives me great pleasure to congratulate you on your new position as mother. I wish you a healthy and happy pregnancy, as well as a smooth delivery of your baby.
#4 I can't wait to see you as a new mother! It is such an incredible journey to become a mother, and it is one you will always remember fondly. You are so lucky to be birthmother, and I'm proud of you for taking on such a special responsibility.
#5 Every time I look at your belly I am reminded of all the wonderful times we've spent together. You will always be there in my heart and I wish you a very happy motherhood. You are very blessed!
#6 Congratulations on having brought another life into the world, knowing that this tiny baby represents the greatest gift you could ever have.
#7 The journey you are about to embark on is one that you'll never forget. You will remember these times as some of the most beautiful days of your life and I just want to be a part of celebrating this beginning with you. Congratulations, Mom!
#8 We were just chatting about how proud we are for being a part of your support system throughout your pregnancy. We have been so excited watching you grow and have created a few creative ways to help celebrate this blessed time in your life. We hope they will be helpful to keep you organized and prepared. Congratulations!
#9 You are about to be a mother! I pray for your health and well-being during this special time in your life. May this new baby bring you happiness every day of your life. Congratulations!
#10 I may not know you very well, but I cannot help but send you a message to congratulate you on making the big step of becoming a mother. May your life be rich in love and full of purpose as you raise your child into the amazing person that God has created him to be.
#11 I can't believe you are carrying a mini me! I am so excited for you, and so proud of the woman that you are becoming. May these days full of love and joy become your favorite time of the day. I send all my love to you, and to your baby.
#12 Congratulations on your new baby boy or girl! You've got this! Love is the greatest gift in life, and as mommies go through nine months of pregnancy and another nine months to nurse a baby, there isn't a greater gift than that. May these days be filled with warmth and love for both mommy and baby..
#13 It is with great joy that I congratulate you on your pregnancy news. Your baby will bring so much love and joy into your life, and that is something to celebrate. You and your baby will get through the rough days together, and those are some of the best days of all. Best wishes to you from here on out.
#14 I just heard the great news of your pregnancy, (maiden name). I am so, so excited for you! You've always wanted to become a mother one day, and now it's really happening for you! I wish only the best for this new journey in your life.
#15 I can't wait to be a father, and I know there are many things that need to be done before this can happen, but nothing will make me happier than learning that you are expecting our future baby.
#16 When you're 33 weeks pregnant and beginning to wonder if there will even be a baby at all, it really helps having someone send you congratulations on the wonderful news!
#17 Congratulations on having reached the second trimester of your pregnancy. Every growth that is happening in your belly is going to give you a little bit more strength as you carry your child.
#18 While we are all excited for your child, know that everyone here is excited to see your beautiful face again as well. Congratulations on the new life you're bringing into this world. We can't wait to meet him/her!
#19 When I think back on the times we spent together and realize that our friendship is about to be tested in ways that I never thought it would be, I am filled with emotion. You will do great as a mother, and we look forward to rooting you on through this incredible experience!
#20 A new generation of your family is about to enter the world and I couldn't be happier for you. You are such a blessing to everyone, and I'm extremely excited for you. The closer we get to this joyous day, the more elated my spirits will be.
#21 Congratulations! I am so thrilled that you are expecting! Your little one is sure to be the greatest joy of your life, and I wish you all the happiness and fun in the world.
#22 You have made all our hearts so happy that we can hardly contain our excitement for your upcoming bundle of joy. I will do my best to send you lots of sweet wishes, but these words alone will not express how much we all want you and your baby to know how much we love and admire them both. May this be a time full of joy and happiness for everyone, especially you.
#23 It is my great honor to inform you that you are about to become a mother. And let me just say, I have never been more excited for someone as I am for you, as I know firsthand how much joy and love accompany the experience. You're going to be a great mom! Congratulations!
#24 If there's anyone who deserves to be a parent, it's you. You are such an outstanding person with so many gifts and talents and you will be a wonderful mother and role model for your child.
#25 Baby, you're a mama! Well, congratulations on your pregnancy. I'm so excited for you to meet your little one. You are going to make an amazing mother, and I can't wait to see what this new adventure brings!
#26 There is nothing more amazing than being a mother. I pray that you experience the joys of motherhood in all of its splendor and wonder.
#27 Momma-to-be, I just want to say that you and your baby are in my prayers every day as you grow and prepare for the birth of your bundle of joy.
#28 As an aunt, I'm very excited to welcome this new addition to your family. Congratulations on the new bundle of joy!
#29 You are embarking on a wonderful journey that will bring you so much joy and happiness as you welcome your beautiful baby into the world. All my love and best wishes for a long happy pregnancy.
#30 When I read that you are expecting, I was filled with so much excitement and happiness because, of course, babies mean family.
#31 Congratulations on this news. You are an amazing woman, and I am so happy today to be able to tell you that the great adventure has begun again. All my love to you, baby and family.
#32 With joy in my heart and a baby on the way, I just can't wait for this blissful time in your life to arrive! May it be filled with so much joy, love and happiness…and may God bless you both with many blessings of health and happiness throughout your lives together. Best wishes for a lifetime of love!
#33 Best wishes for everything as you begin this exciting new journey as a mother of one. May every bit of it be as beautiful for you and your family as I know it will be. All my hopes and best wishes are with you.
#34 There's nothing in the world more precious than the bond between a mother and her child. And there's nothing sweeter than watching a little baby grow into a beautiful being with all her mommy's love. Congratulations for carrying your new bundle of joy on your belly. I wish you love, peace, joy, and all that comes with fatherhood.
#35 You look so beautiful pregnant with your new bundle of joy. I want to wish you a lifetime of happiness and good health! I know your baby is already changing you from the inside out. Enjoy your pregnancy and may you have a happy and healthy delivery.
#36 With child comes a new level of responsibility, but it also brings a deeper level of joy. I am thrilled for your little bundle who will soon call you mommy.
#37 Congratulations on officially becoming the best mother to the best baby in the world, and congrats on being approved as such by none other than God and your family. Your life is about to change, but all for the better because you have earned this!
#38 When I think of all you've accomplished in life so far, I know it is only going to be enhanced by having a child with you.
#39 I never thought it would happen to me, when I was about to become a mommy? I know how excited I was when my baby girl was born. So you are about to enter the most exciting time of your life and you're off to an amazing start. You will make an excellent mother.
#40 You are so excited to be expecting a baby that I can almost hear it myself. Send all my love to you and your baby as I am praying for a healthy little one.
#41 You deserve to be happy, expecting a bundle of joy! How lucky you are to be able to experience all that life has to offer. Now enjoy being pregnant just as much as you will be able to enjoy being a mother.
#42 I have so enjoyed the time I have shared with you and your family over the years. I am so excited for you as your baby begins to grow in your belly, and it brings me great joy to send my love and best wishes for a lifetime of happiness.
#43 People speak of life-changing events like having a child, but I think that major changes can occur in one's life without adding offspring… as long as one finds a friend like you! You're not only a wonderful mother, but also a friend, sister and daughter — congratulations.
#44 As you await the birth of your baby, may the days be full of love and peace and hope. I send you my love and thoughtfulness for all that you are about to do for yourself and for your family.
#45 Congratulations on all that is about to unfold in your life. You've made a big decision to have a child, and now it is time to settle into this new role, with all its ups and downs. I am happy for you!
#46 I can't believe that you are having a baby. You look so beautiful, and I am so excited for you both. Enjoy every moment of your pregnancy. Love you lots!
#47 Here's to the greatest adventure of your life! Congratulations on your new role as mommy. Have fun shopping for your baby and enjoy every second of these special days during your pregnancy. Congratulations!
#48 Wishing you much happiness as you await the blessed arrival of your baby. Enjoy every minute of the amazing journey that lies ahead for you. Congratulations and good luck!
#49 I am so excited for you on this exciting journey of motherhood. You are going to be such a great mommy, and I know how proud your husband will be. God bless you, and congratulations!
#50 It's no surprise that pregnancy is often referred to as the most wonderful time in a woman's life. Congratulations to someone who will soon experience all the joys, thrills, and surprises that come with it.
Warp Up
If you've been trying to come up with the perfect congratulations message for someone who just found out they're pregnant, we hope this list has helped. We know that it can be difficult coming up with words of encouragement and joy in such an emotional time- so let us help!