Snowmen are a popular winter symbol, and sending snowman themed Christmas cards is a great way to show your friends and family that you're thinking of them during the holiday season. Here are some ideas for what you could include in your message.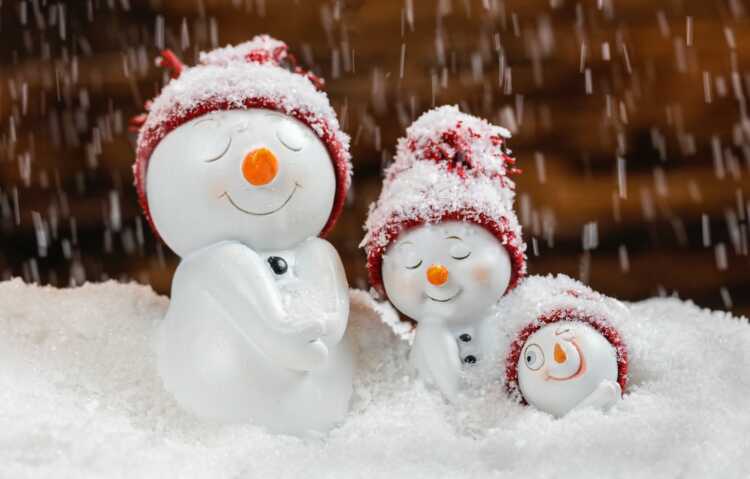 What will happen if he melts? Frosty's here, what did he say? He asked if you're coming out to play Hoping we won't see the sun If he melts it won't be fun.
***
Let us build a snowman As big and as tall as can be We will give him a jacket and a Christmas hat Then some eyes so he can see.
***
We made him some snowballs, But then he started to melt So we put him into his sled and headed for home.
***
All of these may have been used in other forms over time, especially as they were recycled into different greeting cards.
***
Skip to my Lou, My darlin' Clementine, It will take some time before we make a snowman ring around the rosy oh my darlin' Clementine /chorus/ But with a shovel and a hoe we will work until the job gets done.
***
A snowball is an ice ball Snowballs start growing in size The biggest snowball of them all Is as big as an elephant's eye.
***
The first snow of winter Now it is here to stay Christmas will be merry They say if it don't go away.
***
Oh, the weather outside is frightful, but the fire is so delightful. And since we've no place to go let it snow, let it snow, let it snow.
***
What a wonderful day to build a snowman I've lots of time and I have lots of space Let's build his nose out of carrot His mouth can be a round rock.
***
Do you know one thing? It snows every month of the year. And 2 things? We have as much fun in December as in May.
***
We covered his head with snow And gave him eyes, then a face We gave him arms and legs too And a scepter to keep him warm.
***
Now it's time to build a little brother for our big wonder, Frosty's here and he asked when we're coming out to play.
***
Even though it's cold outside I can tell 'cause it's snowing so hard He asks if we want to play When will it snow again?
***
I don't know why, but the sun just shined On the little kids who were playing in the snow While they built their snowman too.
***
Frosty the snowman was alive as he could be, And the children called him a jolly happy soul. But one day as he had some fun, running here and there, He met with an accident and died when he fell down on the ground.
***
I made a snowman yesterday, Built him up with snow. And when I found out what it cost I just about wanted to go and throw up.
***
Who's going to be the first to give our snowman a nose? Let's all work together then we'll make this our best snowman.
***
With snow like this, he won't take long to build. We're all doing fine, He looks just like his brother.
***
Oh, no! Our snowman is melting away! We built him up, then it rained today. Now we won't get to play in the rain tomorrow.
***
The kids have been working hard on their snowman, But they are almost ready for bed.
***
Let our snowman grow, From the ground to the sky, And build him some friends such as can be.
***
Run around and play, And tuck in your chin, While we make a snowman that we can call our own.
***
Make some snowballs that are big And throw them across the way So you will have a chance to catch them all.
***
It's time for fun and games We've got Santa and his reindeer They're ready to go out and play.
***
We had enough snow today, Just look at the flakes they go, Let's get together and make a snowman, Our snowman will be so big.
***
What goes up must come down, As I look outside my door, What goes down must come up And what goes around comes around.
***
When the sun rises in the morning, Goes down in the evening too, The one thing that always shines from above Is a bright and shiny new moon.
***
Snowmen are sweet for sure But if you don't move them out of sight They will melt away like sugar in a cup That is how I love my Sugar Plum.
***
We will build a snowman And then fill him with snow Gathering sticks and branches by the tree All dirty and covered in ice.
***
Then we'll build a fire And put it where we want it Build some cookies to decorate The cake frosted in red and white.
***
Then we'll eat our treats Make a small pile of presents There won't be any gifts under the tree, Just a big stack of books.
***
I wish that you were here In this house full of snow For when we build our snowman He needs someone to play with us.
***
Let us build a snowman As big and as tall as can be We will give him a scarf and a hat And some buttons just for fun.
***
It's time to build a snowman, The biggest one of all, Winter is upon us, Just watch those snowflakes fall.
***
Let's all help out in the house And make something so sweet We will decorate that snowman tonight Before we go to bed.
***
Make it quick and easy Now our hands are cold and wet That way the fun won't end soon.
***
Cause you know, if you build a snowman When it's time to melt him away He'll be waiting right outside In the cold and the snow.
***
And we're building a snowman, The biggest one of all, We're already working hard With an eight-fingered hand.
***
We've got to build him some pants And a Santa hat and it's gloves Oh, and his size is growing bigger.
***
And we're building a snowman, The biggest one of all, Hey! It's nice there on that hill With big fat icicles hanging down.
***
There goes the little snowman! Jingle bells in his head! He wants to find the one who made him So he can hear what he has said.
***
I like cold weather, I think it's great There's a chill in the air And it makes me come out of my shell. It's like I have spring fever for snow It makes me cool, calm and slow When its hot outside, but not inside.
***
Frosty looked at me and said, "I'm melting away. Now what do you know? Those other guys were just an illusion. Oops! Look out! Here I go.
***
We will roll a snowball as big as a house And roll it along the ground. Then we'll make two eyes and a mouth, And there you'll have our snowman.
***
There were three little snowmen friends, As they sat upon their hill, They looked at each other wondering, Which of them should roll the ball.
***
I've baked some cookies for you dear Just like mom used to do They're crispy on the outside But soft and chewy too.
***
Let us build a snowman He'll be the best of them all. We'll make him a carrot nose and two eyes made out of coal A snowman we will call Frosty.
***
I want to build a snowman With you, my dear But I must admit that I don't know Where to start!
***
You say that you don't want to go out But it is freezin' here Let me just build one little snowman And then we can come in.
***
Winter is here, now we must say Hello, 'cause the snowflakes are falling From the trees to the ground to greet us.
***
Let's build a snowman And keep him safe and warm Staying inside, inside where it's nice That he'll never know what's going on Outside.
***
As big as can be Oh, we will give him a jacket And a Christmas hat And some eyes so he can see.