Your mom works hard to take care of you and your family. There are so many reasons she deserves a thank you from you. Here are some ideas on ways to say thanks for all her efforts.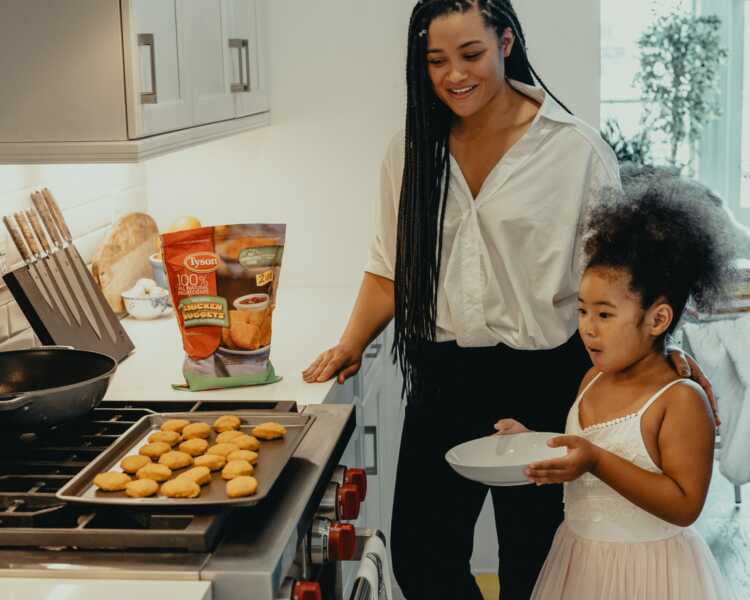 List
#1 I love you mom. Thank you for not giving up on me and helping me achieve all my dreams and goals no matter how far-fetched they used to seem.
#2 And I am so glad that we have grown even more of a bond as I have gotten older, it means the world to me that there's someone in my life who knows everything about me and still loves me just as much. You are my best friend.
#3 You were always so patient with us kids, especially when our young minds got the best of us – which was often – but never once did you ever give your patience a deadline or threaten us with timeouts or taking away our toys for good if we didn't do what we were told. Just knowing that it would be alright on the other side of our tantrums was enough to keep us from going too crazy. Thank you so much, mom.
#4 I hope I can be half as caring and loving a mother as you've been for me my entire life. You're such a wonderful person and even though we don't always see eye to eye, I respect and admire your strength more than anyone else in this world.
#5 You taught me how to be an independent woman with a mind of her own, and that all women deserve respect and honor no matter their age or status in life. As difficult as these lessons were when I was younger, they helped mold who I am today. And ultimately, I'm grateful for that.
#6 You are the most amazing, selfless person in my life and I look up to you more than anyone else. You never took no for an answer when you believed in something and your determination is truly inspiring. Thanks for always having my back when it matters most too.
#7 I am so lucky to have had a mother like you growing up, because I don't know where I would be without all your love and support over the years. As much as you gave me in life, there's nothing I can give you in return except all of the happiness in the world; please take this small token of my gratitude today with all of my love.
#8 I was so little when you had me. I didn't know what to think about the world or how to act, but you were patient and loving. You taught me who God is and helped me understand Jesus in a way no one else ever has. Thank you for always being so kind and caring toward me.
#9 You have been gone a long time now, but the memories of our time together are still fresh in my mind. They keep a part of you alive in my heart, mommy! The love we share makes it easier every day to understand why I miss you so much!
#10 I remember all those years when I was too afraid to sleep alone at night, and how just your presence everything feel safe again. I remember, too, how you stayed up late to talk with me when I needed someone to listen.
#11 Thank you for not giving up on me when the world wasn't easy or fair. Thank you for understanding that bad grades don't mean I'm stupid and that all the tears in my eyes don't make me weak! You are an amazing mom who inspires me every day to be better. I look forward to growing old together.
#12 You were sturdy like a tree whose branches were strong enough to hold us both when we sat under it during storms! You were flexible like a willow always ready with a hug whenever we needed one more than anything else in life! And your strength is felt through the roots of my heart that are always open to love. Thank you for being there for me.
#13 I remember how, when I was very little, you'd take me on impromptu picnics in the woods near our house whenever I felt blue or lonely. You did everything you could to make sure I knew how much I meant to you and how much joy I brought into your life!
#14 There were so many sacrifices along the way, but we made it here today — and we owe it all to God and your hard work and dedication to us! There aren't enough words in any language in the world that can describe what a truly amazing woman you are.
#15 Thank you for caring when nobody else would, even when things didn't look good. Thank you for being the bell of hope when I needed to hear a friendly voice most of all! Thank you, thank you so much for being my mommy.
#16 Thank you for always being willing to talk with me about anything and everything that's on my mind. You taught me to be myself and express myself without fear or judgment from others – just as God would have us do – and I will never forget it!
#17 Mom, being your child was the best thing that ever happened to me! For every moment spent in your arms, there are countless moments sharing laughs together. For every hug we shared, there are endless memories made by our side! Thank you for loving me unconditionally.
#18 I remember when you'd tease me with tickles; I remember learning how to dress myself because you were teaching me how to be independent; I remember the love we shared when we sat in the living room and read our favorite books together.
#19 I never had a mom that cooked for me or tucked me in at night, but somehow I know all of that is okay because my heart has so many memories of my own mother bringing infinite rays of sunshine into my world! How blessed I am to call you mine.
#20 When I lay down on my bed tonight alone, this is what I will think about: You are beautiful inside and out. Thank you for being there with every word, embrace, hug … simply everything. You rock!
#21 Thank you for not being perfect, but for being beautiful inside and out! Thank you for your passion. I have spent many wonderful days listening to you sing either alone or with others from the church – from country songs to rock 'n roll ballads!
#22 You brought a smile to my face every day that we were together – even if some of those days were tough. You taught me how to be a strong woman who stands on her own two feet and makes good decisions in life by setting a great example.
#23 No matter what comes up tomorrow, I will always remember today as the best day of my life because it was the only one I ever shared with you! If anything could make time stand still it would be spending endless hours with you by my side, or just remembering that one time when I was very small and you were braiding my hair.
#24 No matter how many years pass me by, I will never get past the memories of you being there for me whenever I needed someone to turn to! Thank you for being my mother. There are no words in any language that can describe what a wonderful woman you are! You're simply Amazing!
#25 This is your greatest success as a parent: This child now possesses enough confidence and self-love to do anything they aspire towards, because she saw good character as her good fortune. Your loving response as a child taught them every day what love really looks like – My Mom
#26 Thank you for being the pillar of strength and stability that I have always needed in my life. You teach me a lot about what it means to be a woman, mom, and this is why I want us to team up together as mothers to raise amazing women.
#27 I can't believe how much time has flown by. It feels like only yesterday when you were holding me in your arms for the first time as a tiny baby girl. Now here we are… You've been so patient with me all these years and now I see just how hard you've had to work for our family! No matter how busy or tired you get, please know that nothing gives me greater happiness than seeing your pleasure whenever I make you proud. Thank you, mom!
#28 I love that we can talk about anything and know we'll both be there for each other no matter what. Your support and advice mean the world to me; I will always come to you whenever I need help in life.
#29 There are so many things I want to say thank you for but all my words combined would never be enough to communicate how thankful I am for everything you've done for me over the years. Your love is unconditional and when I look at how strong of a woman you are, it makes me feel like anything is possible if only I work hard enough to achieve it. You're my hero and this planet got lucky having such an awesome mother! Thanks for everything, mom!
#30 Life has brought promising moments and had its fair share of difficult times. Thank you for always being by my side to help me through it all. I wouldn't be the person I am today without your endless love and support.
#31 My dearest mom, words cannot express how grateful I am for who you are as a woman and as my parent. You've taught me so many valuable lessons over the years that have shaped the person I am now; you'll always be my role model no matter what happens in life.
#32 As I grow older, I have a deeper understanding of all the sacrifices you made so that I would be happy, healthy, and have a future beyond what you had for yourself. I will never find the words to express how truly grateful I am for your selfless love. Thank you for being my mother and my angel.
#33 Thank you for dropping everything and coming home when I needed you. I hope that one day I can be the daughter you deserve to have, but am thankful every day for who you are and all we have together.
#34 I will always cherish the memories of us playing in the yard…rolling down hills covered in leaves…building snowmen in winter frost. These are some of my favorite moments with you, mommy when I feel so much love from your side. Thank you for being so patient with me when it was just the two of us.
#35 Thank you for encouraging me in every way possible to succeed in life even when things weren't going well myself. You believed in me when I wasn't able to believe in myself. Thank you for being my biggest cheerleader, cheering me on even when I didn't think I could win.
#36 You woke up early to pack lunch and a special surprise in a brown bag with my name written in big bold letters. You knew every day what was going on at school – the good and the bad – but still celebrated when I finished with a smile from ear to ear when it was time for mommy-daughter lunch dates. There were always cookies or fruit snacks inside my lunch box that you put there because you love me! You know that I appreciate everything that you do for me, mommy…I hope this is one of many reasons why…
#37 Thank you for letting me be independent while also reminding me that you're here for me no matter what. I appreciate your love and support in all my endeavors, mommy!
#38 I am thankful for you every day, mommy. You can tell by the smile on my face when we talk to each other how deeply I care and love you and daddy and Sadie (our dog). Thank you for making me feel like a better person than I could be alone. Thank you for teaching me about life, family, selflessness, kindness…for always being there with open arms when I need someone to hold onto. For this and so much more, thank you from the bottom of my heart…
#39 I couldn't have asked for a better hero, protector, and teacher. I look up to you so much mom because your love is always unconditional and selfless. You are everything a daughter ever hoped for in a mom. Thank you for being so amazing every day!
#40 You put so much time and care into my upbringing that I just didn't have time to be a bad kid. Now that I understand the sacrifices you made to keep me on the right track, I want nothing more than to make you proud by following your lead. Thank you for being such an awesome mom!
#41 The only thing that has really mattered to me through all of life's struggles has been you. You were there for me every step of the way, and I can't remember a time when you weren't. Thank you mom, for giving me everything I ever needed to achieve my dreams.
#42 When I think about how much confidence you gave me growing up, it makes me wonder what other little girl had such an amazing role model? You should be very proud! It's no wonder why I am so driven and dedicated to success. Thank you mom!
#43 We fight like cats and dogs sometimes, but at least we don't dress alike right? Thanks mom for keeping our relationship unique…even if it is by fighting like crazy sometimes! (I love that too though!)
#44 My friends always tell me how lucky I was to have such a cool mom. And honestly, they're right. You were never one of those moms that would embarrass us by having crabby old lady taste in the latest fashion trends. For that I thank you!
#45 Ever since we've been little, you and I have had our own unique mother-daughter bond and it means everything to me. How many other girls can say their moms are their best friends? Not many…and that's because not many mothers were like you. Thank you for being there for me at all times!
#46 I know when I get older, my kids will appreciate your help far more than I do now. In fact, they probably think I am crazy for not taking all the help you willingly offered me! So thank you, mommy. You're my favorite kind of mother-in-law.
#47 You were always so patient with me when I was younger and needed my mommy to hold my hand everywhere we went. Now that I'm older though, it just makes me love how special our bond is. Thank you for being someone I can always count on through thick and thin, mom!
#48 I could never find words powerful enough to show you how much everything you do means to me…but thanks mom!
#49 Like most girls, I used to hope that one day Prince Charming would "sweep me off my feet" but I think it's safe to say that since I have you, my Prince Charming is just a little bit taller. Thanks mom!
#50 I know I can always count on you to be by my side when I need a good laugh or a shoulder to cry in. Thank you for being so awesome in every way and never changing, even in the face of adversity.
#51 We have had our differences over the years, but at least we know how to laugh about them now…right? You are someone very special. There may not be another girl alive who has such an amazing mother. So congratulations! -Love your daughter-in-law 🙂
#52 Although I know this isn't true because everyone knows mothers hold their children closer to their hearts, I sometimes wish you weren't my mother because then maybe I would have had a chance to be the daughter you were always hoping for. Thank you for your love and support mom…I couldn't do this without you!
#53 Always keep in mind that the most powerful kind of strength is not determined by how much pressure can be applied…but how much one can resist. Happy Mother's Day to the strongest woman…my mother!
#54 The mothers we remember best are those who loved unconditionally, forgave immediately, and encouraged constantly. Yes mom, no matter what happened, you did all three with a smile on your face! You're a wonderful woman who has a son very lucky call her his own.