Grief is a very weird and difficult thing to process when someone leaves us far too soon on this Earth. When a husband dies from illness or from accidents, it can feel impossible to move on from the grief and pain we experience after their deaths.
We hope these words will bring some comfort and solace to your loved ones in their time of need.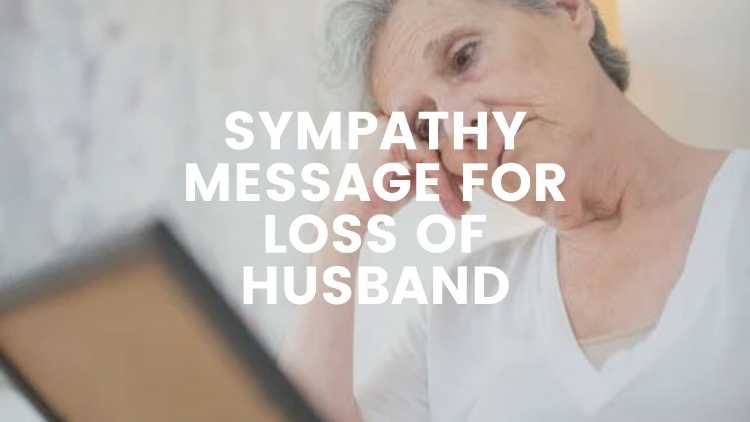 List
#1 May the love that you shared with your husband light your way today and always. May you find comfort in memories of his smile, his laughter, and how he loved you.
#2 I'm sorry that you have been called to walk this path alone now, but you are never really alone. People all over the world who loved your husband walk this path too.
#3 You may feel as though there is nothing in life worth living for now, only because the person next to you isn't here anymore. There will come a day when things aren't so painful, and on that day it will be your turn to let go and begin another journey without him by your side.
#4 I can't pretend to understand what you are going through right now. But if I know your husband, he wouldn't want you to hurt this much. He would want me to remind you that you have a wonderful life still waiting for you.
#5 Thank you for being such a loving and devoted wife to your husband. May he rest in peace and may you find peace knowing that your love for one another will last beyond the boundaries of time itself.
#6 I am thinking of you today and praying for comfort and encouragement as you heal from such a great loss. It is okay to rely on those around you whenever you need help—you don't have to face this alone.
#7 Even though you can't see it now, your time with your husband has made a mark on the world that will never fade away. He is remembered as a man who lived with honor and integrity, as well as for the love he had for those closest to him. You were his best friend, and together you built a beautiful life filled with memories that will always be yours to cherish.
#8 I can't imagine how hard this must be for you. My condolences go out to you and your family at this very difficult time. Know that I am thinking of you and praying for comfort, peace, wisdom, and understanding.
#9 There are words but they seem so inadequate for the loss we share today. Please know that I will be with you in prayer as you walk this journey toward healing. You are not alone or without comfort because God is near to the brokenhearted.
#10 May the angels hold tight to your hand during these trying times until you feel safe again on solid ground. Your faith means so much to everyone around you, please don't try leave behind all that makes up who you are today. I'm sending prayer and love from my heart to yours for comfort, courage, and strength.
#11 We all know that there's no way to make this easier on you. My sympathies go out to your family as God walks them through the difficult days ahead. I am here for you if there is anything at all that I can do.
#12 There will be a day in the future when we will see each other again in heaven with our wonderful husbands by our sides once again-until then may God continue to strengthen your faith and draw close in His perfect peace and tranquility. You stay strong, beautiful lady!
#13 Time is an asset it comes to healing the broken heart and mind. I'm sorry that there's not much anyone can say that will ease the pain now but know that those who love you are thinking of you and praying for your comfort as you go through this difficult time.
#14 May God embrace you in His arms of comfort as only he can do, and find the strength He gives daily to get through these trying days ahead. You are always on our minds, even if it seems like there isn't anything else to think about except sadness right now. Know that we are all here for you!
#15 Even though it may feel impossible sometimes there is a measure of peace waiting for us…even during an excruciatingly painful experience. Thank God that He has promised this hope to those who follow Him and believe in His Son Jesus.
#16 Wishing you comfort and peace as we wait together for God to bring justice-for He will come and make all things new again one day soon! Keep the faith, my friend.
#17 I can't imagine how hard this must be but know that our Lord is with you now more than ever. May your pain be replaced by joy as you remember all of the good times ahead with his memory always holding a place close to your heart for as long as you live. What an amazing thing to say next time he's on your mind!
#18 A message for the days ahead may be all that [names] need. The sun will rise again no matter how dark things seem today. May this card remind you of your strength and ability to cope with loss during this difficult time.
#19 There are not enough words to express what I wish for you in these days that come after the death of [names]. You have walked through fire and continue to shine brightly because of your incredible capacity for life after such sadness.
#20 It is with a sad heart that I write to you today. You are in my thoughts and prayers. May the memories of your loved one go on in the minds and hearts of those who cared for him most. He will never be forgotten, even though he moves on to his next great adventure.
#21 As each day passes, embrace life's little moments as they come along because you never know what tomorrow will bring. Just focus on the present and cherish all of your wonderful happy memories together.
#22 When someone we love becomes a memory, that memory becomes a treasure no one can ever steal away or take from us. Treasure each moment shared and hold them close until we meet again! I send heartfelt thoughts and prayers to you and your family.
#23 There is no easy way to say goodbye to someone we love. Our hearts ache with loss, but we must continue each day – one step at a time – knowing that he or she will never be forgotten for as long as we live. May these thoughts of comfort hold you close today and always.
#24 I cannot begin to understand all the pain you are going through right now, yet I know that memories can help ease the sorrow. Treasure those good times together because they become the moments that keep us strong in hard times like these. Know my thoughts and prayers are with you and your family during this difficult time.
#25 The love that you two shared will always be in my heart. I hope he is in a place free of pain and regret, knowing that nothing could convince him to leave the side of his best friend. You are not alone in your grief. I care about you deeply and will stand by your side for as long as it takes until you feel better again.
#26 His laugh filled this world with happiness, and now the void left behind can never be filled with anything else. You can trust that his spirit lives on in all who loved him, including yourself.
#27 Right now everything seems dark without him, but what you have is precious beyond measure – memories of the life he lived and the love that you shared. Know that his memory will always be a light guiding your way forward through the darkness.
#28 Losing him is like losing a piece of yourself. I hope you know what an amazing person he was and how truly lucky you were to have him in your life for as long as you did. May his spirit guide you during this difficult time, my friend. I am thinking about you and wish there was more I could do to provide you my support.
#29 The last conversation I had with him was full of life, laughter and love. I treasure that memory close to my heart, for it reflects the man he was in his prime – energetic, vibrant, and profoundly alive.
#30 Death is an interruption of life's journey, not the end of what matters or counts most. May you feel some comfort knowing that your husband's spirit will live on through the many lives he impacted during his lifetime. Remembering him will allow us all to continue living with purpose after the loss has robbed us of our dear loved ones.
#31 So much has changed now that he isn't by your side anymore. I hope you find strength in knowing how deeply he was loved by so many people.
#32 It can feel overwhelmingly lonely when things are at their darkest, but you have the promise of the comfort and support of friends who will always be there for you to lean on in hard times. Take care – I am just a phone call away if you need me.
#33 It doesn't matter where I am or what I'm doing – no distance is too far when someone is in pain. Please let me know how I can help or simply what words of encouragement I can give that might make things a little bit easier during this difficult time.
#34 No one deserves to face loss alone; we all need each other while we're here and passing through. It's the only way anything meaningful ever gets done. So take care of yourself, my friend – you are not required to do this on your own.
#35 May the memories of happy times together shine a light in the darkness that is now all around you. You will find strength knowing that he isn't suffering anymore and never coming back into this world ever again–he has made his journey home to be with God after living his life fully right up until the end.
#36 I want you to know that you're always welcome here no matter how often or for how long it may be; I am glad for any time we could share together before he passed away. His passing gives us an opportunity to appreciate the gift that life is and the people that touch our lives, especially during the times when we need them most. Please do not hesitate to reach out if you ever need anything at all.
#37 The grace of God knows no bounds; He provides what nobody else can provide for us when we are in despair or lost in darkness–the light of hope. For this reason, it's important to remind ourselves that everything will be okay – even if right now things seem far from okay. So just know that I am here for you no matter how long it takes until your heart heals again.
#38 May his spirit lead you through the days ahead with an abundance of new thoughts, memories, ideas and feelings so heavy with meaning that they will help you to gradually heal.
#39 There are so many things I wanted to say to him – all of them ordinary, yet meaningful nonetheless. But he is no longer here with us, and the only way I can reach out to him is by writing down these words in honor of all that he gave me while he was alive. That's the least I could do for what his life has meant to me.
#40 The pain of your loss may feel unbearable at times; but somewhere deep inside you there is a place where memories live on–a place where you will always be able to find comfort when nothing else helps ease the ache in your heart. May it give you strength during this difficult time.
#41 Our lives are like leaves that blow in the wind; we live, we die and our bodies decay. But truthfully each leaf is far more than its mere appearance – it is vibrant with life, energy, knowledge and beauty that will always remain long after the leaf has fallen from its tree. There's no greater example of this than your husband, gone but never forgotten.
#42 Our heartfelt condolences to you during these difficult times–my thoughts are with you today as I imagine you must be feeling many different emotions right now – anger, sadness, regret… You might even feel guilty for not being able to save him or herself along with your loved one who passed away so suddenly. These feelings are common amongst friends and family members who have lost someone suddenly to an accident or illness.
#43 It's never too late for us to express our love in meaningful ways–so let's continue making it count for all eternity, starting by writing one of these thank you messages that can help to signify how much your husband meant to you during his lifetime.
#44 He will remain with me forever – through memories I'll cherish, moments we shared together and the times when he was simply there for me, allowing me the opportunity to repay him with friendship. With this in mind, please accept my heartfelt condolences while I am thinking about you during these difficult times.
#45 The bottom line is simple… may he rest in peace knowing that he has all our love and prayers during this very difficult time.
#46 One of the hardest jobs I've ever had to do was plan a funeral for my father, but it's something that had to be done in order to honor his memory and provide closure for me and my family. However, not everyone is able to bear such a burden on their own – which is why we're here to help you get through this difficult time while providing comfort during these sad times.
#47 He will remain part of me and always in my heart–even if he isn't physically there anymore. So please let him know how much I love him with every beat of my heart; even though right now I am far away from him, I will always be with him in spirit.
#48 When you lose a loved one it's natural to feel grief, anger and pain–even if their death wasn't expected or caused by an accident. But during this difficult time, please remember that within your soul is a beautiful power – a light so bright that no darkness can ever extinguish. He was taken from us too soon… But wherever he may have gone, let go of worrying about any negative possibilities and know that he is in the safest hands possible.
#49 We may not all live such long lives; but even if we don't get to spend forever together on this Earth, we'll continue to be connected for all eternity through our love. So only love and happy thoughts will remain with him while we're apart.
#50 I am sorry to hear of your husband's passing; but even though he is gone, please try not to be sad – because although the world seems like a darker place without him in it, he will forever remain alive spiritually inside of us all.
#51 Please accept my heartfelt condolences on the loss of your husband… And please know that you don't have to feel alone during this difficult time–because all of us here at his workplace want you to know that we care and more importantly that we are thinking about you all.
Warp Up
There are times in life when we need to offer comfort and condolences. Whether you're a friend, family member or co-worker of the bereaved person who has lost their husband, these sympathy messages should help guide your words as well as give them some solace during this difficult time.