There are moments when a teacher can impact a student significantly. One way of doing this is by thanking students for the joy of teaching and interacting with them.
This is a great opportunity to show your appreciation for the important contributions students have played in your life and career. Here is a list of thank you messages from a teacher to a student.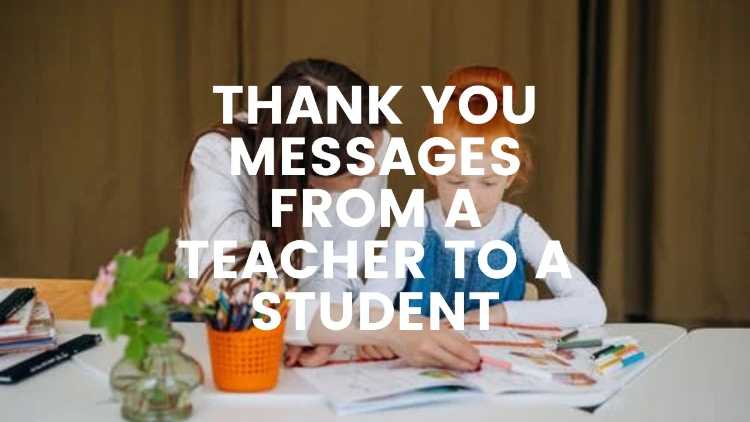 List
#1 All every teacher wants is for their students to be happy and successful in life. You are no different. I am so grateful that you chose me to teach you, and I only hope the best for you!
#2 Thank you for putting in the time, effort, and energy needed to be successful. I'm so proud of you! You did it!
#3 You make teaching fun! Not only are you committed to learning, but you also bring so much joy to the classroom. I hope that one day, I can see all of my students be as happy and successful as you are.
#4 Thank you so so much for your help! You went above and beyond what was necessary to make sure I understood what we were studying. Going forward, I hope that despite our time together ending soon, that we can keep in touch!
#5 You are an inspiration! Not only do you work hard every day in class, but you are always encouraging others around you to do their best work as well. People like you are why teachers love their jobs! Keep it up!
#6 I am very grateful for having such an intelligent student like you in my class! Not only have we learned many valuable lessons together, but we have also laughed so much more than we would have otherwise. You brighten everything with your smile and kindness, and I am so glad to have you in my class.
#7 Thank you for being so eager to learn, even when it wasn't always easy! Never forget that anything is possible if your work hard enough, and the sky is no limit with your goals. Keep reaching for the stars, because you can accomplish anything! You are truly remarkable, and I hope that someday soon everyone will know about just how special you are.
#8 Keep smiling! It brightens up the whole classroom! Thank you for coming to school every day ready to learn new things and meeting me at my door with a big smile on your face. That makes teaching much easier knowing there is someone like you learning in this room everyday.
#9 You're the best student I could ever ask for! You not only do your work and it is of a high caliber, but you always make us smile and laugh. Thank you!
#10 I don't know where you get all of your energy from, but I hope that whatever it is lasts forever. You are one of my favorite students to teach because of how hardworking and willing to learn you are. Thank you for staying positive even when things get tough.
#11 You have always been one of my favorite students to teach, because not only are you so smart, but so kind-hearted as well. Thank you for making this year extra fun, and thank you for being such a great example to others!
#12 The world needs people like you; intelligent, hardworking, humble people who see the good in everyone they meet. Thank you for showing me your true colors throughout this school year; it has really made an impression on me.
#13 Every day with students feels like a new adventure…and it's my favorite kind of adventure! Keep learning every day about how amazing the world is. Thank you for being part of my adventures with me!
#14 Here's to another year of learning and growing together. Thank you for all that you do to help us learn, grow, and change the world around us every day. I wouldn't want anyone else in this adventure with me.
#15 Be curious about everything, especially yourself! There are so many amazing things that make everyone unique…and there is nothing better than sharing all those things with someone else. Thank you for sharing your uniqueness with me.
#16 With so much more to come in your life, I know that you are going to accomplish so many great things. Keep up your hard work, and you'll get there even faster!
#17 When I see people who have become successful, they always credit being involved in their school or community. You can do the same! Don't give up on yourself, kid.
#18 Keeping a positive attitude is difficult sometimes, but it gets you far in life. Remember that when things don't work out right away. The more positive you are about life, the closer that success will be to you.
#19 Your consistent effort makes me happy as a teacher because I know that you are working to meet us halfway where we already are. Thank you for being the wonderful person that you are!
#20 Thank you for being so considerate of your future. It really means a lot to me that you are taking the steps to work towards it, and I am here to support you in this if you ever need anything.
#21 Keep up the good work! We both know that what we do won't be easy, but I'm sure if we both try hard enough we can make it happen. Thank you always for trying harder every day.
#22 You should be proud of yourself, because right now is when many people start losing heart from their studies.
#23 Thank you for the work that you do to help us understand our lessons. I know it can't be easy, but your effort makes all the difference in the world. Thank you!
#24 Your dedication to succeed warms my heart! You are a wonderful student and I am so grateful I get to teach you.
#25 You inspire me every time that we meet. Your intelligence and diligence is inspiring and contagious – thank you!
#26 I can not thank you enough for all of the hard work that is evident in everything that you do. Keep up that great work!
#27 To my best student, keep it up and you will go far in life. I can not wait to see what you do after graduation!
#28 You are an exceptional student; keep doing the amazing job. Your hard work is really paying off.
#29 I saw your exam paper today, and I couldn't be prouder of your progress so far this quarter. You should be very proud of yourself! Congratulations on all of your achievements.
#30 It is truly something special when students like care about their academics as much as they do. Thank you for your commitment to doing your best and striving for academic excellence. I know that with or without my help, you will be a success in life!
#31 When students like show such interest and love for their learning as much as you do, it makes me want to double down on my efforts to teach them even more. Thank you so much for coming into my classroom every day committed to learning!
#32 Thank you so much for taking the time out of your busy schedules to come see me today! It was wonderful catching up with each other and sharing stories about what's going on in our lives. You are always welcome here!
#33 When I became a teacher, one of the greatest rewards was making connections with people like you, who will go far in life because they care so much about bettering themselves. There isn't anything more rewarding than watching someone succeed at something! I appreciate the work that you put into making yourself the best that you can be, and I hope that we can continue to work together.
#34 You're an extraordinary student with such a bright future ahead of you! It was so rewarding to watch as your hard work paid off and as you succeeded at the things you set out to accomplish. You should be proud of all your success, and I will always be here if you need help along the way.
#35 Thank you for being such an amazing student and person in general! Your enthusiasm for learning is contagious and inspiring. Thank you for helping me remember why I love teaching so much—you really are a star pupil!
#36 You are an amazing student with so much potential. You may not realize this now, but someday soon, if not right away, I hope that you will grow into the kind of person who can take care of himself. Thank you for teaching me how important it is to be myself.
#37 I'm not sure what I would do without my students inspiring me every day. Thank you for taking the time out of your day to help make mine better.
#38 You are amazing in so many ways! You show up with a smile on your face, even when I know that it is hard for you to come see me—thank you for that. I love how passionate and creative you are about learning new things.
#39 When I tell stories about my teaching days, you will certainly be one of the students who stands out in my memories. You were such a great student to have around, and I hope that you will come back!
#40 Thank you for being the bright spot in my day. Not all of my students were as enthusiastic about learning as you were, but it was truly refreshing, and it definitely made me smile!
#41 With your positive energy throughout the day, I'm sure you made everyone else feel better about themselves. It was a pleasure having you in class, and I hope to see more of you soon!
#42 You are one of my brightest students, and I can see how much potential you have in your future career because of your dedication to learning. I hope you continue to focus on your studies and strive for excellence.
#43 You are such a shining star, and it's an honor to see the person that you will become in the future. It has been my pleasure to teach you these past years, and I am confident that you will go on to do amazing things.
#44 I know we don't always get along perfectly, but I still consider you one of my own children and am grateful that I was able to help grow your mind and abilities during our time together. Thanks for letting me be a part of your life!
#45 My friend, thank you for reminding me every time we talk how important it is to keep an open mind to ideas and possibilities! You have taught me more than I could ever hope to teach you in my career as a teacher, and I am so grateful for your impact on my life.
#46 My student, you have taught me more about doing what is important to you than any book or lecture could ever hope to teach me. Thank you for never giving up despite set-backs and failures. You are a true inspiration to us all!
#47 Thank you for being such a positive person in my classroom! You always keep the other students going when they get discouraged, and that is something very special that not many people have. Your kindness has earned my respect, but it's earned everyone's respect in the school.
#48 You are the best student any teacher could ever ask for! I hope that if nothing else, I have taught you how much learning means to us human beings, and how important it is never to stop exploring knowledge. You're going places in life, my friend, and I wish you all the best on your journey.
#49 Thank you for being so inquisitive! You're a student who thinks outside the box, which is why I believe that one day, even if it won't be here, you are destined to achieve great things. Keep studying!
#50 You are an inspiration to us all. Never stop learning, never stop growing as a person, never forget where you came from or what brought you to where you are today. Stay humble always.
#51 No one has ever made such an impression on me as you have. There is something so unique and so special about you, and I am so grateful that you've decided to let me in.
#52 These past few years, we've been through so much together. You've inspired me to be a better teacher and a better person, because of your innate curiosity and your willingness to learn anything I can teach you. Thank you for all that you do!
#53 Although it hasn't been long since we met, it feels like you have been a part of my life for years. Thank you for being such an amazing student, and I hope that you will continue to learn things from me for a long time to come.
#54 Thank you so much for choosing me as your teacher. It is an honor every day when I get to work with someone who is just as eager as I am to learn new things! You've been the best student yet, and I know that there are great things ahead of you in your future.
#55 You have grown so much throughout the course of the year, and it has been an incredible pleasure watching those changes take place. Thank you so much for being such a hardworking student this year; keep up the good work!
#56 You made me laugh, you inspired me to be a better teacher, and you were always the first student to complete my assignments. Thank you for being such a good kid!
#57 Thank you for making class so much fun today! I was really impressed with how well you did on your exam – I'm very proud of you.
#58 I am so thankful that I have been able to spend this time with someone as bright and talented as yourself. It has been a great year working with a true pleasure.
#59 Thank you for teaching us all about resilience and endurance this year! Your hard work will not go unnoticed – we are very proud of how far you have come.
#60 You have grown into a person that I am so proud to have in my class. Keep up the hard work!
#61 It has been amazing getting to know you this year, and watching you grow as both a person and an artist. I hope that your school years are full of happiness, success, and learning experiences.
#62 I cannot believe how big you have gotten! It's so fun being able to teach someone who is almost an adult now! Thank you for sharing your ideas with me and keeping the class interesting.
#63 Thank you for all of your hard work throughout the past two years! You were such a joy to teach this year and I think we had one of the best art classes ever! Good luck next year!
Warp Up
In conclusion, one of the most important things a teacher can do for their students is to be proactive and provide them with opportunities for growth and development. I hope that you will use these messages as an opportunity to show your kids that they are appreciated and respected through your words and actions.