There are people in our life who have saved it when the world has let us down. It is very important to thank these precious souls for bringing light to our lives through their support and love. If you have ever been saved by someone, then here is a list of thank you for saving my life messages that can help you convey your gratitude through meaningful words!
Here we provide a list of sample thank you for saving my life messages that will help you show your gratitude and respect towards those who made sure to never lose hope in you!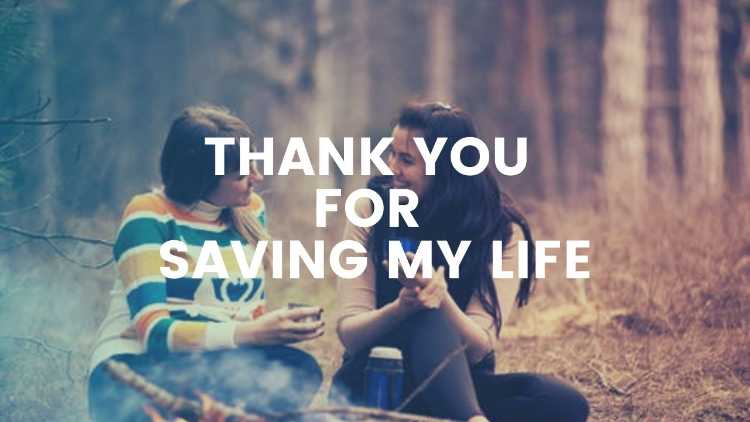 List
#1 My life has changed completely since meeting you because I realize now what is important in life – having faith, believing, loving unconditionally, cherishing every day. Thank you for showing me that, and I am grateful to you for saving my life.
#2 You are an amazing friend! Thank you so much for standing by my side. You are the reason I am still here today – if it wasn't for you, I would not have had hope or motivation to keep going but with your help I have been able to fight this illness.
#3 If it wasn't for you, I would not have made it through my illness. You are truly an angel sent down from heaven! Thank you for being there for me and giving me the strength to carry on.
#4 I cannot thank you enough for helping me fight my cancer – without you by my side, I don't know if I would be here today telling you how much you saved my life.
#5 Thank you so much for saving my life. If it wasn't for your determination in finding a treatment plan that worked best with my body chemistry, there is no doubt in my mind that I would be gone by now.  You are more than a hero to me, and I cannot thank you enough for everything that you have done.
#6 Thank you for always sticking by me and giving me such wonderful support to help me through such a tough time. You helped restore my faith in people, and I know that no matter what happens, we will get through it together.
#7 Thank you for being there when nobody else was – for being the only one who believed in me. You have changed my life entirely with your faith in me, even though I didn't deserve it at one point. Your unconditional love has saved my life.
#8 Thank you for always believing in me. It has meant the world to me, and I am so grateful that you are in my life! Thank you for making me happy.
#9 You helped me change my life completely by helping me get out of a dark place. You not only saved my life, but still continue to support it with yours. Thank you for being there when I needed someone the most!
#10 It's been said before, but it is true: if it wasn't for your help I wouldn't have made it through. You mean much more to me than just a friend or family member – thank you from the bottom of my heart.
#11 Thank you so much for not giving up on me, even though nobody else would have done what you did. You changed my life, and I will never be able to thank you enough for everything that you've done!
#12 I don't know if I can put into words how incredibly thankful I am for all of the loving actions toward me during the darkest time in my life! Knowing someone cared enough about me to give their own life was more than enough – thank you so much!
#13 Thank you for standing by me when no one else would. You believed in me; thank you for showing faith that I pull through this dark time.
#14 My Love, words cannot express how grateful I am to you by my side through this challenging time. You are my guardian angel, and I can never repay you for your kindness.
#15 My love, thank you for being there when no one else was. You have opened my eyes to what is truly important in life. I will do everything in my power to make sure that I don't waste this second chance you have given me.
#16 I could not think of anyone else who deserved the title of "The Miracle Worker" more than you. We all couldn't thank you enough for saving our lives with your work! Thank you so much!
#17 I can feel myself getting stronger. I know now that with your love and support, I will eventually find the happiness I so desperately need. Thank you for never giving up on me.
#18 You saved my life; you gave me hope when all was lost. You broke into my darkness that consumed me and ended my pain; thank you for releasing me from it's grip.
#19 Thank you for bringing happiness back into my life. Because of your compassion, kindness, and love; I am finally starting to appreciate the beauty in life again, rather than dwelling on everything negative there is in this world. You are truly one of a kind!
#20 Throughout the years of being your friend, you have opened my eyes to see the world in a different light. Thank you for being the person that helped me find myself.
#21 Without any hesitation, you saved my life. You are more than just a hero to me – I'm eternally grateful to have had you stand beside me when I needed it most.
#22 Thank you for staying by my side throughout everything, believing me and fighting with me through thick and thin. You were there for every ugly moment instead of giving up on me like everyone else did. Without you, none of this is possible.
#23 If it wasn't for you, I probably wouldn't be here today. You took me in when I had nowhere else to go, you fed me and clothed me, and you even listened to all my problems. Thank you for saving my life.
#24 I used to think that I was all alone in this world until the day I met you. You showed me what friendship could be like and how good it felt to have someone who cared about me unconditionally. Thank you for saving my life!
#25 When I needed someone most, there you were; ready to help, extend your hand, offer comforting words…you really helped save my life. No matter what happens between us from now on out, know that it will never take away what happened here today. Thank you for everything!
#26 All of those years ago, you helped pull me back from the edge of no return and showed me what happiness looked like by simply being yourself around me. Thank you so much for being there, and thank you for being who you are.
#27 After all of this time, I can never repay or say thank you enough for what you've done. You saved my life that day, not just because of your friendship and love, but because of the way that I was able to see myself through your eyes from then on.
#28 I don't know what would have happened if it wasn't for you encouraging me to get help when I was sinking into a mental illness, but I am incredibly thankful that someone saw the signs before it was too late. Thank you so much!
#29 I remember the first time I tried to take my own life. It was a dreary day at school, and I felt so alone. Everything seemed pointless, just as it does now. But then you made an effort to sit with me, even if only for a little while, that changed everything.
#30 You were there for me when everyone else wasn't. You didn't judge or make fun of my scars; instead, you treated them like they were nothing out of the ordinary. Thank you for saving my life by giving me hope where there was none left.
#31 I can't believe that I was once in danger. Thank you for saving me. I will never forget your bravery and courage.
#32 I can never forget the day you saved me, and I will do everything I can to prove that I am worth saving. Thank you for having the courage to step in and save me when no one else would. You are my hero!
#33 I don't know where I would be without you, my love. You are everything to me; thank you for pulling through when it seemed like all hope was lost. I'm so happy to have you by my side, and I appreciate every aspect of your character, especially your unending bravery!
#34 Your spirit is indomitable! It has given me the confidence needed to get back on my feet after this terrible ordeal. If there were more people like you in the world, we would certainly live in a better place than we do now! Thank you for being an inspiration to us all!
#35 I will never forget what you have done, my love. You are not only a hero to me, but also to many other people in the world. I just want to say thank you for everything that you've ever done for me.
Warp Up
Lastly, if you want to thank someone for saving your life, then consider using the above examples as templates.
Thanking someone who has saved one's life is an act of appreciation that should be done. The more grateful you are, the more likely it'll show how much you truly appreciate their heroism and selflessness.