Memories are such precious things. It can brighten up your mood and give you a reason to smile, especially if someone reminds you of the memories you shared with them.
So, here's a list of thank you for the memories messages that will help you convey your thanks and gratitude in words!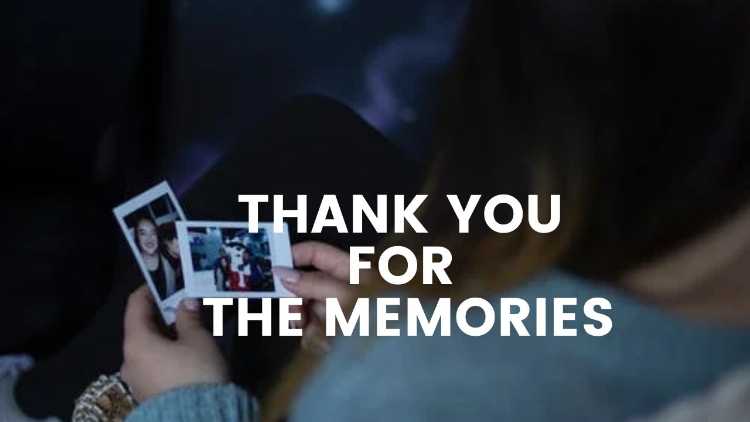 List
#1 I want to thank you for being there even when times were tough. When everyone else turned their backs on me, you were still by my side. That means so much to me, and I'll never forget it.
#2 You're what keeps me warm during cold nights; you're the amazing food that makes each day special; and thank goodness for you or else there would be nobody on Earth who could keep me entertained.
#3 Thank you for being my companion on adventures, and thank you for being a friend through the tough times. You have been an amazing help to me, and I am so grateful for that.
#4 I can't imagine life without you in it! Thank you for making every day worth living with your smile and excitement. Thank you for always being there when I need someone to talk to or just want to hang out with.  Thank you!
#5 Thank you for always being there for me no matter what situation pops up in our lives. You will always be my number one cheerleader and biggest supporter; nothing on Earth could ever change that fact about us.
#6 I want you to know how grateful I am for all the wonderful memories we've made together and how happy you make me. You are my best friend and no matter what happens, I'll always be by your side.
#7 When I was feeling down, it was your smile that brightened up my day. When I felt like things were hopeless, it was your words of encouragement that changed my mind. It is because of you that I still believe in love. Thank you for being there for me on this great adventure called life!
#8 Thank you for making life so much more meaningful than it would have been without you by my side. You may not realize how important our time together has been- but I treasure every memory of it.
#9 I am so grateful for the time that we have shared together. I can remember each moment, and it brings a smile to my face every time I do. You are part of me- you help define who I am as a person. Thank you for everything!
#10 The past year has been wonderful because of you. Wether it be new experiences or old memories, they all come flooding back when I am with you. I'm so glad you are in my life – thank you for everything!
#11 When times get really tough, when they seem bleak and there's no light at the end of the tunnel, I know that I can count on you. Thank you for being my anchor in the storm, and helping me weather through everything else with ease.
#12 Thanks for the memories! They were always amazing, even in our darkest hours. With you by my side, I could never lose no matter what happened because we shared so many beautiful moments together.
#13 Thank you for all of the wonderful memories we've made over the years. Our past will remain precious to me no matter where life takes us, because it's filled with so many wonderful times shared together.
#14 There's nobody else like you out there; nobody makes me feel this way and makes me smile you do. You're so kind, generous and loving. Thank you for being in my life.
#15 Thank you for reminding me what it's like to feel young and carefree again. I don't know if there's a way that I could return the favor, but please know my gratitude is real and that I appreciate everything that you do for me.
#16 I want to thank you for years of good memories; each one is special to me. Remember when… [share your favorite memory with them]. No matter where we are or what we're doing, those memories will be close to my heart forever.
#17 There is nobody else in this world whose presence brings more happiness into my life than yours does. Thank you for all of the memories that we have shared so far and can't wait to make more in the future.
#18 You are a wonderful friend, and I thank you for being one! And not just me – my family loves you too. You have been there through thick and thin for us, even when times were tough. We all appreciate you so much.
#19 Thank you for being such a big part of my life! There is nobody else who has impacted me as much as you have in both good ways and bad ways. Thank you for everything, no matter what it was or how hard it may be to remember it all!
#20 The time we spent together will never mean as much to me as you do. Thank you for your presence and the memories you gave me. I hope we can keep making more of those!
#21 I am so lucky to have met such a wonderful person like you and that we had shared so many great memories together. You are irreplaceable and I will always cherish our time together.
#22 Thank you for being by my side these past few years, no matter how tough they were. Even on the worst days we had together, I still knew that there was nowhere else in this world I wanted to be except with you.
#23 When they "You don't remember that?" I say, "That's because you were there." Thank you for everything that we have done together; I wouldn't trade it for the world.
#24 You are always in my heart, if not in person. The memories of our time together will live forever! Thank you for every good moment and every bad moment, they all make me who I am today.
#25 I love looking back on our life together and thinking about all the things that we've been through. Every memory reminds me why I want to spend the rest of my life with you by my side.
#26 Thank you for taking the time out of your day to be there and listen to me and my problems. I know that you're busy, but you always make time for me and I am truly grateful for that.
#27 Thank you for all the memories we've shared together! You were there when we graduated college, got great jobs, bought our first house, and had kids. Every memory is so special to me. They wouldn't exist without your presence in my life.
#28 I can't thank you enough for being such a wonderful friend when I needed one most. Your friendship has kept my head above water when it felt like my boat was sinking and without you, I'd be lost still today. Thank you doesn't seem good enough at all …
#29 It wasn't just the good times that made our memories special; it was also the bad times. The fights, the reconciliations; those are what shaped us into who we are today. We've come a long way, thanks to our struggles together. Thank you!
#30 I want you to know how much your comfort meant to me when everything around me seemed like an endless blur of hardship and despair. It's amazing what good friends can accomplish with even just words of kindness. I'm glad to have had someone like you in my life during that time.
#31 Thank you for listening to my stories. Without this, I couldn't have formed some of these memories that I will cherish forever. You are so important in my life.
#32 Thank you for being the first one to come to mind when I think about good food, family get-togethers, camping out under the stars with friends, and so many other memories. Your presence is always welcome here!
#33 It was wonderful growing up with you by my side. It felt like we were fighting together through all of life's battles over the years. Thank you for standing beside me no matter how hard it got!
Warp Up
In conclusion, the story of your life is important to someone. When you're ready, let them know how much they've meant to you by writing a thank-you message expressing how grateful you are that they've been there for you.