If you have a dentist that takes the time to get to know you and provide you with quality dental care, take the opportunity to thank them for their kindness. Here are some ideas of what you might include in a thank-you note to a dentist.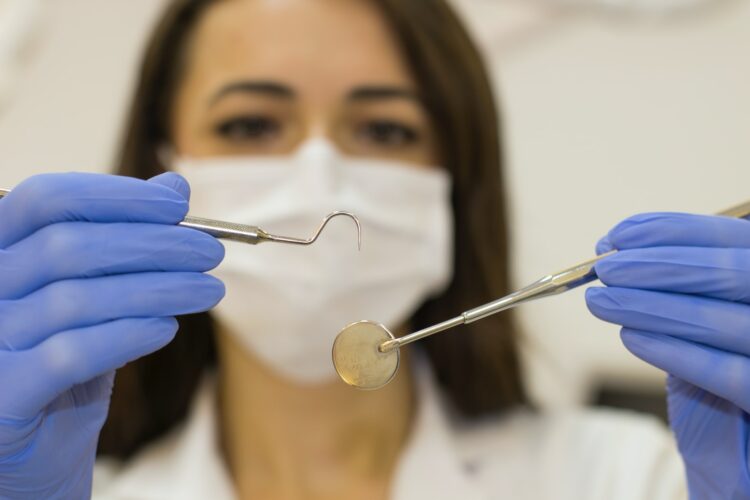 List
#1 I simply must thank you for making my dental experience as painless as possible. You are the best dentist I have ever been to, and exactly what I am looking for in a dentist.
#2 Thank you for keeping me at ease during my appointment. I am very grateful of how gentle you were with everything. Keep up the great work, it is much appreciated!
#3 I am always so pleased by your courteous staff and your professional skill on handling any troubles that may arise behind the scenes. A+ service all around every time.
#4 It was once again an absolute pleasure coming to see you today! Your positive energy brings out smiles from everyone who walks through those doors, which makes the whole process that much easier on us.
#5 I am always completely taken aback by the level of professionalism you exhibit, Dr. _____. I feel well cared for every time I come in, which is why I would never go anywhere else! Thank you so much for your continued excellence.
#6 Thank you for providing all levels of service to me and my family. We are all kept healthy because of the work you do day in and day out. I appreciate everything that you guys do over at this practice.
#7 I wanted to thank each one of your staff members for helping me through a difficult spot today. All I can say is WOW – what a comfortable environment with such attentive people! Truly an excellent experience, thanks to them!!
#8 It was definitely worth the extra mile I had to go to find your office. I appreciate you working me in on such short notice, and my family is very pleased with their new members! Thank you so much for all of the help.
#9 I wanted to say thanks for seeing me last week. It meant a lot that you went ahead and got an appointment soon as possible for my son's birthday, which was coming up this week. You made it all possible with no stress on our end; thank you!
#10 I am always taken aback by not only how courteous everyone is, but also how genuine the conversations are here. Each time I come in, I feel like part of the close-knit community at this dental practice!!
#11 Thank you for your kind words, which is exactly the type of treatment I have come to expect with this practice. It is always a pleasure coming in to see everyone here, and I cannot say enough about how wonderful of an experience it is!!
#12 I am so happy I found you as my dentist! No more having to go running around trying to find one that can help me out right away – you are all extremely accommodating and very easy to schedule with. Thank you so much for everything!
#13 You guys really went above and beyond with getting us more than what we needed during our last appointment. We greatly appreciate all the extra attention that was given not just on our teeth but on our personal health. You're the best!!!
#14 Thank you for keeping up such high standards in this industry; not many people do these days. Your staff is wonderful, too. Everyone has always been so kind to me on each visit.
#15 I can say with sincerity that you are an asset to your profession. I have never felt more welcome by a team of medical professionals before. You all are simply the best!
#16 You are my hero, Doc. At least, when it comes to teeth and gums anyway! Thank you for being so patient with me when I feel anxiety about cleanings or check-ups. Your gentle coaching made every time quick and painless even while stuck in the chair!
#17 Thank you for keeping my family's smiles bright! I appreciate how professional yet personalized everything was during our visits. We are always excited to come see you because we know we'll be in great hands.
#18 I want to personally thank you for going above and beyond the call of duty. When I wasn't able to come in on one of my scheduled appointments, you took the time to meet with me outside your office hours so that I wouldn't have to reschedule. You really helped me out, and I am tremendously grateful.
#19 The care that you give is more than just a name on a door; it comes from the heart. Every person on your team shows nothing but compassion during every visit; everyone is professional yet caring, patient yet thorough. Thanks for everything!
#20 It can be difficult to express gratitude without coming off like it's forced or hollow, but I hope you know that I mean it wholeheartedly when I say thank you. Your office is a shining example of how a business should be run, and your staff sets the standard for true hospitality.
#21 Keep up the awesome work! Things couldn't get any better than this on my end. Thank you so much for taking such good care of me. You guys are awesome!
#22 I will never forget your kindness during my treatment. As nervous as I was to go through with it, you always made sure that I felt comfortable and not just another number on the chart. My teeth look amazing! Thank you for all that you do and keep doing what makes each visit unique and stress-free!
#23 You really stand apart from other dentists. You are so approachable, easy-going, and understanding of the needs of your patients. It is truly a pleasure being under your care!
#24 It's an honor to have you as my dentist. I feel lucky every time I come in for an appointment because you are just that good at what you do. Keep doing what makes this practice great!
#25 Thank you for being there for me every step of the way with my orthodontic work … Every visit has been painless and pleasant, which not many people can say about going to the dentist! I always look forward to seeing everyone at my appointments even though I never want to leave! Thank you all again for everything; I wouldn't be half the person I am without all of you.
#26 You guys are always able to calm my fears and make the experience an enjoyable one! Thank you for that, and for your friendly staff. Your dental practice is definitely a cut above all others, and I'm grateful for it every time I visit.
#27 I want to thank you from the bottom of my heart for being so kind! You have taken excellent care of me during every visit, which is no small task considering how scared of the dentist I used to be! The way you run your business reflects exceptional character on your part, Doc, which leaves me only wishing that there were more people in this world with your integrity.
#28 Thank you for the good advice about my teeth. I feel much better now that I've made an appointment to get them checked out. You're always such a pleasure to talk to and your chair-side manner is absolutely superb!
#29 I appreciate your thoroughness and patience with me as we work together to fix these issues with my dental health. It takes a lot of stress away knowing that I will be well taken care of by such a fine professional like yourself.
#30 You and your team run circles around the competition, and it is plain to see why so many people recommend you as the best dentist in town! Thank you for being so great at what you do, from start to finish.
#31 In this day and age, it is hard to find someone you can really trust. Thank goodness I found you! You are so easy to talk to and your advice on everything dental has been invaluable.
#32 You really go above and beyond the call of duty, and I am very grateful for both your work on my teeth, as well as the warm bedside manner that goes with it. Thanks for always being so patient.
#33 The staff at this office continues to impress me with their friendliness and professionalism. The office itself is beautiful, clean, and comfortable, which makes coming here all the more enjoyable whenever I come in for an appointment. Also great location; extremely convenient!
#34 I am so happy that I was referred to you by my cousin. You always do an amazing job, and your staff is equally fantastic too. From Susan's kind personality to Brenda's lovely voice on the phone, everything about you is wonderful.
#35 It has been such a privilege working with you over the years. I know few people who are as skilled in their field or as nice to work with as you are. Thank you for all of your hard work!
#36 Thank you for being one of my very favorite dentists ever! Your office is great at accommodating me when I have had emergencies, and I appreciate all of your advice on how best to take care of my teeth.
#37 Thank you for the great care you provided me during my last appointment. I really appreciate everything that was done, and it made a world of difference in how I feel about my teeth.
#38 Your efficiency is greatly appreciated, not to mention your reassuring manner. You have an office full of grateful patients!
#39 I'm so glad that I am one of them! Thank you so much for always being kind and helpful during every visit, even if it means making sure the smallest detail is taken care of.
#40 The way you handled yourself at our last meeting was very impressive. Your knowledge level is off the charts, but beyond that, you are just generally approachable and easy to talk to about anything dental-related.
#41 You are simply the best dentist in town! Thank you for all of your hard work and dedication to keeping our pearly whites healthy.
#42 I wanted to send a note of thanks for the great service I received at your office today. The level of professionalism was evident from my first step into the office, and that made me feel very comfortable.
#43 This was my first time ever visiting a dentist – after all these years of neglecting myself because of fear… But thanks to everyone here, including yourself and your assistant who not only made me feel very comfortable and secure in such a foreign place, but made the experience a lot more fun than I thought it would be!
#44 Thank you so much for squeezing me in today. You have been so good to me and I really appreciate everything you did for me. Thanks again, and take care.
#45 I cannot believe how great my teeth look after your treatment! They never looked that clean when I was a teenager! Thank you for always being on time with every appointment and always following through on exactly what has been promised. I truly mean that you go above and beyond the call of duty… And thank your assistants as well.
#46 You are absolutely wonderful at what you do, Doctor, and I am very lucky to have found such a proficient dentist who takes his job seriously while also making each patient feel important. I look forward to seeing you again next time!
#47 For as long as I can remember, my visits with the dentist have been unpleasant for all parties involved. However, your office is a departure from that stereotype and always leaves me smiling when I leave – both for myself and others.
#48 Thank you very much for seeing me today, Doctor. You were very kind and helpful, and I appreciate the work you've done on my teeth thus far!
#49 Thank you all so much for being so wonderful during each visit… Going to the dentist isn't usually one of life's highlights for me, but your staff makes it pleasant enough. Thanks again!
#50 I just wanted to thank everyone in this practice who has helped me over the past year. I am so grateful to all of you for your time, patience and kindness!
#51 It's always a pleasure to visit your office… And speaking as someone who has gone through many dentists in his lifetime, this is saying something! Thank you so much for taking such good care of me.
#52 I just wanted to thank you again for fitting me into your busy schedule today… You are always cheerful and professional, which means a lot to me. Thanks again!
#53 I just wanted to let you know how much I appreciate all that you have done for my teeth over these years. Your work inspires confidence – I really appreciate it. Thanks very much!
#54 I just wanted to take a moment to let you know I was extremely satisfied with my visit. The staff is always so pleasant and the procedures were painless and flawless as usual. Keep up the great work!
#55 Thanks for showing me that going to the dentist can be easy, quick, professional, and most importantly pain free. Your assistants are right on point from start to finish without fail at each visit. Thanks again.
#56 Thank you very much for seeing me today as a walk in patient when I had an emergency issue with my tooth! You guys made it so easy for me to walk in, get seen quickly, and was well taken care of! I really appreciate it!!
#57 Your office is wonderful – efficient, kind and caring – I couldn't ask for a better dental team!
#58 We are so grateful to have you as our dentist. You are so understanding and compassionate with your patients. Thank you for all the years of care you have given us.
#59 I wanted to take a moment write you an honest thank-you note. I am very, very grateful that my work schedule allowed me to see you today instead of having to wait two weeks or more that I would have preferred, but truly understand why it is necessary… Again, thank you for squeezing me in.
#60 Thank you again for your support throughout this process! It really was nice knowing that I had someone on my side rooting for me through everything – even when things were rough. Your expertise and wisdom never went unnoticed, and now I finally feel like myself again. And the fact that you could be there to share it with me is something that I will never forget.
#61 Thank you for taking care of my needs…I really appreciate your services! Thank you also to everyone at your office for making my visits positive experiences.
#62 You are all amazing people and thank you for having such a great attitude every time I visit! The entire staff brings so much joy to my day – I look forward to seeing you all each time!
#63 Your kind words have meant so much during this difficult time in not only mine but also my family's life. You are setting an example of true professionalism through selflessness, which speaks volumes about your character!
#64 I cannot thank you enough for all of your help with my daughter's oral surgery. You have this way about you that makes an otherwise nerve-racking visit almost pleasant. I am so thankful for the wonderful staff you have, too!
#65 Thank you Dr. M for being an amazing dentist and really listening to what I want out of my dental experience. You are great at what do, but beyond that, the care you show is exactly how it should be. Thank you again!