Getting your fitness on track is something to be proud of, and if you've worked with a personal trainer to achieve this goal, it's time to write them a thank you note. Here are some great ways to say thanks in your note.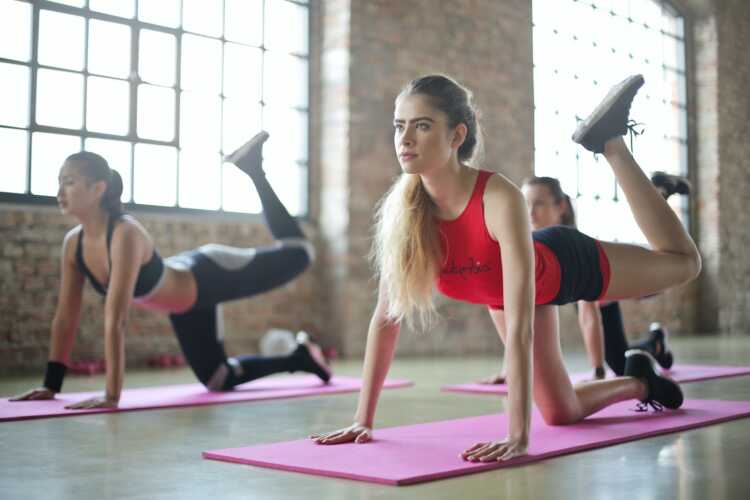 List
#1 Thank you for being a part of my life and encouraging me every single day. I have never been happier or healthier since starting to work with you. You are the best!
#2 I really appreciate how flexible you are so I don't miss out on any time training together. The times we do get, no matter how short, always help motivate me during the week so I can be stronger by our next session. Thank you for making it possible for me to achieve my health and wellness goals while balancing other parts of my life as well!
#3 Your guidance has helped me become a better version of myself. Your positive attitude and non-judgmental perspective make working out fun! This is going to be incredible journey – thank you for being a part of it!
#4 When we work out together, I feel like I can do anything and accomplish any goal. Thank you for the constant motivation and the excitement you share when we begin new challenges. It's infectious!
#5 You have made such an incredible difference in my life. You helped me realize that if I am committed to something, there is nothing that will stop me from achieving what I want to achieve. Thank you for helping me get on track with my health and wellness goals and inspiring me to be all that I can be!
#6 Thank you so much for pushing me to train harder than I would ever push myself. You continually inspire me to try things at a level higher than where my comfort zone lies and it means the world to me. Thank you for being my coach, friend and inspiration!
#7 It's simply amazing how much our workouts have helped me change my body composition towards building lean muscle. I never thought it would be so easy or feel so good to lift weights! I can already see changes in my body using weight training with you as the focus of our program together.
#8 Thank you for being so patient with me when I am having a bad day at work or life is getting busy. You are one-of-a-kind and really care about your clients, not just selling them on personal training, but making sure they achieve results! Thanks for helping me achieve an incredibly strong core which has given me more confidence with everything that I do!
#9 Training with you has been a very positive experience. Your workouts and nutrition advice helped me to feel and look better than I ever have before. You are always calm, collective, encouraging, patient and understanding – even when I wasn't the best client. Thank you for that!
#10 I think all of us would agree that it is not easy sticking to working out consistently especially after having kids. Somehow, no matter how hectic life gets or my motivation is lacking, I know that our sessions together will be worth it because they provide me with energy throughout the day & keep me healthy & strong so I can take on anything! Thank you for being flexible enough to work around my schedule so we can meet up even if it's not during normal work hours.
#11 I'm so glad I decided to join the gym and hire a personal trainer. My workouts are always exciting, challenging & new because of you! Whenever I find something that works for me, you switch it up to keep me interested and on my toes. Thank you for keeping our training sessions fresh and interesting – it's just one of the many things I love about working with you!
#12 You have proven to be such an incredible resource in helping me achieve my health and fitness goals. You show great attention to detail and genuinely care about your clients, which is what sets you apart from other trainers. And above all else, thank you for being tough when necessary but understanding as well.
#13 Thank you for being such a great coach. You have helped me get back on track with my health and wellness goals after I had to stop training due to an injury. Your guidance and insight have been invaluable, especially when it comes to nutrition!
#14 Working out with you has been amazing – your encouragement is the kick in the ass I need everytime I think about skipping a workout or not going as hard as I should be. You always come up with challenging new routines that make it impossible for me not to see progress while having fun at the same time! Thank you for everything you do.
#15 It's truly astonishing how much working out regularly has changed my life. Nobody around me makes me feel better than when we are at the gym together or I'm taking one of your Kickboxing classes. The energy and enthusiasm you bring to the gym is contagious; it's one of the many things I love about working out with you!
#16 Thank you for pushing me harder than anyone else has before and making sure I get up if I fall down. You show great care toward all your clients and never give up on anyone. I am amazed at how far I have come with you in such a short time! Your help has been invaluable during this difficult year of transition for me, and has truly transformed my life.
#17 Thank you for giving me the motivation to workout consistently. You are always positive, encouraging, and full of energy! I can tell that you really care about your clients and want them to see results. Just by taking the time to encourage me alone is enough reason to give you all the thanks in the world. But then there's also all that weight loss… So thank you, thank you again!
#18 You've helped me get through some bad eating habits and mental blocks with food, which has allowed me to start to explore healthier options. I'm slowly realizing what a nutritious diet should consist of, and for this I thank you!
#19 I am going to miss our workouts once summer comes around. Thank you for getting me in shape and teaching me new exercises. You have been a great trainer, and it has been a pleasure working with you!
#20 Thank you for helping me set short-term fitness goals that have built up into long-term ones. I feel so much stronger from all the effort we have put into my training sessions together, and there is nothing more rewarding than achieving something that was once impossible. You are patient, encouraging, knowledgeable about your profession, and very helpful throughout the entire process – making every session worth while!
#21 I can tell that you truly care about what you do and not just constantly pushing people to be better. You inspire me to reach my goals and I love feeling like a new person after every workout. Keep up the amazing work!
#22 Thank you for being so non-judgmental when it comes to my weight loss/fitness journey. It's tough enough, but your encouragement means the world to me. I have never felt better, or more confident in myself than now, even though I have lost over 100 pounds! Thank you for being the best trainer ever!
#23 My life has completely changed since I decided to start working out with you, because everything is better now: My happiness, energy, diet, health overall and, of course, my body. You always know the right things to say and you make me feel like a million bucks every time we meet! Thank you for everything!
#24 You have been such a role model for me. I remember when I first started training with you and would dread our workouts. As the days passed by, it became easier and easier because of your encouragement and guidance throughout this process. Now that we are more than halfway through this journey together, thanks to you I am in better shape than ever before and loving life! Thank you so much for everything!
#25 Thank you for making me remember that I am never too old to do what I want. You are my inspiration, and when I grow up – whatever 20 something thing I want to try next – I will be asking myself "What would [you] do?" Thank you for being a wonderful role model.
#26 As an ER Nurse on the night shift, it is hard to find as much time as needed to work out as often as required . But since training with you, not only have my muscles been more defined but so has my resolve. Your workouts are challenging and effective! Thank you for your dedication and encouragement!
#27 Thank you for helping me realize that running outside on a treadmill both feel great after a tough workout session. It's so much more refreshing than being cooped up in the gym most days of the week. I'll see you on the trails soon!
#28 When I first started training with you I was at a fitness standstill, but now I feel like my old energetic self again – without all of the injuries! You are an amazing trainer and friend. Thank you for your patience, kindness, inspiration, and motivation!
#29 Thank you for helping me learn to love healthy food by making it taste delicious. Instead of looking forward to dinnertime as punishment, now I look forward to getting together with friends over healthy meals that keep us full longer. My family is cooking healthier too because of you! Congratulations! We are all feeling great since we started eating the way you taught us.
#30 Thank you for empowering me with strength and knowledge of nutrition. You made it easy to understand all that I needed to do to be on the road to a healthier, more active lifestyle! As if training wasn't enough incentive, now I am looking at living life as my new fitness motivation and inspiration. Thank you!
#31 It's amazing how different your workouts are! Every session brings something new and exciting which keeps me motivated to come back for more! Thanks for helping me believe in myself again after those long absences from working out.
#32 You were right when you said we would learn a lot about each other during our time together. Well…I learned some pretty surprising things about myself – but it all boils down to the fact that I am thankful for your encouragement, motivation, and ability to push me just enough.
#33 Thanks for being my biggest believer in the small ways you challenged me throughout our time together. I have made so many great changes by taking each challenge one day at a time, making baby steps toward better health until I realized where it has brought me today. Thank you!
#34 When life gets busy, it can be difficult to find something more important than work. But when I started training with you again, you showed me that fitness was not only important but necessary for success. It took less than 3 months of working out with you before I had lost 20 lbs !!! Now my friends are asking for your number too!
#35 I have worked with several personal trainers in the past, but I must say you are the best. Your approach to training is fun and engaging, while at the same time effective. You are dedicated to your job and it shows through your work ethic. You make your clients want to come back for more!
#36 Everyone says age is nothing but a number. Well you're proof of that! Thanks for making me feel young again! Not only do I look great, I feel great too. All this working out has really boosted my self-esteem.
#37 Thank you for not coddling or pampering me during our sessions together. The truth is, I need your tough love so I can push harder than ever before and turn my body into a fat-burning machine. I am so grateful to have such a motivating coach pushing me to my limits every step of the way!
#38 You may not think that you are my hero, but you most definitely are! You lead by example and inspire me more than words can say. I feel more confident and capable than ever before because of you. Thank you for showing me what hard work and dedication really means.
#39 Thank you for making our time together more than just fitness training; it is always fun and rewarding. Your advice has always been on point, and I thank my lucky stars for bringing someone like you into my life. Keep up the great work!
#40 You motivate me beyond words, both in person at your training facility, and also when I go out to train on my own. You are always there for me whenever I need training advice. Your one-on-one approach is what keeps me coming back!
#41 Thank you for pushing me harder than ever before, even when I begged you to slow down. Sometimes the "tough love" works best. Now that I have achieved my goal weight, it was definitely your tough love that got me there! Once again thank you so much!
#42 You are the real MVP! Without your guidance, encouragement, pushing, prodding and mentoring…I would not be where I am today. Thank you for being the source of power in my life and showing me how to live an active lifestyle while having fun.
#43 You taught me how important it is to give myself a break, and enjoy the journey as it unfolds. You were always available through email or your mobile app when I had questions or needed guidance. You're truly an amazing trainer, and I thank you for all that you have done!
#44 I am so glad we crossed paths because you changed my life in more ways than one. Not only did you help me lose weight, but also gain confidence and self-esteem that will last a lifetime. You helped heal my broken spirit and showed me what real health looks like. Thank you!
#45 Thank you for being so straightforward with your training advice, without ever being harsh or judgmental about my size or age. Your holistic approach to training is refreshing and much needed in the industry. I truly appreciate your positivity, encouragement and guidance.
#46 You made me push myself harder than I thought possible, and for that I will be forever grateful! You helped restore my faith in health and fitness, and gave me a passion again to be more active. You showed me what determination really means. Thank you!
#47 Taking care of yourself should never feel like a chore; it should be invigorating, rewarding and fun – just like you make it! Your upbeat personality is infectious, as well as so knowledgeable about nutrition and fitness. It has been such an honor working with you during this transformation phase of my life!
#48 Thank you for not giving on me even when I was so incredibly frustrated during my training sessions. I am so grateful to have had your support, encouragement and never-say-die attitude along this arduous journey. You are an inspiration!
#49 Thank you for believing in me when I couldn't believe in myself anymore. You helped me realize that true health is about more than just losing weight; it's also about getting back one's self confidence and learning to love oneself again. That has made all the difference in the world.
#50 I was lost in a sea of misinformation before I met you, but boy did you give me direction! Thank you for helping keep me motivated along this incredible journey by constantly changing up routines to keep them interesting. Your holistic approach – mind, body, soul – is one of a kind.
#51 Thank you for not judging me based on my weight or age. You didn't treat me like some "typical" trainer would. I will always be grateful that our paths crossed because I am now in the best shape of my life, and it is all thanks to you!
#52 You are an inspiration to women everywhere trying to lose weight and get fit. Thank you for caring so much about our well-being; so many trainers wouldn't even give us the time of day, let alone personal training sessions with them free of charge. But you did! And I am so grateful for your guidance, encouragement and motivation along this incredible journey!