Basketball is a sport that requires skill, strategy, and determination. Every player needs a little motivation from time to time in order to reach their full potential. If you know someone who is playing in an upcoming basketball tournament or match, here are some good luck messages you can send them to encourage them and help cheer them on! Good luck messages can be sent through text message, social media posts, cards, or even posters! Let's get started.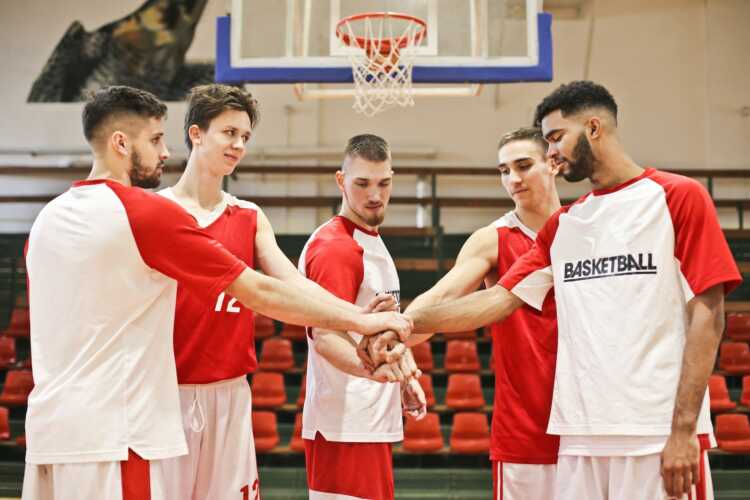 When you play basketball, remember who you are on the court and who you are off the court. When you do this, I know that you will have a great game.
***
You did it again! Your team is so amazing. You guys make my heart smile because when you play basketball together, it feels like the world has stopped. All there is is the sound of the ball moving through your hands and into the hoop.
***
Someone is always watching you and your team. Play well this weekend, and you might get an offer to play for a bigger school next year.
***
Don't let them get into your head or push you around. You're better than that, so just relax on the court and focus on getting that net! Good luck!
***
Remember, if it doesn't work out–and it might not because every player on the field is great–it's not the end of the world! Keep your head up high, because there are worse things in life than losing a basketball game.
***
Basketball is a lot of fun when you play just for fun and let it all out. Just last weekend I saw you at the gym and was impressed with how good you are.
***
You have got to be excited about this game because it's your rivalry game. I sure hope that you win this time around. Good luck and keep up the good work!
***
You guys/gals will not believe that I am at your game this week; you should see me cheer from the sidelines, lol! You should really thank me for letting you know about your next opponents because they are no joke! Good luck, team! Keep up the hard work.
***
When you play the game of basketball, you will see that it is a roller coaster. There are ups and downs in every game. Whether you win or lose tonight, don't let it get in your way. Keep going!
***
Nothing is impossible when you are on the court with your teammates. Your coach has a lot of faith in you, so if you believe in yourself as well as your team, I know that you can go all the way this week. Just keep pushing!
***
Not everything will go smoothly for your team this week, but remember to work together through whatever happens and make the most of the things that happen to you.
***
The only thing to fear is fear itself. The game may be hard, but if you stay steady and remember your goal, you will find success. Keep going!
***
Tomorrow is a new day and a new game. Any mistake you made yesterday can be fixed today if you work hard.
***
I will be in the crowd cheering for your team this week. You may not know me, but I am there watching and supporting every step of the way. Just keep pushing forward! And good luck!
***
All the things that used to worry me don't worry me anymore because I have basketball to get my mind off of them.
***
You are going to have to play your best if you want to beat that team on the other side of the court. If you do, I will buy you a coffee when we get out of school.
***
You have come so far this season, and I cannot wait to see how far you go next year! Just keep playing well and having fun, and we will see where it takes us!
***
School spirit runs deep with basketball players. They thrive off the energy this gets them. There is nothing quite like that feeling. When you look around your high school gym, you should see a lot of faces with a big smile on their face. That's because they know that when it comes to basketball, they truly have something to play for and something to win!
***
You are in a special position. You will be able to choose whether you win or lose this game. Remember that great plays can come at anytime and if you panic, you might not make it, but if you stay calm and confident, good things will happen to you. Go out there and take your shot!
***
Thank God that basketball is your favorite sport! I know it must be hard to train up every day or get into the gym every day when all of your friends are having fun but doing something else instead of training or working out on their own.
***
You guys/gals are my favorite news team. I couldn't ask for a better one. I always look forward to seeing you on TV, because you have worked so hard to get there. The last thing I want is for you to lose the game. Good luck, and thanks for all your hard work.
***
You have to continue to work hard, but also remember to play smart and have fun. I'm not saying that you can't ever have fun again, but it will only help your game as well.
***
Hey! I am so excited that our team is playing yours this week. I know it will be a great game. Good luck and best wishes!
***
You have really made it in basketball. You have all the coaches, teachers, and students cheering for you. I thought that getting an A+ on a test was great, but you are about to do something even more amazing. I am so proud of you. Good luck!
***
If you work hard, then the game will be easy. Just remember this when you are on the court. Of course it is fun to run up and down the court for a good game, but don't get too distracted when there is still a whole lot of game left to play.
***
Be ready for the final buzzer or you might be laying on the ground with no points when the clock hits zero. If you guys/gals want to win this game, you need to get out of the first round without any injuries . . .
***
You guys/gals are the future of this school and this community. If you guys/gals outwork your opponent, then I promise that your team will be the one to win. Don't forget that you have a game to go to, a country to represent, and a state championship to win. Don't get distracted by anything else but winning.
***
I am so proud of you. You have worked hard over the years and have finally made the starting lineup at your school. This is such an important time in your life. Good luck this week!
***
Never stop believing. You can achieve anything that you set your mind to do. Keep going, you can do it! Also, keep working hard to improve yourself mentally and physically so that you will be prepared when it comes time to step on the court/field/pitch at tryouts next year.
***
You are going to have a great game this week. You have worked so hard and practiced so much that you deserve it. Don't forget all of the lessons you learned in practice last week. Everything you learn from practice will become part of your game plan for this week's game. I know it!
***
There is no "I" in team, but there may be an "I" in win this week! Focus on what matters and set goals for the team. Stay focused for the whole game, not just one half of a game or one quarter of a game.
***
You may be the underdog of this week's game, but I truly believe that you guys/gals can make it big. When you work hard and play smart, you will win.
***
I know what it means to you to be playing in the tournament this week, so don't take a minute to settle down and have fun. You're here because of your hard work and dedication toward basketball.
***
Remember to be friendly and have fun. It's a game, guys/gals. Have a good time out there. Great opportunities are waiting for you, but only if you work hard and stay focused on the team goal.
***
Make sure that you cheer each other on during the game. It's really important to support your teammates if you want to beat the other team and win it all! I know that your positive energy will be contagious and will help them play better too!
***
I always wanted to be there, when you guys/gals were in high school, and now I am. You have to keep your head in the game and not let anything distract you.
***
It's great to be nominated for Player of the Month, but it is even greater to make it to the Awards Night. You never know, Player of the Month could lead you to become MVP. Never give up on your dreams.
***
You can do this! You're a great player and I want to see you play better and make more points than ever before. If you keep going as hard as you are now, your team will go all the way!
***
Good luck on your game this Thursday! I know that this is going to be a great game for everyone involved. I'll be cheering for you guys/gals from the bleachers.
***
When things get tough, don't forget – YOU are the best player on team! Don't forget that and use it to help push yourself and your team through the rough times.
***
You have a great supporting cast…I know you don't want to let them down. Play your best and make the most of your talents.
***
Sometimes, it really is just about putting one foot in front of the other, staying positive, and keeping at it. Go get 'em!
***
I'm so proud of you for choosing to attend our school. Your talent on the court will open many doors for you in life. It certainly has for me!
***
The words that you say mean everything. If you want to encourage your teammates, give them pep talks. You never know what will get them going.
***
Last week, I saw your game and you did great. This week I'm looking forward to watching you guys/gals compete against our main rivals. Be ready, they will be playing dirty this time around!
***
Your basketball skills are amazing, but always remember that the team is the most important aspect of the game.
***
Distance makes the heart grow fonder. No matter how far your school is from home, it will still be your home when you are on that court. Good luck!
***
When you come out of the locker room for warm-up, always remember that basketball is a game of perspiration and inspiration. That is how good players get better each time they lace them up.
***
Basketball is my first love and will always be number one in my life. Always remember that it doesn't matter where you go, or who you play for, as long as you are playing basketball for the love of the sport.
***
The best kind of basketball is the one that's played when you're giving it your all. If you keep pushing through, no one will be able to top what you can do!
***
Remember, nobody gets to where they want to be in life by feeling sorry for themselves. Facing your fears is the only way to live life. Play your heart out!
***
You've got what it takes to not only do well in high school basketball, but also at the college level and beyond! Never lose sight of your goal and always focus on getting better every day.
***
You have to focus on yourself and the game. If you can do that, you will win the game. I am completely confident in your abilities, your coach is too. Go out there and do it!
***
You are a great team with tons of potential! I don't want to bias you in any way but I just know that this is your year. Good luck and I'll be cheering for you from the stands!
***
Just don't give up. Even if you are playing hard and doing your best, sometimes the ball will not go into the basket. Keep practicing until it does.