Saying goodbye is never easy, but it's often the only way to move forward. Whether you are saying goodbye to a loved one, a co-worker or friend, the right words can help put emotions into perspective and make the transition easier. Here are 75 unforgettable goodbye and good luck messages and quotes to give someone departing your life some closure.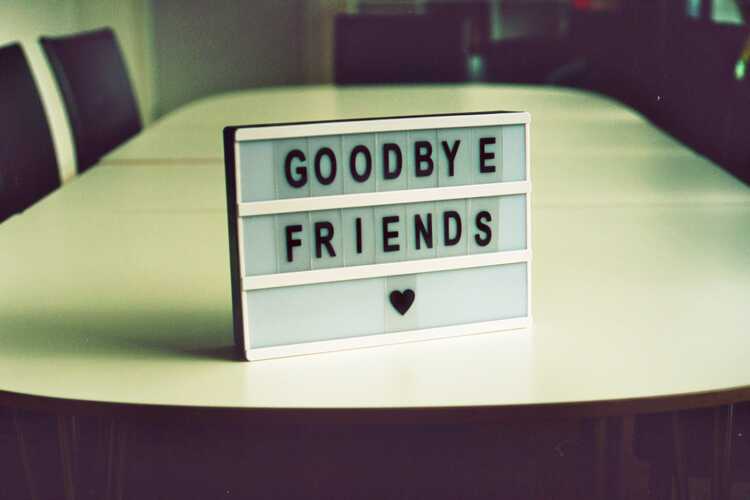 You have a bright future ahead of you, just be sure to safeguard it from hazards, ruins and the like. I know you'll do great!
***
As if life were not tough enough, now comes another goodbye. It is difficult to part with people who are dear to us but we must do so in order to set our lives on a better path. I wish you all the best, my friend. May you find new friends and old ones as well. Your presence within our lives has been a joy. We're going to miss you.
***
I am more grateful for your friendship than you'll ever know. You've taught me many things and I hope to be as good a teacher as you. Thank you for being the friend I didn't know I needed and for the memories we've shared. Go forth, young scholar! You are destined for greatness!
***
I feel fortunate to have had you in my life. To think that our paths may have never crossed had it not been for that fateful evening at the college ball is mind-boggling.
***
Savor the sweetness of this moment, because life is fleeting; it's just a blink of an eye and it will be gone before you know it. The world needs more people like you in it. Enjoy yourself; we'll catch up soon enough!
***
May every second spent in your future be worth it and may all your dreams come true! Thank you for enriching my life with love, friendship and happiness. I am taking good care of my memories of you until we meet again.
***
I know that wherever you are and whatever you do, you will always make this world a better and more beautiful place.
***
You are a shining example of excellence. You've already proven it to us, now it's time for the rest of the world to see what we always knew. Keep up the great work!
***
You are a wonderful person who deserves only the best life has to offer. May you have wonderful things in your life after you leave here!
***
Prepare for some big challenges ahead. It will be a wonderful ride though. I'm really excited for you, my friend!
***
This is goodbye for now, but I know we'll be back on again someday. Take this as a chance to grow and realize your dreams, no matter how big or small they are!
***
Who said "future cannot last forever"? You are the one who did! I know wherever you go and whatever you do, good things will always come your way. It's true. Go ahead and believe it!
***
You've got so much to offer the world. I am in awe of your potential. Your unique qualities and amazing talents are enough to leave us all speechless! May you always do your best and go far, my friend.
***
You are truly a blessing from heaven! What an amazing person you are—I am really proud to be able to call you my friend. I know this time will see you thriving and making the most of life. Stay strong, enjoy life and make it full of meaning for yourself.
***
It's hard to say goodbye, but I hope that wherever you go, I'm sure you will do great. Only the best is good enough for you, so give it all you got!
***
Keep your head held high, keep your chin up and most of all keep smiling. You have a great life ahead of you. So whatever happens good or bad always remember to remain positive; that way you can get through anything!
***
You may not be the smartest person in the room, but there is no doubt that my friend; you are one of the most talented! I am very proud of you and know that with every step forward, good things will follow.
***
Don't let the past hold you down, and don't be afraid of the future. Go out there and take on the world. When you are in doubt, remember that I believe in you. Congratulations on your success!
***
You are definitely one of a kind, and it is my great pleasure to have known you all these years. I've always been proud of you. Now go out there and make the world proud of you too!
***
There is only one thing I've ever asked of you and that is to be yourself. Now that you have graduated, I have another request for you – always be yourself, never stop being yourself and never give up being your amazing self!
***
Congratulations on a wonderful achievement! It has been a privilege to watch you grow into who you are today.
***
Many smiles and laughs await you on the other side of goodbye. In fact, they'll probably be much more of them than they ever were before! Go on and take them!
***
You are a very special and unique person with your own set of talents, qualities and skills. Hold on to them because it will be hard to replace them. They may not be easy to find, but remember this one thing; you have them now!
***
I love you unconditionally. You have the potential for making a real difference in this world by being yourself! Keep striving for greatness like you've been doing so far and nothing can stop you from reaching your full potential.
***
You are young and you still have your whole life ahead of you. Don't start focusing on your past because that is the only thing that you have control over. Live, enjoy, laugh and love. Those are your most precious gifts!
***
May all your stars align for you and may your journey be as smooth as silk. This is my best goodbye gift to you! Also, may the world treat you kindly and may the best man win!
***
It was an honor having known you in this world. You had such a great capacity to love, happiness and faith in humanity.
***
Let all the brilliance of your future shine bright. I wish you all the best in your endeavors and may you be successful today, tomorrow and always!
***
It's been a long time since we last met, but I still think about you every day. Even though we're not near each other anymore, your smile is always with me. I hope that it stays that way forever.
***
You are one of my close colleagues and friends who has helped me in so many ways over these past years. Thank you for all the support and help that you have given me.
***
I am looking forward to the future era when our paths cross again. I am very happy for you in your new career and wish you the best of luck.
***
You are a wonderful person who knows how to make others feel better about themselves. You've always been there for me, and for that, I am very thankful. Your actions speak volumes about you and it's because of that that I will always be proud of you.
***
My heart is filled with gratitude knowing that we're connected both literally and figuratively through this long distance friendship.
***
Proceed forward with all vigor and passion in life. You will grow every day and become a wonderful person. Remember that you made me proud by just being you!
***
I hope your life will be as shiny, beautiful, happy and amazing as you are. Go forth, dear one. Be yourself and enjoy the journey!
***
The world is full of opportunity, waiting for someone like you to explore it! Go forth on your own, with courage and strength of heart. I am sure that you can't fail!
***
Goodbye isn't forever; it only means I will see you later.
***
Take my hand and walk with me for a moment. Let's look out into the world and see what's ahead of you! I see so much good. You're going to be happy, healthy, and successful in everything you do. Just think of me every once in a while, that I might come to visit you from time to time.
***
You are fearless and generous, with nerves of steel! I know you will make the right choices, now go on and make me proud by making things happen.
***
You are a prodigy in your field. I know you will do great at whatever you do and that you will always strive to get better in both your work and life. I am very proud of you!
***
You're an amazing person who loves working to improve your skills and grow as a person. I know you will make the right choices, and that no matter what mistakes you make, they will be fixable!
***
You are a humble soul, someone who is not afraid to take on tasks that others would shy away from. I know you will make right choices and that you will always strive to get better in both your work and life.
***
The world is a great place and you're going to discover so much about it. Have fun, explore, enjoy and find yourself! This world needs you.
***
You have got some real potential and I want to see it come to life. I hope for the best for you and now it's time for me to let you go. Don't let me down.
***
I am proud to have been part of your life. You are one bright spot in the sea of humanity and I pray that you keep shining brightly. You deserve it!
***
Even if we will not see each other for a long time, I will remember you as a beautiful ray of light and hope. May your soul shine forever.
***
There is no one quite like you and no one who can fill your shoes. I wish that all your hopes, dreams and plans come true, so go out there and make them happen! May the best be yet to come.
***
Your success is our success and your happiness is our happiness. I wish the very best to you and may all your dreams come true! Goodbye, my friend. God's grace be with you always.
***
The world will be a much better place because of your contribution to it. You're an inspiration to others just by being yourself. So keep shining like a brilliant star! Go get 'em, tiger!
***
To say goodbye is not easy; you are like family to me and I love you dearly.
***
I can't tell you how much I've enjoyed spending time with you. You are a sweet, lovely person and I wish I could have had more time to know you better. Don't hesitate to reach out to me if you ever need someone to talk to or just a friendly face!
***
You always brought sunshine into my day and gave me hope for a brighter tomorrow! Don't think about your next step too much.
***