Athletes need all the luck they can get as they take on their next challenge. Whether its a big game, an important competition or just a personal best, sending them a good luck message will show your support and give them that extra boost of confidence. Here are some ideas for what you might write in your message.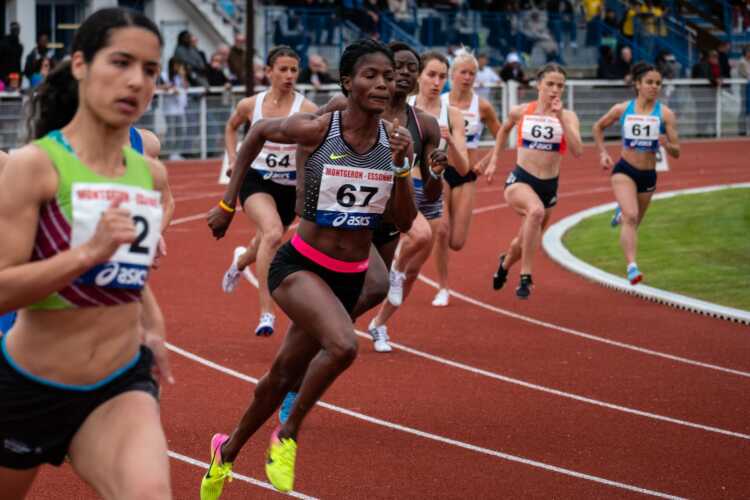 When you race, keep your eyes on the finish line. You're almost there! Keep going and never give up. We are all rooting for you! Good luck!
***
Do not hand in your talents; do not let them rust away unused. Share them with others while you still can. Good luck!
***
It is an honor to have shared this journey with you, good sport. I will always be cheering for you no matter what happens next. I hope that things turn out well for you, good luck dear friend!
***
A friend will always be there for you, but a true best friend is the one that's always beside you. Whether it's by your side or running alongside, I hope this next race goes well. Good luck!
***
Today's race may prove challenging but do not worry because there are plenty more races coming up very soon…and if it turns out to be too much for you, remember that sometimes it is better to take a step back in order to step forward. Good luck!
***
No matter how the outcome of today's race turns out, always remember that you are wonderful; you are much more than your sport and you deserve all the happiness in the world…even if it is not related to your performance. Good Luck!
***
Sometimes when we win, we win because others lost; but sometimes when we lose, we lose because others won. Either way, may this be your best race yet. I wish all my support for you today. Good luck!
***
Today's game will never define who you are as an athlete—you're so much greater than the sum of every victory and loss that has ever come before. This next game is another step in your journey, the one where you discover who you are. Good luck!
***
If today is your day, then go out there and grab it with both hands. If not, good luck for tomorrow! We are all cheering for you!
***
Take this time to rest up with some R&R because if things don't pan out this time around–the next game is always just around the corner. Good luck!
***
Don't forget that sometimes the best thing to do is take a break before you set forth on another race…you never know what kind of surprises life has planned for you so be prepared. Good luck on your quest!
***
As someone who has been there before I can confidently tell you that what ever happens next is going to be okay because no matter what it looks like, good things always follow bad ones. Good luck my friend!
***
I know that you will come out stronger than ever after this race. I will always be here to help you get back on track when you were knocked off. Do not let your passion fade, good luck!
***
May the best of luck shine down upon you at all times during this test of strength and courage. May every step lead closer to victory until your name is called for recognition among all other athletes who came before you. Good Luck!
***
You are capable of achieving your best. You have an amazing mind, body and spirit. Go out there today and show how strong you are! Do not forget that the entire team is always behind you! Good luck to you friend, I wish you nothing but success!
***
Never stop pushing yourself to discover what lies beyond the wall. There is so much more waiting for you on the other side, never give up now or let anyone talk you out of doing something great. Keep your eyes on the finish line friend, good luck!
***
You deserve it! You're one of the best (or maybe even THE BEST) runners in the country; act like it out there, bring home that medal! Good luck!
***
This game is almost over; now's not the time to hold back-go all out go home with nothing to spare. Good luck!
***
I hope you run as fast as the wind and as gracefully as a deer this race, dear friend. You've got this, good luck!
***
You are one of the most talented people I know; go out there and show them what you can do. If they didn't already know before, now is their chance to find out that you're amazing! Good luck!
***
There is an expression that says: "Luck is where preparation meets opportunity." This would not be possible without your hard work and dedication so-good job, good luck!
***
The night before a race we all have those prerace jitters or butterflies in our stomachs (or both). That means that you're ready to go out there and do your best! Good Luck.
***
We all get a little nervous before a race, but just remember that muscles only tense up when they are weak. You have been training hard so don't let that fear get the best of you! We know you can do it! Good luck.
***
Sometimes we all need a little motivation, whether it's from a coach or a friend cheering us on from the sidelines, make sure to thank them for their support at the end of the day with an ice cold soda-good luck!
***
One more lap left in this marathon, you've got this ! Go out there and give it your all, good luck.
***
You are one of the best, no matter what your ranking is. Go out there, enjoy yourself and run the race of your life! I believe in you. Good luck!
***
Go out there and prove to them all why they chose you as MVP. You deserve it! Run like the wind and show everyone what you've got. Good luck!
***
The competition is fierce but so are you. Do not let fear get in the way, just trust yourself and do your best out there today. At least if things don't go well there's always next time, good luck!
***
Don't blink or else you just might miss all that life has to offer. Go out there and give it everything that you've got and never forget to live while living. Good luck!
***
Make me proud. Be the best that you can be, and embrace your greatness. I know you will do well! All the best my friend!
***
Best Wishes for an Amazing Victory!!! You've worked so hard it's finally paying off. Don't let this opportunity slip away now that you're so close to achieving your dream. Good Luck!!!!
***
This is the moment we have all been waiting for… So go out there, give it everything you've got….. And remember to smile because you are worth it!! Good luck <3
***
There's an old saying: 'If you want to go fast, go alone. If you want to go far, go together.' Now the choice is yours – keep going alone or keep going with us. I am behind you! Good luck!
***
They say that hope floats. In that case, good luck will carry you through this race and bring you home safely. I know that you can do it!
***
Do not let fear guide your feet as they take their first steps forward. You have come so far, now is the time to start believing in yourself and what you are capable of doing. Take those first steps…you got this!!!
***
Everyone has things to say about your performance today and guess what: Those people don't matter. The only thing that matters right now is how hard you work and how much heart you put into this race. Do not give up now; I believe in you!! Keep pushing through until the very end because we're all cheering for you!!!
***
I know what they mean by hard work pays off because boy have times been tough for me these past few months… But don't worry about all of that, buddy. You did awesome out there and we are so proud of everything that you have accomplished. Keep up all your awesome work – Oh and great race today.
***
There are two types of people in this world: those who work for a living and those who live to work. The choice is yours, dear friend! I hope that you choose wisely and enjoy your hard earned victory at the end. Good luck!
***
In order to have a good life, one must first have a good day at work/school/whatever else they might be doing. It is not an easy feat but if anyone can do it, you can! You got this friend, don't stop now!
***
It's almost over — keep going until the end! Stay strong and positive – we're behind you all the way.
***
The time has come once again – what better way to spend it then running a good race and making your friends and family proud? You got this, we believe in you! Good luck!
***
How fast can you run? Just remember to go as far as you can. It's not about how much ground you cover but what type of impression it leaves behind. Keep up the good work – I know that if anyone can do it, it's definitely you.
***
With you by my side… We will make our future together; one mile at a time. I love you! And best of luck with your next race!
***
Being a good sport is not about winning or losing. It's how you play the game. Good luck, dear friend!
***
Don't think of obstacles as blockages; rather, think of them as opportunities to grow stronger than yesterday. Best of luck my friend!
***
Good luck out there today, sport! May your day be sunny and bright with good tidings and good fortune most of all your favor!
***
Even if you don't win this round, always remember that you are still blessed. This next game will be the chance for greater glories so go out there and do what you do best. Good luck!
***
Life is like track- things always come at us fast so keep running straight ahead toward your dreams. Good luck today!
***
Life is not about waiting for the storm to pass, it's about learning to dance in the rain. Keep your head up high and don't forget to have fun with whatever happens! Good luck!
***
May you always stay strong in times of trouble, dear friend. Even when the going gets tough, I hope that you are able to handle yourself well. Good luck out there on the field!
***
So this is what victory tastes like- sweet and refreshing. May its taste never grow old even as days multiply into months and years fly by at light speed. Go get 'em good sport!
***
You have put so much effort in the preparation of the big day, I'm sure it will be a smashing success. Good luck and enjoy!
***
You are amazing and you should know that. By pushing yourself to the limit, you will achieve more than you ever thought possible. You can do this! Good luck!
***
Do not stop when things go wrong. Learn from your mistakes, but keep on going until you reach your goal. And when you get there, don't forget me! Good luck!
***
Don't worry too much about what people are saying about you, they won't be in front of your starting line so just ignore them and do what is best for you.. Enjoy the race dear friend!
***
When you play something smart, not just hard, good things happen. It was great playing with you! Good luck in the next game!
***
Some say that sports build character; I've found however that it shows what kind of person someone truly is. You are an amazing player and competitor! Good luck on the field today.
***
You have come so far since we first met, go finish strong now. May victory be yours as it has been until now–you are a champion on and off the field. Good luck!
***
I am so proud of you for reaching this point in your career, good luck with the rest of it! It has been an honor to watch you play and grow as a person over these years. I know you will do great things because of the amazing person you are.
***
Good job at all that you have achieved thus far–you truly deserve every applause and cheer sent your way. Enjoy this last event now, just like how I hope one day to enjoy watching you play professionally. Good luck my friend!
***
Today is the time to show everything that we've learned about playing hard and playing well. May your performance be inspiring, may people see your talent shine through…Wow, this sounds like something said at a professional sporting event! Hope it's not too corny. Good luck!
***
The best of luck to you today, may everything go the way you want it to. May your career end with a bang and a sweet victory dance. You have worked hard to get here and deserve all that comes from this day. I wish you the best of luck my friend, good luck!
***
There is no better feeling than to know that someone believes in you so much–believes in all your abilities to succeed even when nobody else might see them. It has been great cheering for you these years, good luck in the next chapter of your life!
***
I'm so proud of how far we have come together since the beginning days of our friendship, you deserve all of this. I hope that the next few months bring as much joy as your last tournament, good luck!
***
You have been a positive role model for me since we first met, and it has been great watching you play over these years. Now this is a big moment in your journey–I'm cheering for you all the way through to the finish line. Have a wonderful game dear friend!
***
Good luck on a well-deserved victory lap, enjoy every minute of it! I can't wait to see where life takes you from here. The world is yours now go out there and shine bright like the sun ?? Good luck!
***
I know that even when times get tough, I can count on you to succeed at whatever challenges come your way. Thank you for being the best person that I know and thank you for just being yourself. Good luck!
***
Good luck to one of the greatest people I know! Thank you for always giving me hope when I needed it most, thank you for always making me laugh, no matter how bad things seemed. This world needs more people like you. Congratulations on this big moment today!
***
It takes courage to be the best version of yourself. Keep believing in yourself and good luck with your race!
***
The road ahead might seem overwhelming, but you are not alone. All of us are behind you every step of the way cheering for you with all our hearts! Good luck
***
You can do it! I am backing you 100%. Never give up just because one door closed. There is another that will open for you soon enough if you still think you can do it. Have fun, relax and enjoy this big moment!
***
If there is a lesson that everyone should learn from today's competition, then it is that nothing worth having comes easy. If you never gave up hope – good! Congratulations on giving everything you got and more! I salute you for that. Good luck!
***
All of the hours of training and preparation will be worth it when you cross that finish line. You can do it, I am behind you no matter what happens! Best of luck to you today
***
Who would have thought we would ever get here? We made it! Congratulations on reaching such a huge milestone in your life. Keep up the good work and remember not to give up! Good luck with the remainder of this competition and all of your future endeavors
***
Best wishes from me and your biggest fans: your friends and family. We are all rooting for you so never give up until everyone is hugging each other celebrating an amazing job well done ! Good Luck !
***