Now that the holiday season is behind us, it's time to focus on the year ahead and what goals need to be met. Your boss has been a huge help in setting some attainable objectives and has even offered a bonus for meeting them. While you're definitely grateful for the gesture, you're not exactly sure how to go about saying thanks. Check out this list of sample thank you notes for some inspiration!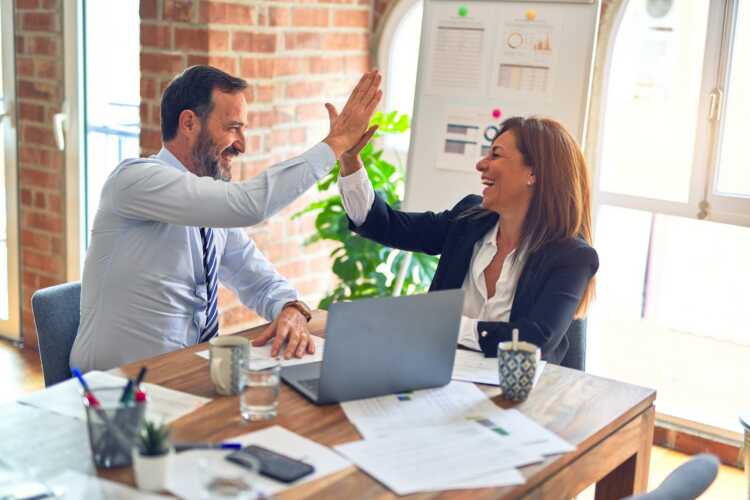 List
#1 You're doing such an amazing job at managing the team. You really know how to keep us on our toes and every so often reward us for all of the good work we do. Thank you again.
#2 Thank you so much for this bonus! Seriously, I can't even express my gratitude enough! This means so much to me and just makes me want to come in day after day with that extra motivation boost knowing that you appreciate me as an employee.
#3 You are truly wonderful at what you do, not just here at "the office" but also outside of it, seeing everything that goes into your job and still finding time to take care of your employees makes me feel like one lucky girl. Thank you!!
#4 I cannot thank you enough for showing such kindness and generosity. Every day I show up to work thinking how lucky I am to have such a great boss and now, my luck has doubled! Thank you for making me feel like the luckiest girl alive.
#5 You are truly fabulous at what you do and not just as a boss but as a person who genuinely cares about those around them. This bonus is more than I could ask for and it gives me hope that we can weather any storm together.
#6 Thank you so much for this bonus! It came completely out of the blue and was higher than usual; I'm thrilled with your kindness. You really make coming into "the office" every day worthwhile.
#7 Thank you for the bonus. I know we're not the closest, but it does mean a lot to be noticed and appreciated by you and your staff.
#8 I'm thrilled that we were able to win the bid on the account! As promised, here's my gift of gratitude for acknowledging me as an important part of this team with a timely bonus. Thank you again!
#9 You always find such unique opportunities out there and I appreciate all your efforts in finding them for us. The big account is fantastic news and thank you for this boost with the recognition and bonus – it's very generous of you!
#10 We worked hard on that project together – congratulations on closing it so quickly! Thanks also for including me in my first ever bonus. It was very generous of you and I appreciate it!
#11 Please allow me express my gratitude toward you for the bonus. We've been through a lot together as boss and employee so far, but have always managed to come out on top. Thank you again for understanding.
#12 You gave me a nice shout-out in front of everyone today – thank you! This particular part of the job is a tough one, but your encouragement really helps keep me going. Please accept this gift as a little token of my appreciation (and also some handmade chocolate).
#13 It means quite a bit to be acknowledged like that by both yourself and my fellow staff members – please know how much I truly appreciate the bonus check! Thank you once again for your generosity.
#14 You have been just wonderful to work for and I thank you for giving me the morale boost with the bonus. It is very much appreciated. So, from the bottom of my heart…thank you!
#15 I apologize that this letter is a little late – please don't be concerned about it. I wanted to take a moment to let you know how grateful I am for your thoughtfulness in awarding me a bonus so soon after joining your team. Thank you again!
#16 Thank you for being such a great boss to work under. The bonus was really something unexpected and so very kind of you! Blessings on you and yours always because goodness knows we're getting it from above!
#17 I've been with the company for some time now and I'm happy to have found a place that invests in its people. The bonus is very much appreciated.
#18 It's rewarding to be able to come into work and enjoy what I do on a day-to-day basis. Thank you again for the appreciation of my efforts. Things are going well around here, boss! You know how to keep your team motivated, which means a lot to me.
#19 Thanks so much for this recognition of hard work! It was an unexpected surprise, but one that pleased me immensely.
#20 Thank you for always making my job easier by giving great direction and support when I need it most; the bonus has certainly helped things.
#21 Thank you for taking a moment to recognize my hard work with a bonus. I appreciate your appreciation very much!
#22 I've been looking forward to being able to thank you for your kind words and the extra cash at the same time. It feels good to be part of such an awesome team.
#23 You have clearly made this company a recognizable competitor in our industry, and it has been a privilege working alongside you toward that end. Thank you for going out on a limb by giving me the recognition I deserve through this bonus.
#24 It's amazing how rewarding it can be when those around us take notice of our efforts and say thanks; you are one boss who does just that, which is why I continue to work as hard as I do.
#25 I am truly grateful for the bonus you've given, especially since it was a pleasant surprise. It is very much appreciated!
#26 You have been an incredible boss and mentor over the years, thanks in part to which I've grown into a confident professional. Thanks again for everything.
#27 I really appreciate your hard work in ensuring that we all get along well and understand our roles within this company. The bonus has come at a perfect time! Thank you kindly.
#28 Thank you once again for your leadership and generosity toward me and my coworkers, I am truly appreciative of your talents at managing a company so well!
#29 It feels amazing being able to say out loud how thankful I am to have such a wonderful boss like you who is always there to support and encourage the team. Thanks for everything, it has been a fantastic year.
#30 Your performance-based bonus came at an excellent time; I am truly grateful for your generosity and recognition of my efforts.
#31 You know how busy we've been working away, but knowing that you're out there noticing our hard work makes it all worth while! Thanks again for the bonus, I appreciate it very much!
#32 Thank you so much for the extra cash, I really needed some financial help in this tough economy. You have no idea how thankful I am for your generosity!
#33 It's been a real pleasure working with you the past few years and it's been great watching this company flourish. Thanks for your bonus, it really helped me get through some tough times!
#34 Thank you again for always being there to give us new opportunities and for making this career so enjoyable. Your bonus has made a huge difference in my life.
#35 I'm glad I have a boss who values my efforts enough to give me additional money as a sign of appreciation, thank you very much! I hope we have many more good years ahead of us.
#36 Your next staff party will be on me – consider this bonus my way of giving back as thanks for all that you do as our manager!
#37 Thank you for the wonderful Christmas present of recognition and a bonus. I truly appreciate it. This motivates me to continue doing the kind of work you expect from me.
#38 Thank you so much for choosing me as one of the recipients of a Bonus this year! It is most generous and greatly appreciated! I cannot tell you how excited everyone in our office is about these bonuses and we are most grateful for your leadership.
#39 Thank you for the bonus! I appreciate the opportunity to work with this organization and its leaders. You girls are awesome, keep doing what you're doing because it's working out great!
#40 A sincere thank you for the bonus that I received on Thursday. It was a wonderful surprise and very much appreciated. You have no idea how it made my week!
#41 Thank you for this generous gift, which is thoroughly deserved. Thank goodness there are managers like you who reward their employees when they do good work. This makes for happy employees and a happy boss!
#42 I thought it might be nice to let you know what an impact your decision to give me a Christmas bonus had on me. It came at time when things were pretty rough here, but somehow seeing that envelope gave me hope once more. Thank you so much for your generosity during this holiday season — it will not be forgotten.
#43 As hard as it has been to work with [insert name of person who has been particularly difficult here], there have been bright spots along the way and your decision to provide me with a hefty holiday bonus for all that extra effort is one of them. Thank you very much.
#44 If there was ever any doubt that you are an invaluable member of this company, your leadership has proven otherwise. The manner in which you recognized my contributions means more than anything money can buy. Thank you!
#45 I know I haven't said it enough, so let me just say thank you so much! It's nice to be appreciated once in a while—especially by someone like yourself who is not only my superior but also my inspiration.
#46 Thank you so much for your truly generous gift on my birthday! I was blown away by your kindness and thoughtfulness!!! Working here is the best…thanks to great bosses like you!!! Have a wonderful evening!
#47 Thank you so much for your great gift. I was very surprised and happy to get it. You are the best boss ever!!!
#48 Thanks for the bonus…I really appreciate it!! Thanks again for taking care of me this year!! Have a Happy New Year!
#49 I want to thank you for my birthday present that came in today. It was very, very thoughtful of you. I am so blessed to work with an amazing boss like you.
#50 I wanted to let you know that your kindness and generosity towards me is not going unnoticed. Thank you again for all that you do and have done! You rock!!!
#51 Thank You for [the] nice [gift/surprise/card/appreciation]. No one has ever made me feel as special as [you did by surprising me/sending me a card/giving me such a great gift]. It means more than I can describe.