As an employer, it is important to show appreciation for employees and to wish them well as they move on from the company. Learn how to say goodbye professionally with these helpful samples.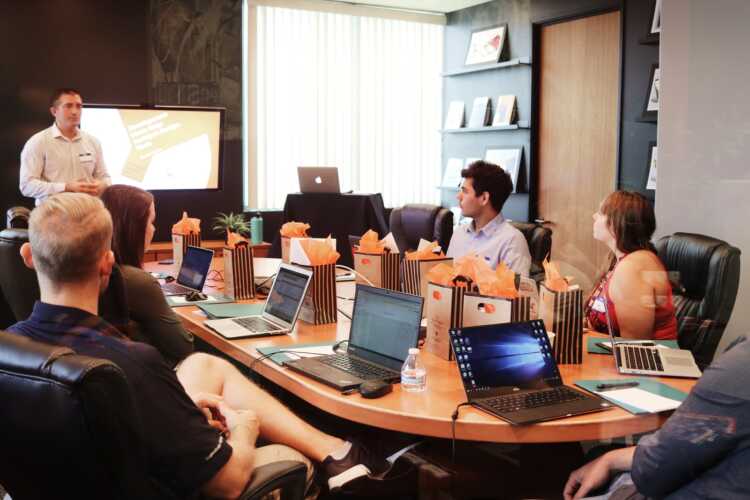 List
#1 I remember the first day you started here. You were so eager to impress everyone and fit in. I know as you leave, your desire to impress is still strong. But now it comes from wanting to live up to your own standards rather than those around you. And that's what makes you such an amazing member of the team!
#2 When you arrived here, there was a lot of chaos in your life. I'm glad to see that has changed. I wish things were different for you, but life goes on. Farewell and good luck!
#3 I am proud of the work you have done here. You've developed many great skills while here. Whether it be meeting people, managing people or writing code, I know that as you move forward in your career you will continue to improve at all three of these skills. Good luck!
#4 It's been an honor to work with you over the years. You put so much effort into this job and your performance has always exceeded our expectations.
#5 You are like a dream come true for me. I'm so proud to have worked alongside you, and I wish you the best in all that you do. Even though it's time for you to move on, we will still see each other around the office. Thank you for setting such a high standard of excellence, and good luck!
#6 As someone who is nearly at the end of their career, I know how lucky I am to be able to make a difference in people's lives. You are an inspiration in how far the bar has been set with our company, and I hope that you continue to set goals that push us even higher.
#7 A remarkable employee like you is sure to be successful, no matter where you go or what role you take on. You have been here since the beginning and helped us grow into the company we are today. But even now, you are always looking for the next big thing to help our company grow and learn new things.
#8 We have watched you tackle problems head-on with confidence and assurance that most people only dream of ever displaying in their jobs. It's easy to get stuck in a rut at a job, but not for someone with your talent.
#9 I have noticed that you have a tendency to speak with conviction and confidence beyond your years. You have made it clear that you are capable of speaking up for yourself when needed. I'm sure that you will always do the right thing, but I hope that won't stop you from trying to make the first move anymore! Best of luck, and farewell!
#10 As an avid reader of The New York Times, I've learned many things from your boss. Some new ideas, some old ideas borrowed from writers before us. You are a quick study and are often ahead of the curve on strategy moves many companies make.
#11 It's never easy saying goodbye to someone who has become a part of an office family. But, I know that you are destined for great things outside of this company. Whether you return to us or not, I can't wait to see what you do next! Farewell and best of luck!
#12 Just like a small ship leaving port and sailing out into the sea, your time with us here is coming to an end. I hope that wherever the sea takes you, that there are plenty of adventures ahead! Godspeed and goodbye!
#13 Wherever you go from here, you carry our hopes and dreams.
#14 You are a great leader of our team and a huge benefit to us. Even though you move out, the rest of us are going to miss your presence. We expect business as usual at your new place. Good luck!
#15 We are lucky to have someone like you in our midst! Your ideas and determination will only help continue the growth we all want here. Farewell and good luck!
#16 I'm not sure if you know, but you're an inspiration for all of us. Our culture is driven by your brand of thinking, whether it's launching new projects or solving established problems quickly.
#17 It's a little strange to think that we all have lives outside of work. You're leaving us to go back to yours, I hope it's all you imagined it would be. Best of luck!
#18 At this point, the sun is setting on the era that you were a part of here. As the light dims, there isn't a doubt in my mind that you will shine brighter than ever before in your next role.
#19 I feel like we have been together for an eternity. We have worked so hard and learned so much together. It is my honor to see you off today's journey. But before you go, just know that I will always be here for you, whether you know it or not. Farewell and best of luck!
#20 Good luck in your new job! You've earned this new position after all the long hours you put in with us here at ABC Company. I know that every one of these challenges are going to be rewarding for you as well as our company.
#21 I hope your experience at our company has been as rewarding for you as it has been for us. Whenever we saw you in action, we couldn't help but feel how much value you brought to our team. Please come back and see us again!
#22 You have taught me a lot here about how to be an effective leader. I am very grateful for the wisdom you have shared and the example you have set for everyone else to follow. Your expertise is something that all employers should want in their organization and now I know why.
#23 You are the Michael Jordan of our organization. Your departure leaves a void that no one can fill. We will miss your killer courtroom skills and softball pitching. But I know you'll do great things in your next endeavor. All the best!
#24 We may not have agreed on everything, but I appreciate you pushing me every day to be better than I was yesterday. It is clear that you have already mastered one of the most important skills in business — how to align with everyone while disagreeing with some.
#25 I wish you all the success in the world. Now that you are moving on to bigger and better things, I hope you don't forget where it started. Our door is always open when you need your old boss just to vent!
#26 You never leave an employee behind. As long as they want to grow with you, I know they will be in good hands. Good luck and farewell!
#27 You were a leader here and an even better one somewhere else! I'm sure your new team will benefit from your experience and expertise.
#28 I have watched you grow for the last x years. Your growth has been astronomical! And you're just getting started. As you move on, know that we will continue to work hard here to keep you inspired and motivated. If I know anything about you, it is that when people try to inspire you, it definitely works!
#29 Even though we won't be seeing each other in the office anymore, I promise we will still see each other in the gym. We have been going there for a long time now-even before this job! Let me wish you luck as you begin your next chapter.
#30 Even though you're only a year, or two years, or five years older than me, you've accomplished so much more than I will before I'm ready to retire. You are dynamic and passionate about your work, but also lead by example. Whether it's showing up early or putting in extra hours to get the job done on time and ahead of schedule (ahem…you already did), I don't think I've ever seen you give up.
#31 Our employees are our greatest asset. We don't want them to leave, but we hope they do in order to fulfill their biggest dreams and achieve their highest goals. You have achieved a lot in your time here and it has been an honor working with you. But now it is time for you to take flight! Best of luck on your next adventure!
#32 So many people have helped me reach the top of my career mountain, but most importantly I want to thank my employees. When it is all said and done, nothing matters more than the people that surround you. We are going to miss you, but I know we will always be friends and keep in touch.
#33 You have served this organization with distinction and dedication. I am grateful that we have had the opportunity to work with you. May you find the happiness you deserve in this next chapter of your life!
#34 You may be leaving now but someday, who knows? Maybe years from now, we'll run into each other at a bookstore or coffee shop and reminisce about our time together. Your gift for people and organizational excellence made a lasting impression on me, so it is great to see you practicing these same virtues in your new workplace. Goodbye and good luck!
#35 Self-deprecating humor is one of your most endearing qualities. And now I realize the hilarious irony of you having a farewell message. You see, what I admire most about you is that even though we're parting ways, you won't let me off the hook for everything I've done wrong in this organization. Farewell and best of luck!
#36 No matter how hard things got it seemed, you never lost hope or gave up on yourself. That courage and persistence inspires me. Sometimes all it takes is one kick in the pants to get going again. May your new path be a sweet one!
#37 I do hope that these farewell messages are useful to someone out there reading this post.
#38 You have managed to handle everything we threw at you like a true champion. While I am sad to see you go, I know you are well equipped for your next challenge and will make a strong contribution to your next team. Best of luck!
#39 I can't believe you are finally leaving. One hundred percent of the revenue in our department occurred under your watch. When we all go out for drinks, I know everyone will be talking about you, so we better make sure you are present so you can bask in the glory. Farewell and good luck!
#40 Whether it was as a mentor or manager, you went above and beyond to ensure my success. For that, I am immensely grateful. Though our paths will diverge, continue to be a leader from afar by helping others reach their true potential as well.
#41 Everyone on the team is going to miss you. I know that you'll feel the same when it is your turn to miss us. You will be a valuable addition to any company lucky enough to make you an offer. Best of luck and enjoy the next chapter of your journey!
#42 Every employee that comes on board leaves a lasting impact on our work culture. I'm proud at how long you were able to stay with us and how much impact you made while here. Good luck in your future endeavors!
#43 You have the potential to reach the top. Anyone who says that they know your future is lying. You only know what you see in yourself, and we will all see what your vision becomes. Best of luck and goodbye!
#44 I wish every employee came with such energy and determination as you did. Your energy is infectious, so it won't be long before others start spreading your enthusiasm too. I wish you the best in all that you do!
#45 I remember when you came to me asking for a chance to prove yourself. You have done that and more. Your hard work, drive, and dedication have helped this company grow. Your journey will take you far if you continue on the path you're on today. Best of luck!
#46 It's not often that I see someone who is willing to go back to school or dedicate their free time to self-improvement. That makes your decision to move-on all the more difficult, but I know it's where your future lies. You got this!
#47 You know how to deal with pressure and obstacles in a way that benefits the company. I know you'll continue to thrive in your next position. Since you are leaving, the rest of us are mere mortals who need you to protect us from all sorts of fires! Good luck!
#48 Like a dragonfly, your ability to rise above obstacles is admirable. Whether it is an out-of-office meeting or travel delay, your ability to adapt makes me want you on any future project we undertake! I wish that you will come back into my life as an employee again one day.
#49 When you first started working here, you were awe-inspiring. Despite your talent and experience, it took some time for us to fully understand what you did. You were the one who set the bar higher and inspired us to expand on our own limits. We miss how you talked a mile a minute and still found time to give everyone around you a compliment when they did something great. You deserve all the best out there, so good luck in your next chapter!
#50 As much as we want you to stay, we also know that there is nothing holding you back from success now. We know you'll do great things in your new chapter! We wish you the best out there.
#51 You have a unique way of coming up with solutions that no one else can. You have much to offer in your lifetime, and I know success will find you in all of your future endeavors. Make sure to keep in touch with us!
#52 Everyone knows that time flies when they are having fun, and I'm glad my time with you was just that! Good luck going forward!
#53 You've been leading this group for six years. I hope you are proud of how far the group has come. It feels strange to have you leaving, but I know you will carry on as a leader in your next role. By all means, don't let go of your dreams!
#54 Just like a river, your career has flowed along smoothly but steadily over the years and will continue to do so into the future. From everyone here, thank you for everything that you have done to help us succeed!
#55 The first time I met you, I was blown away by your intelligence and motivation. You have made a difference in our organization as an employee and a person. As you embark on the next chapter of your career path, please carry these qualities with you. We are better for knowing you! Hope to see you soon!