When it's time to say goodbye, show your appreciation for the person by sending them a kind farewell message. Here are some ideas of what you might include in your message.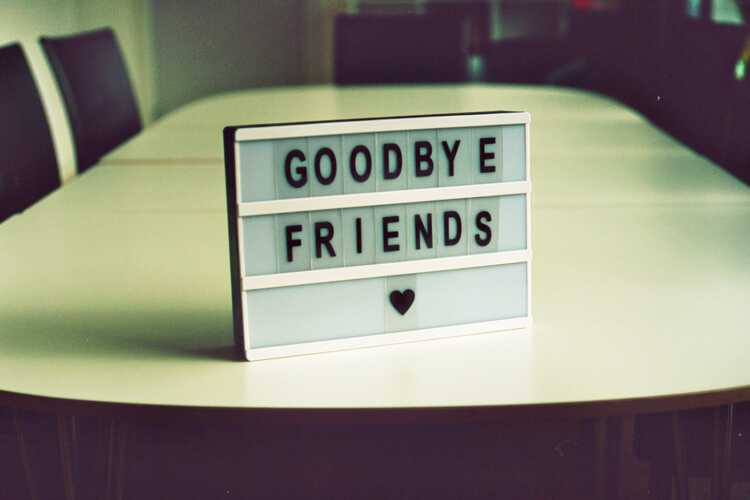 List
#1 We have shared much and I will miss you all. In the future, a gift certificate and a night out are in order. Thank you for everything and best of luck in your future endeavors.
#2 In my short time here, I have learned a lot from everyone at this company, but most of all I've had fun building lasting relationships with each of you. Thank you for everything and for giving me the opportunity to work with each of you.
#3 The past year has been filled with successes, both personal and professional, thanks to the support from each of you. I am proud to have known each one of you and grateful for the lessons learned during my time here.
#4 It was an honor and a privilege to work alongside such a dedicated team. You are fantastic colleagues and I'm so very thankful for our time together. From the bottom of my heart, thank you.
#5 Thanks for sharing your knowledge, advice, and ideas with me so that I could learn from you in turn. Some of the lessons have been difficult but I've learned much from us both. Your insights have been priceless to me and I'll never forget it all. It's been an amazing journey working alongside you all here at ____! Enjoy Bali (for real this time).
#6 I used to think that work was a four-letter word. But now, with you, I truly see what an awesome thing it can be. You may have already moved on to your next adventure, but our time together has taught me great life lessons. Don't you ever underestimate this job. You might think that some people consider work a four-letter word, but for me, it is something I treasure and cherish.
#7 It's been an honour to work with you and to learn from you. You had the patience of a saint, which is why I was able to grow at that pace. You are great people, and I wish all of you the best. Thank you for everything!
#8 Thanks for always being there for me and supporting me. Having someone in my corner helps get me through tough times, and I will never forget your friendship and support. Best regards in the future . . . . . . keep in touch!
#9 Thanks for all your help, suggestions, and advice on various subjects-I learned a lot from you over the years. Please keep in touch.
#10 I deeply appreciate all the effort you put in to make me a better writer, photographer, and editor. I will treasure the experiences we have shared over these past years. Thank you for your guidance and support.
#11 You work hard and you always made time for me—it's been a pleasure working with you. I hope to see you again soon!
#12 You were always a great team player, a great friend, and someone who really understands the importance of working well with others. You're a rock star! I will miss working with you each and every day. Good luck on everything!
#13 Thank you for always helping me out when I got stumped or felt like giving up. It's easy to get discouraged in the world of marketing, but you kept me going when I needed it most. And while we haven't always agreed on everything, I have deep respect for your opinions and ideas. To this day, you are one of my favourite co-workers and friends.
#14 You are the first person who truly believed in me when no one else did. As a young woman in this industry, it can be difficult to find people who truly want what's best for you and offer sincere critiques when needed.
#15 I have been lucky enough to get to know you as colleagues and your true friends. Thank you for the birthday wishes and mourn me with a glass of champagne if we ever meet again. Godspeed, my friends, until we meet again!
#16 Your commitment to excellence has inspired me tremendously. As a result, I've never failed to work harder than expected. I wish all the best for each of you and will miss seeing them at functions and events. My door will always be open.
#17 You are a dedicated group of individuals who strive for excellence in their work, off-duty time, and community service. Thank you for your time and best wishes in the future. I'll miss the daily interactions immensely.
#18 The amount of time we spend at this location together is almost as long as the times we have spent at each other's homes. You are a family to me and will always be despite leaving this position. This may be goodbye, but it's not farewell!
#19 We take pride in serving our clients, but perhaps more importantly—we take pride in each other. It has been such a pleasure to get to know each of you on a personal level. I thank God for each of you and hope I will have the opportunity to work with each of you again one day.
#20 I've come to like & appreciate all the insights and ideas you bring to the table on a daily basis. Thank you for making me a better colleague and friend. Each of you has left an impact on me that I'll cherish forever. Good luck in your future endeavors!
#21 Thank you for the smiles. Thank you for the jokes and the laughter. Thank you for the quick-thinking and endless hours of late-night toil. Thank you for helping me get through my first days and weeks here, as well as with my first big case. I will always treasure your friendship and look forward to seeing each of you again in our next chapter.
#22 Your work ethic, your commitment, and your attitude towards your colleagues have been evident throughout this time. I have learned a lot from your dedication to excellence, and I will miss you while we are not working together. Wishing you all the best in the future.
#23 You are the friend who I can talk to when I am down or when I am stressed. The one who listens to me and advises me when he knows that he is right. You are the one who always finds time for me even when you don't want to do anything else but work with me.
#24 There is no creature so venomous that it will not yield to patience. But you have been a gift that kept on giving, the antidote for the poison of a stressful work environment. I will treasure our partnership and look forward to continuing our friendship outside the office. Best wishes for success in all things great and small.
#25 With much sadness, I say goodbye to each of you today. While we may no longer be co-workers in this organization, we'll always be co-travelers on this journey called life. May God bless each of you and give you strength during your hours of need.
#26 There are many things I'll miss about this place, but I will miss working with each of you the most. Please know that my door is open if you need me for anything. Best of luck in your future and happy (healthy) trails to all of you.
#27 This may be the end of my time with this company, but my friend, it's not the end of our friendship. When I finish here, please let me know how I can reach you or how we can stay close. You have had a positive impact on my life and I hope that stays true in whatever lies ahead for us both.
#28 You've been such a tremendous help and a great friend during all of my time here. I wish you the best, and hope you enjoy your new job. Let's keep in touch!
#29 Thank you for your hard work and dedication. For everything that has been accomplished, it could not have been done without the strength and talent of each one of you. I am proud to have worked with each one of you, and will never forget our time together because you all made it so memorable.
#30 Thank you for the sense of purpose and the knowledge that I was making a difference. From my first day, I have felt privileged to work with such talented people. Thank you in advance for your help and support. Your friendship means a great deal to me.
#31 The idea that we should all quit working at the end of the week is laughable, because even after leaving, we'll still be working just as hard; maybe even harder. With that said, it's been wonderful being surrounded by such determined and dedicated professionals working toward a common goal. My sincerest thanks for everything you have done for me during my time here and best wishes for much success in the future.
#32 I'm going to miss the camaraderie of this place, but more importantly, I'll miss getting to know you all and having the pleasure of working with you. You have been truly wonderful. Thank you for providing me a great career here at Dover. It has been a pleasure working alongside you.
#33 When I compare our work at Dover over the years, it's amazing how lucky I have gotten here. You have all helped me grow as an individual and engineer in my chosen field. To this day, we are still discussing projects on the phone and email that were started nearly two decades ago when we first met each other ?? .
#34 Thank you for being an exceptional colleague and friend. You have challenged me, supported me, and helped make this the best time of my career. While we will be parting ways professionally, I hope that we can remain friends. My very best to you, wherever your career takes you.
#35 While I will no longer be required to attend regular staff meetings and deadlines, I am looking forward to keeping in touch. Your friendship and support will be greatly appreciated as we move on to new chapters in our lives.
#36 Thank you for the opportunity to work with you over the past few years. You've been a great role model for me professionally and personally. I've truly enjoyed our time together as we tackled new challenges and celebrated each success.
#37 It's been a privilege to work with you. You showed me that knowledge and experience are the keys to success, but they are best wielded when shared. I thank you for sharing your time and talents with me so freely and wish you all the best in your future endeavors.
#38 When working with you, I saw that it is possible to be both professional and personable at the same time. Even though we will be parting ways professionally, please know that I consider us friends and will always welcome your calls or visits. My very best to you always.
#39 Saying goodbye is never easy and I wish you all the very best in this next step in your career. You've helped me through my time here and I look forward to seeing each of you moving forward in your own career.
#40 It's been a pleasure working with you all on this project. I wish you all the best in your future endeavors. Please keep in touch! My door is always open for you if ya ever want to catch up or if ya need a vacation partner on our next trip!
#41 I won't miss coming to work every day, but I will miss working with you. Thank you for taking care of me, and for the laughs and the times we shared together. Best of luck to all of you in the future. Always remember, there's only one beer at happy hour!
#42 You have probably noticed that I don't say goodbye to all my colleagues on this card. That is because when I left my old job, it did so with a great friend, who wished me well in my new role and promised to keep in touch for years to come. Your feedback and support through this transition has been greatly appreciated.
#43 I've enjoyed working with all of you, and leaving here today will be difficult. I have certain things that I need to get done before leaving. But, don't worry, I'll see all of you soon.
#44 We may not be friends anymore, but thank you for the experience we shared together. It's been an honor knowing you and working side by side on The Place To Be. We'll be seeing each other very soon enough.
#45 You know, after many long years of working with each other under the same roof, I often found myself wondering who were the real bosses. You were at times far from being bosses, but you were a great source of strength, advice and communication that helped me get through all the ups and downs. Although it has been my job to make sure all deadlines were met and tasks completed on time, it was your efforts that made that possible. I wish you all the best in your careers ahead.
#46 I will miss you. We may have never met but together we have both shared experiences that are engraved in our memories forever.
#47 When I thought of what to say to you all, I immediately thought of the moments we shared together. I'll miss our adventures in work and play. Thank you for your kindness, support, and friendship. You've been a wonderful addition to my life and will always hold a special place in my heart.
#48 Goodbye is hard enough as it is, but even harder when saying it to true friends. Thank you for being exactly that. It's been a pleasure working with each of you, even more so getting to know each of you on a personal level.
#49 So much happens at a company in the years that we spend together. So many changes and new personalities, but you always manage to stay a constant. I hope that even after I'm gone, you will still think of me and know that I will always think of you. Best wishes for your continued success.
#50 Leaving is especially hard because, now more than ever, I admire what we've accomplished here. We all strive to be the best and to give our best work and performances every day. Thank you for helping me better myself while being here with us. I'll greatly miss each of you and value the friendships we've made.
#51 I have learnt so much from you and am grateful for our time together. Thank you for sharing your professional knowledge and wisdom with me. I'll miss seeing you each day, but we'll always remain friends and colleagues.
#52 You have been a tremendous help to me during my time here at the school. Even though I leave today, our bond will continue. Thank you for all that you have done to contribute to our success. Best wishes in the future!
#53 Because of our close working relationship, I will miss having a colleague with whom to discuss things on a daily basis.
#54 As much as my heart is saying goodbye, it's saying a big hello to you too. Thank you for everything; it was a pleasure working with you guys.
#55 You were right, this has been a great experience! It's not easy to admit things but I can safely say that you were the best team I worked with in my years here.